If you are looking to get your Russia passport photo or your Russian visa photo snapped and printed in London then Reload Internet in Paddington is the place to come.
Important information for 2020
The Embassy of Russia now requires all Russian passport photos to be in Matt format and passport photo kiosks can NOT do this. Reload Internet in Paddington is one of the only photo studios in London that are able to print passport photos for Russia in a Matt format
Get your Russian Passport Photo in 2 ways
Option 1: Visit us at our store in Paddington
When you pop into our store in Paddington, we will take a photo of you while you wait.
Option 2: Russian Passport photo by Post
Take a photo of yourself against a white wall at home like the image below & upload it to us, and we will post it to you with next day delivery.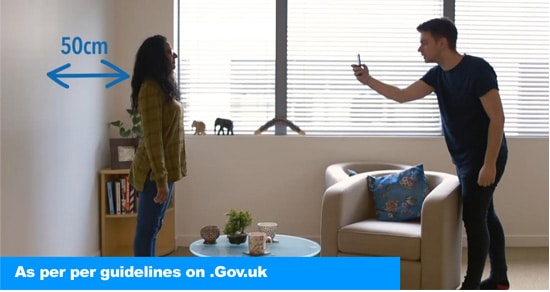 Upload your photo to us here
Alternative Upload link if you have problems above
ALTERNATIVE, UPLOAD YOUR PHOTO
We can take your Russian Passport Photo in-store OR we can post it to you with fast delivery. Just upload a photo of yourself and let us do the rest!
Our conveniently located professional passport photo studio will provide you with 6 photos and our service guarantees that the Russian passport photos that we supply will meet the the Embassy of Russia's photo specifications.
Wherever you get your Passport photo for Russia done, it is essential that you stick by the requirements precisely based on the biometric standards set by the Government of Russia, so that all the mandatory security parameters are met.
Reload Internet has professional lighting in place, the right digital resizing equipment and the experienced photographers to ensure that your Russian passport photographs meet the requirements set forth by Russia.
We ensure that the photos we print are of the highest quality and adhere to the standards as prescribed by Embassy of Russia including the size, contrast and other parameters. We are open throughout the week and you can walk in anytime based on your convenience without an appointment.
Russian Passport photo specifications
Listed below are the requirements for the photos of Russian passport application. The size of the head is actually smaller than the standards prescribed by EU Passport photos:
The passport photo must be in Matt format
The size of the Passport photo for Russia must be 3.5 cm X 4.5 cm.
In total, 6 photos need to be presented.
Chin to head size must be between 25-30 mm.
The size of the face must exceed normal kiosk passport photo of 20 mm.
The chin should be at a distance of at least 15 mm from the bottom of the photo.
There should be a gap of 4-6 mm between the head and the top of the photo.
Teeth must not be seen – the sample photo above would be a decline 🙂
The shoulders should be seen (behind the Russian flag!)
There should be no shadows.
No jewelry, head gear or glasses are allowed in the photo.
Simple and neutral color clothes must be worn.
The thickness of the photo should exceed 0.3 mm.
Reload Internet Passport Photos will meet all of these requirements and more!
Matt Passport Photo Paper must NOW be used for Russian Passport Photos
The Photo paper for a Russian Passport Photo MUST be on MATT paper. This is something that can not be avoided and your photos will be declined if you standard gloss finish.
If you do visit us in store we have a special photo printer this does not print in Gloss – BUT prints especially in Matt and we will select a Matt finish in the settings of the software. Just please as a customer if you do read this, please bring this page to the attention to our staff in case we miss it.
Reload Staff please print from the Grey printer instore and we will select Matt finish on end page before printing. A client recently requested this and we were in touch with the Russian Embassy when she submitted the application – and our Matt Finish Russian Passport Photos were a pass and approved.
Russian Visa photo requirements
As per the requirements available, the visa photo for Russia should be of standard passport size. Hence, it is best recommended that you submit a standard set of EU specified photos and submit three identical copies of the same.
Your Russian Visa Photo size must be 45 millimetres (mm) high x 35 millimetres (mm) wide.
AT Reload we will take a close photo of your head and shoulders and the biometric software instore will ensure that we create a Russian Visa Photo that measures between 29mm and 34mm high from the bottom of your chin to the top of your crown.
You can also get in touch with us for passport pictures for countries such as Ukraine, Uzbekistan, Belarus, Sweden, Georgia, Kazakhstan and Armenia.
Your Passport Photo for Russia is Guaranteed at Reload
We know it is difficult to go through the process all over again and if you find that our photos do not meet the requirements we will gladly retake them for you free of charge. Or you can email us – with the receipt that you paid for your new set and we will refund you in full for Russia.
Biometric Russia Passport Photo
At Reload internet we always ensure that our Printed and Digital Passport photos for Russia will meet the strict criteria set forth by the Russian Authorities and Russia is one of the countries whose passports are now fully Biometric.
OPTION 1 – Visit us in Paddington
Just walk into our store and let our experienced staff take your photo. It will not take more than 5 minutes.
We will take your photo with professional lighting.
We will print, prepare & cut your Russian passport photo.
No appointment needed.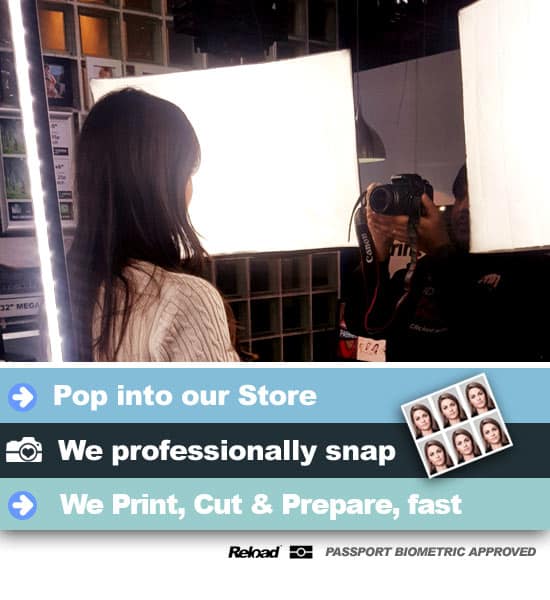 OPTION 2 – Passport photo posted
We can post you a set of 6 Russian Passport photos – next day delivery. How it works:
Email us a photo of yourself from your phone or camera.
We will look at your photo, free of charge
We will reply to confirm.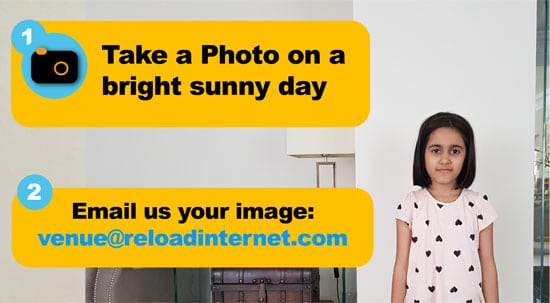 We will print, cut and post your your Russian passport photos
Next day delivery
We post your photos anywhere in the UK or worldwide.
OPTION 3 – Digital Photo resize
Send us your photo from your phone or camera whilst you are standing against a wall in your home
We will look at it free of charge.
3. We will email your resized images back to you same day.
4. Your digital Russian passport photo will be ready to upload to the online Russian passport service.
You do not need to worry about the regulations, we have dealt with thousands of satisfied customers and are very experienced.
Russia Passport photos via post
If you have any difficulties in reaching our studio in Paddington, and you have a digital version of your passport photo, you are welcome to send us the photo as an e-mail and we will format it based on the specifications of Russia and post it back to you. We can charge you over the phone or you can pay via Paypal if need be.
So why wait? Email us your photo today and we will resize it digitally for you
We look forward to welcoming you at Reload Internet in Paddington, London.