Black and white / Colour Printing service in London opposite Paddington Station
We provide a convenient on the spot colour and black and white printing service. At Reload Internet, located opposite Paddington Station we can print any document you have whether it is one single page from the internet or a larger job of thousands of pages.
We welcome you to drop by at any time to use our fast in-store printing services to print any type of document even it is only a single page that you printed from your email / from a web page. We can print from any file type, such as PDFs, Word documents, Excel sheets, or Photoshop files. and we also provide a printing service in A4, A3, or A5 size in both color and black and white.
At Reload Internet we offer the following printing Service
Printing service in Paddington
Printing near Paddington Station
Document printing in Paddington
Printing company in Paddington
Print shop in Paddington
Email printing service or print from email attachment
Print from email attachment
Print PDF near me
A4 printing services in Paddington
A3 printing in Paddington
Color printing in Paddington
Black and white printing in Paddington
On the spot printing service
USB printing or printing from your email is available. You can email us the document to print at:

[email protected]

nullreloadinternet.com before hand OR pop into our web internet cafe with printer with your USB, & we will print it on the spot using one of our public terminals, and we can assist you with ensuring that your documents are printed
We also have premium grade papers in store which are perfect for printing your CV, business presentation, or press releases.
We can also rush print documents for you – do not hesitate to contact us with any of your business requirements, we are very flexible.
Reload is able to cater to high volume printing customers in colour or black and white. If you are looking for printing services near me, a printing shop near me or document printing near me or any kind of printing service in London then Reload is your one stop solution. We offer all kind of printing and binding for documents in the fastest turnaround.
A4 and A3 Printing service in London
You can pop in for A4 and A3 Printing at Reload Internet and it is so easy.
Just walk into our branch in Paddington and print in A4 or A3 in colour or black and white.
We are open late every day, including weekends. You can print your documents from an email, webpage, your mobile phone, or USB.
Our customers use our quick and affordable service to print everything from brochures to blueprints, from homework to important documents. We also offer a high volume printing services with premium cardstocks and papers available for your every need.
We have Professional Ricoh and HP presses and printers in Reload Internet which allows us to offer fast and reliable service for colour or black and white A3 printing and your business printing documents that will be ready for collection or delivery within hours of us receiving your order. We are very competitive and efficient and guarantee to always meet your deadlines.
Internet cafe with a Printer in London – Mobile, Wi-Fi Printing (AirPrint)
We are described as an internet cafe with a printer in London – but we are so much more. can print a single document from your mobile device without searching for a printer or accessing a company network.
We make it easy for you to print, just show our member of staff your phone and what you need to print in A4, A3 or A5 and we will take care of the rest. In short we will either email ourselves the file or in touch-to-print wireless printing from NFC-capable devices. Again – nothing for you to worry about. We will take care of everything, all you have to do is visit us!
Double Sided Printing
Reload Internet can create double sided printing for you, or double sided photocopies. However, we charge our printing price per print, not per page, so for double sided sided printing, simply double the price above or take your prints on two pages if you wish.
Our Printing Prices
Colour and black and white prints in A4, A3, and A5
Paper Size
Black and White
Price (per side)
Colour
Price (per side)
Premium Paper
(Add-on per page)
A4
£0.35
£0.95
£0.50 - £0.99
A3
£1.25
£1.75
£0.99 - £1.99
A5
£0.35
£0.95
£0.50
This is our standard paper and is suitable for all printing jobs. At Reload Internet we offer competitive prices for large volume printing jobs. The tables below summarise our printing prices for our various papers in store.
Please email us at: [email protected]nullreloadinternet.com  before your visit so we can quote you – these prices are not applicable to walk-in clients – please read note below.
| Type \ Qty | 1-25 | 51-100 | 101-500 | 501-1000 | 1000+ |
| --- | --- | --- | --- | --- | --- |
| A4 B/W | £0.35 | £0.30 | £0.25 | £0.18 | £0.15 |
| A4 Colour | £0.95 | £0.85 | £0.75 | £0.60 | £0.50 |
| A5 B/W | £0.35 | £0.30 | £0.25 | £0.18 | £0.15 |
| A5 Colour | £0.95 | £0.85 | £0.65 | £0.60 | £0.50 |
| A3 B/W | £1.25 | £1.20 | £0.85 | £0.80 | £0.60 |
| A3 Colour | £1.75 | £1.50 | £1.25 | £1.00 | £0.75 |
IMPORTANT: You can only secure these prices by requesting them before your visit to us. We will reply with confirmation. Staff can not refund you AFTER you have used and paid for our service. This pricing is reserved for those that request it before visiting us. Thank you for your understanding in this matter.
New Online Print by Post service launched
If you can not visit us instore in Paddington, or just can not be bothered with the travel, we have launched a hassle free

online print by post service

that can get you your printed documents by post with next day delivery. Just email us your document to print and let us take care of the rest
Printing on Premium grade paper / special paper
We stock many different types of paper and card with a thickness from 80 gsm to 350 gsm – matt, silk and uncoated, white, off-white and ivory. We also stock Conqueror and Pearlescent paper and card and you are welcome to come and check our paper sample book where we have a wide variety of samples available for you to look at – perfect for that extra special presentation or CV or resume.
Here are some of the card stocks that we have available instore.
Print on 250gsm semi gloss / silk paper
Print on 160gsm paper
100 GSM Textured Printing
160 GSM Card Printing
170 GSM Silk Printing
210 GSM Gloss Printing
250gsm semi gloss / silk paper
350 GSM Card Printing
Double Sided Prints
As an example of uses:
170 GSM Silk Printing
This paper is silk coated which means that it will shimmer under light, it is ideal for illustrations and portfolios.
210 GSM Gloss Printing
This paper is glossy and is ideally suited for art and presentations which need to showcase colour images. For truly special presentations where only the best will do, then Reload Internet is the only and best place to come. We stock all grades of paper stock for you to print on. Just ask a staff to touch and feel our wonderful samples of paper stock.
250gsm semi gloss / silk paper
For truly special presentations where only the best will do, then Reload Internet is the only and best place to come. We stock all grades of paper stock for you to print on. Just ask a staff to touch and feel our wonderful samples of paper stock.
350 GSM Card Printing – Perfect for Restaurant menu printing
This paper is perfect for restaurant menus and we recommend laminating these for cards and flyers. Our heavy duty printers can handle printing on 350 GSM card, which is perfect for those jobs where making an impression counts. Now we are cooking! We can print on heavy duty 350gsm paper. That's card stock and our colour printer can handle it. Our colour printer will gobble it all up and churn out some hot looking colour prints for you, in a style that will dress to impress. Portfolio adding, sizzling looking, deep colourful soulful prints only available through the friendly staff at Reload Internet.
Questions and answers on our Printing service in London
Where to print in London?
A very common question we get " where can i print in London?"
There are many print services in London but Reload is the one that can print anything on paper. We are a local printing company in London and we are open 7 days a week and can do last minute printing jobs and rush print jobs if you really need them.
Where to print documents in London?
Another question people seem to look out for is "where can I print documents in London?"
At Reload Internet we can print documents and do a same day delivery (or next day delivery) anywhere in the London. We don't have any minimum order for document printing you can print a single page and up to as many as you need."
Where Can I Find Printers near me?
If you are London and looking for printers near your location then we can be your best option. Our same day printing services cover the entire London city. If you need your product very urgent then we can print and deliver within 3 hours turnaround time. Contact us for placing the order online or come to our shop at Poplar, London for instant printing service.
Other services we offer instore
In case you need it we also have a photocopy, fax and scanning service. Reload also can provide you with a document finishing service in case you need it for your printed documents and we can laminate or wire bind your documents while you wait in store. We are open 7 days a week. Finally, Reload offers a large format printing service in London and we offer high quality poster printing for larger sizes up to A0 size.
Laminating of your documents and Wire Binding facilities are offered instore and we can bind upto a 400 page document with Thermal binding as well.
Our binding services in store, are while you wait, which means that you can pop in at anytime of our opening hours and get it done. Further, we only use, metal wire binding – this is higher quality (we will never use Plastic) and best of all, your documents are able to be opened 360 Degrees with Wire Binding!
Reload Internet is also a local Paddington fax service and we can send a single page fax or a large volume fax locally or internationally from our store in Paddington to anywhere in the World. Many local businesses use Reload Internet to photocopy timesheets and we are flexible enough to cater to most requirements. We can even hand deliver your large volume printing to your Paddington Central office. Simply give us a call and email us your presentation to print. We will collect payment over the phone, print and prepare your documents for you instore and hand deliver your documents to you same day.
What do clients print from an Internet Cafe?
This is a valid question, and a lot of people wonder what they can use our printing service for? Here are some examples of what our clients print through us.
Print postage labels
At Reload Internet, you can pop in and get your Amazon return label printed instore while you wait. Why suffer from a Printer Explosion when you can simply pop into Reload and get your Amazon Return Labels printed while you wait?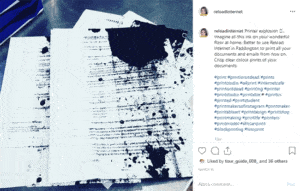 Print Boarding Pass / Print Airline Flight Tickets at Reload
With Reload Internet being opposite Paddington Station, which is connected to Heathrow Express – is it surprising that so many clients of ours pop into the store to print their Boarding pass or Flight airline tickets? It is only a matter of time before everything is electronic – but even then we are here if your phone battery dies and you need a quick and fast way to print your airline ticket. Just access your email and print!
Print Train / Railway Tickets
At Reload we can print your train tickets while you wait. Just pop in, access your email, or access your trainline account, and print away. All done in less then 2 minutes – dont miss your train from Paddington Station. Just pop in and print away. We get thousands of clients every year who requires their train tickets printed. Our Friendly staff are here, so pop over to Reload Printing.
Print from email, word, powerpoint, photoshop instore
At Reload Internet you can use one of our instore PCs to print from Word, PDF, or Power point. We also have Adobe Photoshop for customers to use. We also welcome customers to email us their documents so that we can print it for them.
Where can I print documents near me
Local businesses and staff based in Paddington and London get asked a question quite alot! "Where can I print documents, scan, copy near me?" It seems a funny question especially when it is only one or two pages that you want printed, copied or scanned at a very reasonable low price.
Step into our business Reload Internet – where we are here to serve you and offer crisp clear prints and copies as well as print out of your documents. So the question, where can I print near me is now answered! No you do need to know on neighbors doors or ask an expensive hotel business center to do it for you. Just pop into Reload Internet Print and scan shop
We can even photocopy a book if you wish – and we have the stamina to do it page by page for you.
We also offer scanning in bulk or a single scan page available in store. The best part of our service is that you don't require an appointment and you can pop in at any time during our opening times and we are open 7 days a week.
Print from your USB stick, your email or even your mobile phone to get your document printed or boarding pass or tenancy agreement or any type of agreement that you have
We print at a very reasonable price and we also offer colour printing and colour scanning and black and white printing if you require – we can do it all!
You do not need an appointment – just walk in! We are so much more than just an internet cafe but more of a print and copy shop that serves your needs and we're able to serve clients that require just one print out of a document.
Our welcoming staff will always serve you and always assist you and we can print from Microsoft Word, Print from email, PowerPoint, Photoshop, or Adobe PDF.
We can print from ANY from website or document online and these can include your boarding pass or even print from PDF Adobe Acrobat whatever you need we're here for you so please come to Reload Internet in Paddington and we here to serve all of your printing, scanning and copying needs whether you are based in Paddington or London.
We offer all of our customers, quick fast crisp, printing and print-outs from their email or USB stick. We can print directly from you emailing us – or you can use our instore computer and print directly. What is fantastic is that we have colour and black and white printing available in store, in sizes A3 and A4. A large amount of tourists in London, pop in to us, just to Print Boarding Cards – and as we are opposite the Paddington Station – We are very conveniently located fast and efficient to do this instore.
Our aim is to be the one stop place in London for all of your Printing, copying and Binding Needs. We also offer a Laminating service in case you need that!
Another question that local businesses get asked quite frequently is where can I print documents near me? with many businesses no longer offering single page printing facilities, Reload Internet is proud to be offering this service to clients.
Other Business Facilities available instore
Scanning Facilities are available in store.
Faxing facilities are available from our store.
Pop in today, whether you are looking to send one file, or looking to scan a thousand pages, we can cater for it all.