At Reload Internet in Paddington we offer instant photo printing in 8″x10″ or 8″x12″ / 20.7cm x 25.7cm or 20cm x 30cm. Your Digital photos will be printed in minutes from your camera, mobile phone, iPad or Tablet, email, or USB stick (flash drive) and we will take care of the photo printing for you.
Why choose our Photo Printing Service over a competitor?
Without getting to technical about this – our photo printers in-store are able to print in 600dpi x 600dpi at 4896 x7272 resolution. Trust us, these are really impressive figures and also double resolution to our nearest competitor. So what does this techi mumbo jumbo mean to you and your beloeved photos of loved ones? Ultimately it means we are able to print crisp, clear photo prints, on a premium photo grade paper that will pop out of the photo with a wow factor. In fact, we do our clients say "oh wow" quite regularly as we print the photos instantly.
We spare no expense on our photo printers and import our photo printers from Japan – our nearest competitor openly uses chinese printers and our clients immediately recognize the difference which is why they keep coming back to us.
Finally, Our staff are the real differentiator. We will always offer you 100% support in transfer of your files from your phone or usb onto our software to print. We can have it all done in only a few minutes.
Photo Printing 8″ x 10″
We can print your digital photos in 8″ x 10″ (8 inches x 10 inches) which is 207.3mm x 257mm, or 20cm x 25cm photo prints, which is available in a Matt Finish or Gloss Finish.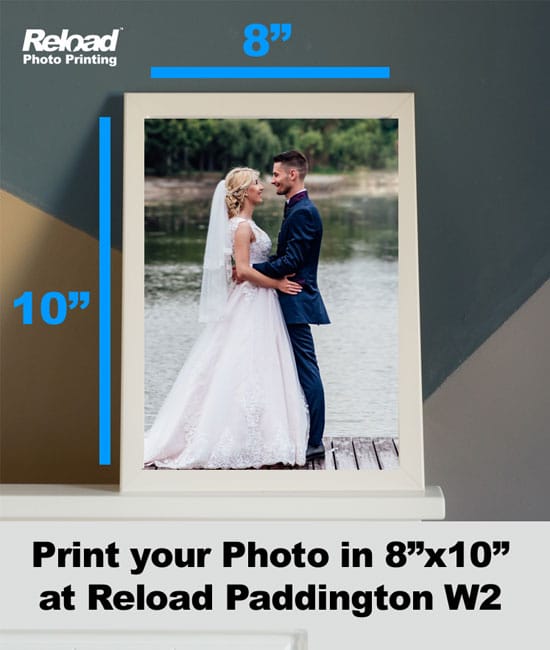 Treasured memories should be framed and displayed for the world to see – not kept in the cloud under lock and key.
Come to Reload Internet in Paddington and we can set your Digital Images free.
Photo Printing 8″ x 12″
Why not just print your photos in Gloss or Matt finish? We can print your treasured digital photos in 8″ x 12″ (8 inches x 12 inches) which is 207.3mm x 307.8mm, or 20cm x 30cm photo print. At Reload we can print your photos in a very special size and we can make your digital photos become a real treasured memory displayed beautifully in your photo frame for all your friends and family to see. best of all – you do not have to wait for a delivery – just come instore and we will print your photo in 8 inches by 12 inches instantly while you wait.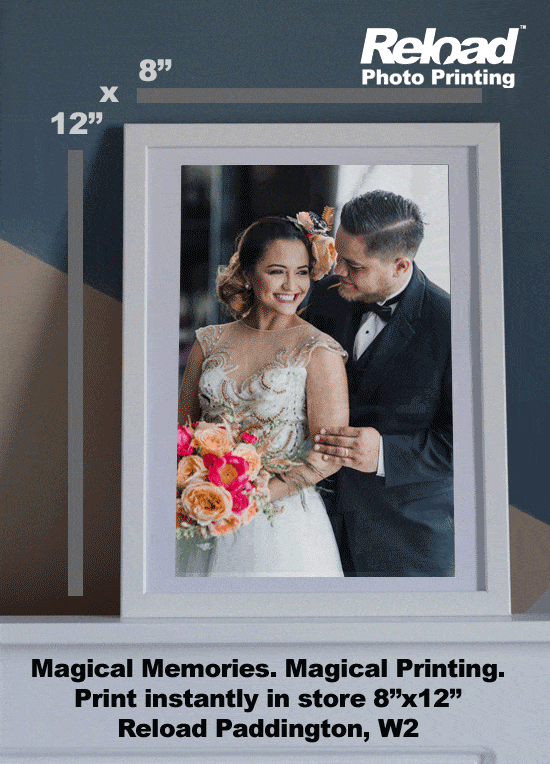 Photo Printing in all sizes available in store
If 8 inches x 10 inches or 8 inches x 12 inches is not the size you are looking for, then you can rest assured that Reload Internet in Paddington can print your photo in the photo size you are looking for. Just provide us with the exact measurements and we will print them for you and we are always here to help you with photo printing.
To see all the Photo Printing Sizes available at Reload Internet, simply click on the image below (though the image only shows only three sizes we can print your photos in many sizes – click to follow the link)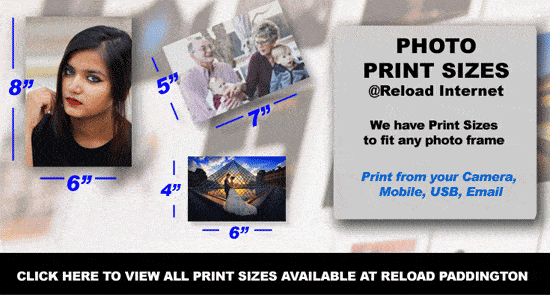 Digital Photograph Printing Service – Video Review
Watch the Video on how quickly we an print your photos in our store in Paddington. We can print one single photo to over 100 – in a variety of sizes.
Contact us with any questions
If you require custom sizes for your photo printing or large orders – then please email us directly. We cater for all clients all over London that require photo printing and can offer quantity discounting.

Photo printing near me – where are we?
We are in a such a convenient location in Paddington, Directly opposite Paddington Station and the London Hilton paddington. Come and visit us instore to get your photos printed in real time.