We have operated our passport photo studio for over 20 years, and over the years we have had many requests on what the best tips are for makeup which compliments the lighting. In short, how do you make yourself look amazing in a passport photo.
A passport photo will be with you for 10 – 20 years so ultimately this is not about vanity, but the difference of applying 10 – 20 minutes on make-up before your passport photo shoot that will provide a lasting effect, and one that you are proud of.
Passport Photo regulations are becoming stricter on Makeup with AI now scanning the passport photos you submit and sadly declines are occurring if too much makeup is applied.
We have put together a Passport Photo Makeup Tutorial  for you which ensures that even the AI will be impressed with your natural makeup efforts.
Our lovely makeup model, Rebecca provides some exclusive tips on how to look amazing for your passport photo. Take a look.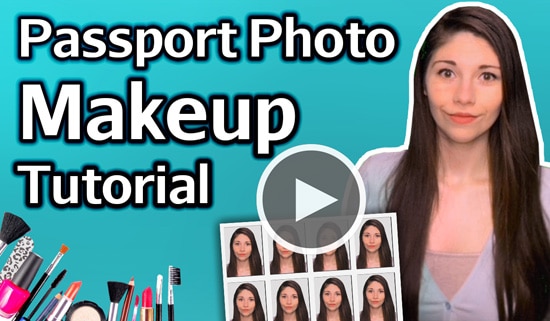 We hope you find these photo shoot make-up tips and tricks informative. They will work with any passport photo studio as long as they have professional lighting setups like we do at Reload Internet in Paddington, London
Makeup tips for passport photos
To avoid looking pale under bright studio lights and the camera flash, try to use a base without SPF (foundation, BB cream, CC cream).
To hide dark circles, which can make you look unwell and tired below your eyes, apply a bit of concealer. This assists in masking dark patches and helps you to look fresh.
You can use a natural colour bronzer to lightly contour your face highlight your features. A neutral blush will also help you look fresh.
Apply a setting powder which complements your skin tone to absorb excess oil and reflections. It helps make your face look matte and clear.
Stick to everyday mascara which is as close to your natural look as possible. Avoid wearing false eyelashes.
If you typically wear lipstick you can choose a neutral shade or stick to lip balm which looks the most natural.
Wear simple clothes which complement your hair colour. Avoid wearing white as this can make your body blend in with the background. We'd recommend wearing a coloured top in a hue that flatters you. However, some countries have dress codes for passport photos. You can find out more in our complete passport photo directory where you can look up the exact specifications for your country.
We'd recommend avoiding trendy looks and keeping your makeup and clothing as simple as possible. Since passport photos last for ten years it's advisable to keep things simple, what's trendy today could be embarrassing tomorrow!
At Reload Internet in Paddington, we guarantee that your photo will pass at the embassy as we receive our photo specifications from the government of each country we specialise in. In fact, if your passport photo does not pass, we will retake it for you, free of charge.
Can you wear makeup in a passport photo?
Simply put, yes, you can wear makeup for most passport photos, but, it is important that it should look natural. You can check if your country allows makeup and lookup the exact government specifications for your passport photo in our exhaustive passport photo directory.
Since a passport photo needs to last for ten years it is imperative that the photo must be a true representation of what you look like. If you normally wear makeup then it's alright to wear the same amount you would on an ordinary day. However, if you don't often wear makeup then it would be advisable to keep it minimal. This reduces the chances of running into problems while travelling.
Best passport photo in London
At Reload internet we always ensure that our Printed and Digital Passport photos meet the strict criteria set forth by each country. We can make sure your photo complies with Bio metric passport photo makeup criteria.
If you need more help or advice, please feel free to contact us on 020 7262 4111
Passport photos by Post
If you can not visit us instore we can post your Passport Photos with Fast delivery. Stand against any wall, take a photo & email it to us:

[email protected]nullreloadinternet.com.

We will post you your passport photo with next working day delivery or we can even send you a photo ID digital code in a few hours.