The passport photo requirements for Israel passport photo and Israeli visa photos have very strict rules and Reload Internet in Paddington can follow them exactly. If you are looking for a passport photo or visa photo service that specialises in passport photos for Israel, then look no further then Reload Internet in Paddington, London.
Our Passport photo studio located in London, Paddington has all of the equipment and conditions necessary to release a set of Israeli photos that meet the current specifications of the Israeli Government and we follow the exact official passport photo requirements set forth by the Israeli Embassy. 
Get your Israeli Passport Photo in 2 ways
Option 1: Visit us at our store in Paddington
When you pop into our store in Paddington, we will take a photo of you while you wait.
Option 2: Israeli Passport photo by Post
Take a photo of yourself against a white wall at home like the image below & upload it to us, and we will post it to you with next day delivery.
Upload your photo to us here
Alternative Upload link if you have problems above
ALTERNATIVE, UPLOAD YOUR PHOTO
We can take your Israeli Passport Photo in-store OR we can post it to you with fast delivery. Just upload a photo of yourself and let us do the rest!
We are able to take care your Israeli passport photo or Israeli tourist visa photo, with no appointment needed and we can print and process your photos in only a few minutes of your busy schedule.
Our store is open 7 days per week with late opening times and your Israeli passport photos will be ready for you in no time.
Watch the Video below on how quickly we can process your Israeli Passport Photo.
Israel passport photo requirements:
Reload Internet produces Photos for Israeli in 2 main sizes and the Israeli Passport Photo requirements and Visa Photo requirements for Israel really depends on the exact reasons you are applying for. The official Israel Embassy website states that the photo must be:
Two passport pictures (5×5 cm) which are 50mm x 50mm or 2 inches x 2 inches.
White background (Passport Background Requirements for Israel)
These photo requirements also apply if you are applying for:
Immigration visa
A/1 Temporary Resident visa
A/2 Student visa
A/3 Clergy visa
A/4 visa for spouses and children
B/1 Work visa
B/2 Visitor's visa
Reload Internet can also produce the following size for Israel Visa Photo Requirements. The exact size required will be based on your application and a member of our team will have all of the documents to advise you properly.
The photo must have an overall size of 35x45mm;

The picture should be a colored one and at a high resolutions (do have in mind that videos are not accepted);

Do not wear a uniform while taking the photo;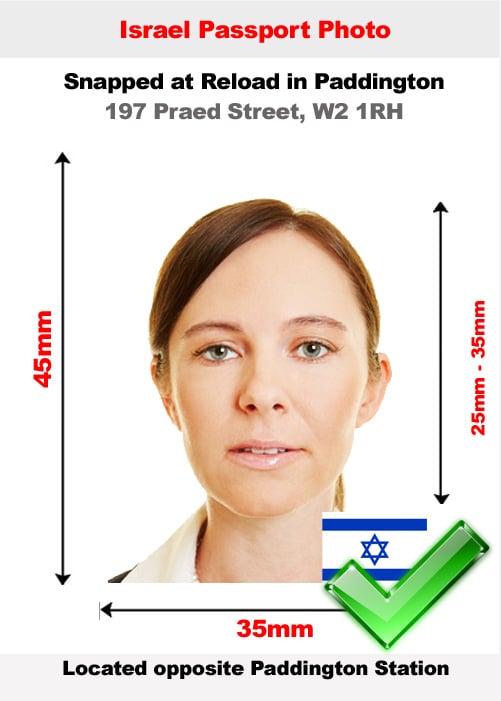 You are not allowed to have dark lenses at your glasses or to have shadows casted by the glasses' frames;

There should be nothing covering your face, like hair or anything else;

The background must have a light color;

The paper of the photo must be thin;

For an Israeli passport, the photos must have a head with a dimension between 25mm and 35mm;

The photos must have an excellent quality and clarity;

The photographic paper on which they are printed should also be of high-quality;

Your face should be photographed from the front and be showing entirely, including both ears;

The photos should not be older than six months;

Black and white photos will not be admitted, only colored ones;

When taking the photos for your Israeli passport, there is a specification about having a neat attire;
You will have a Guarantee on your Israel Passport Photos you take at Reload Internet
It is recommended to ask the help and expertise of professionals when it comes to your Israeli passport photos, because if you submit photos that won't be accepted, the issuing of your passport will be delayed and you will suffer other inconveniences as well. Because we know what we are doing at our studio, we can guarantee that you will get the right type of photos right from the start. Thus, the risk of having your passport application rejected, because you submitted photos that are not up to the specifications, will be inexistent. And all this without any appointment, so feel free to stop by the studio whenever you consider appropriate. Getting your photos ready will not take more than 10 minutes since your arrival. Whether you need to issue new traveling documents or you need to extend the existing ones, don't hesitate to ask for our help.
Important Information to Israeli Citizens and Tourists of Israel
Both minor and adult Israeli citizens should have an Israeli passport that is valid with them at all times, when traveling or staying abroad. The documents emitted by the Israeli Government for the purpose of travel, meaning passport and laissez passer, are considered to be the property of the state, so they should be well protected by the holder. The law requires every Israeli citizen to present a passport each time he or she enters and leaves the country.
In the case of an adult, the Israeli passport has a 10-year effect. In case of children, it will have only a 5-year effect. Check your passport and if it has expired, you will have to contact the mission for getting a new and valid one. If your passport has not expired yet, but will do in a short while, you can opt for extending your travel document for another 10 years.
How to extend an Israeli passport
If you want to extend the effect of your passport, you will have to fill in the appropriate form. Then attach the form to your current passport and send the two documents together to the Consular Department at the mission. There is no free required for extending the passport.
One can extend the passport of a child for another 5 years, or until the child is 17 years old. At this age, the military status will have to be determined, once this is accomplished, the passport of the minor is suitable to receive approval from the IDF authorities. If you need more info about how to extend the passport of a minor, you will have to contact the mission's Consular Department.
How to renew a Israeli passport that has expired
You will have to send or e-mail the following documents to the mission, if you want to renew an expired passport:
An application for a new passport that was completed and signed by you;

Two photos for passport;

The expired passport;

Payment of the required fee;
As mentioned before, it is recommended to contact the mission's Consular Department concerning the details of issuing a new passport for a minor.
How to renew Israeli documents for traveling if they have been stolen, lost or destroyed
If you have lost your documents, they have been stolen, or accidentally destroyed; you will need to visit the mission for issuing of a replacing document. You will need to have some documents with you, as following:
Two photos for passport;

An ID with picture;

A filled in declaration about what happened with your documents (theft/destruction/loss). Do remember that this declaration will have to be signed in front of the representative of the consulate;

An application for the new passport, which was filled in and signed;

Because the Israeli passport is considered to be the property of the state, a higher fee will be required in case of theft/loss/destruction.
United Kingdom citizens do not need for an Israeli visa in case of a stay that is no longer than 90 days.
What other information would be useful in case of a trip to Israel? First of all, you should make sure that your passport is valid.
The minimum requirement concerning the validity of a passport is at least 90 days since your departure date from Israel. Still, it is highly recommended to have 6-month validity on the passport at all times. For further information regarding the issuing and renewal of British passports.
Another thing you should check is the presence of blank visa pages.
Israel Passport Photo
At Reload internet we always ensure that our Printed and Digital Passport photos for Israel will meet the strict criteria set forth by the Israel Authorities and Israel is one of the countries whose passports are now fully Biometric.
OPTION 1 – Visit us in Paddington
Just walk into our store and let our experienced staff take your photo. It will not take more than 5 minutes.
We will take your photo with professional lighting.
We will print, prepare & cut your

Israel

passport photo.
No appointment needed.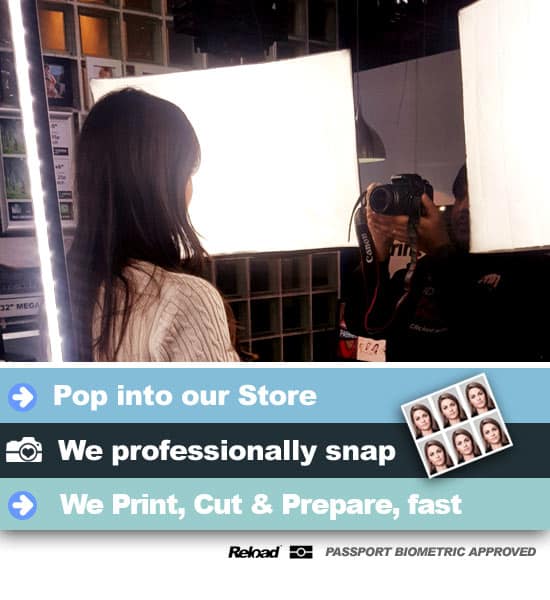 OPTION 2 – Passport photo posted
We can post you a set of 6 Israel Passport photos – next day delivery. How it works:
Email us a photo of yourself from your phone or camera.
We will look at your photo, free of charge
We will reply to confirm.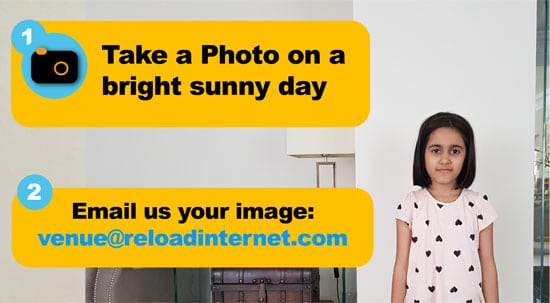 We will print, cut and post your your

Israel

passport photos
Next day delivery
We post your photos anywhere in the UK or worldwide.
OPTION 3 – Digital Photo resize
Send us your photo from your phone or camera whilst you are standing against a wall in your home
We will look at it free of charge.
3. We will email your resized images back to you same day.
4. Your digital Israel passport photo will be ready to upload to the online Israel passport service.
You do not need to worry about the regulations, we have dealt with thousands of satisfied customers and are very experienced.
So why wait? Email us your photo today and we will resize it digitally for you
We look forward to welcoming you at Reload Internet, in Paddington, London.
Please call us on 02072624111 if you have and questions or email us at: