Our passport photo studio based in Paddington, London is able to produce Greek passport photo and visa photos that are suitable for the new-style Greek passport and visas. We have a well-equipped professional passport photo studio and our staff have the expertise to be able to provide you with a Greek passport photo or visa photo that will meet all the requirements put in place by the Greek embassy.
If you canb not visit us, please use our Greek Online by Post service and upload your photo to us now.
Get your Greek Passport Photo in 2 ways from Reload Internet
Option 1: Visit us at our store in Paddington
When you pop into our store in Paddington, we will take a photo of you while you wait.
Option 2: Greek Passport photo by Post
Take a photo of yourself against a white wall at home like the image below & upload it to us. We will alter the background and make sure it is compliant for the Embassy of Greece in London and we will post it to you with next day delivery.
Upload your photo to us here
Alternative Upload link if you have problems above
ALTERNATIVE, UPLOAD YOUR PHOTO
We can take your Greek Passport Photo in-store OR we can post it to you with fast delivery. Just upload a photo of yourself & let us do the rest!
We guarantee that the Greek passport photo or visa photo your receive from us will pass at the Embassy. No appointment is needed, our staff are extremely efficient and can have your set of photographs ready within 10 minutes of your arrival at our store.
Without a suitable passport photo, getting a Greek passport is not feasible. The new-style Greek passports are one of the most fraud proof passport styles in the world. This is possible because of the use of biometric data on chips, invisible ink and holograms. To ensure that your Greek passport or visa does not encounter any problems, you must have a Greek passport photo or visa photo that meets all of the requirements and is of true likeness to yourself.
The New Greek passport has some new features which include digital holography, digitally printed photographs and data, a second passport photo which is not visible to the naked eyes but can be viewed under UV light, and ultra-thin plastic sheeting which when replaced is detected with ease.
You must ensure that your Greek passport photo and visa photo meet every single one of the requirements listed below, otherwise your application may be rejected by the Greek Embassy.
Greek Passport Photo specification
Your Greek passport photo should measure 60mm x 40mm or 1.57 inches x 2.36 inches, without a frame.
Official Greece Passport photo specifications are listed below:
Greek Passport Photo Requirements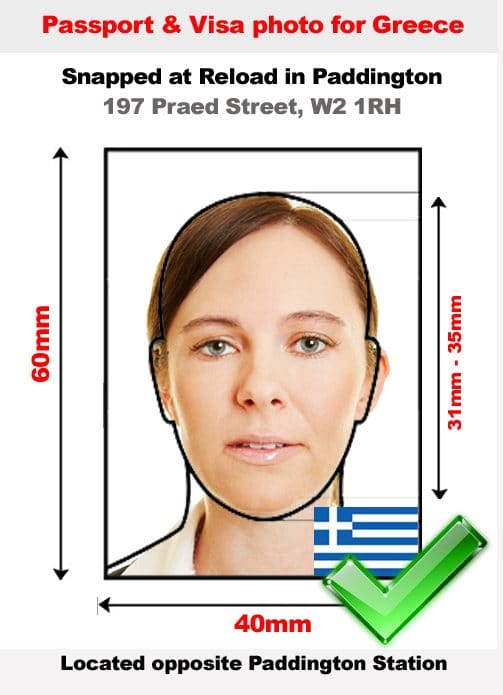 Greek passport photo will be printed on  high quality white photographic paper with a white background.

The photos for the passport must be recent. If the picture is older than 6 months old, it will not be ideal. This is due to the fact that there could be very pronounced facial changes over a period of 6 months.

There should be no other visible image in the photo. Pens, toys, etc. should not be seen

The photos should not be produced on inkjet or laser printers. Also, they should not have dots.

The distance from the imaginary line which crosses between the eyes to the lower part of the photo should 30mm X 39 mm

Ensure the facial features of the person are obvious and clear in relation to the background being used. To achieve this, a white or off-white back ground should be used.

The width of the face measuring from the right ear to the left ear should be 20 mm up to 25mm

The length of the face starting from the top of the head to the jaw should be between 31 mm and 35 mm.

When taking Greek passport photos, ensure the photo shows the natural colour of the face and is clear.

The face should be completely visible, the photo should show the structure of the head from ear to ear and from the forehead to the jaw.

The photos must be of high resolution and not have pixels-raster and must not be printed on ink jet or laser printers.
The photos must be printed on high quality white photographic paper without any watermarks or being embossed.

The photos should be analyzed at 1200 dpi.

When taking a Greek passport photograph, smiles and other facial expressions are forbidden. A neutral expression is ideal

The person being photographed should look straight at the camera.

Wearing of glasses is not permitted. This is because when glasses are worm while taking pictures, the frame of the glass tends to cover the facial features of the person being photographed.

If you interested in getting a Greek passport photo and you have a health problem, your face can be covered with your medical certificate.

Covering of the head is only allowed if you must do so as a result of your religion. While covering the head. Please ensure the face is completely visible. The jaw and the forehead must be left uncovered.

When taking passport photos for babies, please ensure that the baby is well rested. This will make the photograph session stress free for both mother and child.

It is important to take a series of photos when snapping babies, this will enable you to choose a very suitable photo.

If the baby is too small to stay on their own, lay him/her on a flat surface with a white cloth spread over it.
At Reload Internet, we will always use gloves when preparing your Greek passport photos as the Greek Embassy will reject photographs that have any fingerprints or oils on them. We will post or provide collect instore clients with a wallet to protect your photos for you. Please avoid touching your greek passport photographs to avoid rejection at the Greek Consulate.
Video on Greece passport photographs requirements
and see how quickly Reload in Paddington can produce your photos for you:
If your Greek passport photo or visa photo fails to meet any of the specifications listed above then it is highly likely that your application will be rejected by the Embassy when you go to submit it. To avoid this visit a professional passport photos studio in London, like Reload Internet.
Our specifications are taken from the Greek Embassy's guidelines on passport and visa photographs which you can see here.
Looking for another passport photo specification for a different county? please visit this link to search every passport photo specification in the world.
Greek Military Card Passport Photo Requirement
Reload Internet also clicks, edits, cuts and prepares Greek Military Card based on the category, that is-
Military ID Card A – 25×25 mm
Military ID Card B – 30×30 mm
Military ID Card C – 35×45 mm
Military ID Card D – 60×90 mm
Just drop in to our store and your passport photo will be ready or you can now order your passport photo online with us and these dimensions will be delivered to you at your door step.
Other official documents of Greece and their passport photo specification
At Reload Internet we not only specialise in passport & Visa photos we also customise multiple dimensions for passport photos for all official documents. Such as
Driving License – 40×60 mm
Ex Patriot (Omogenis) Card – 27×29 mm
ID Card – 36×36 mm
All you have to do is pop in to our store and our team of experts will take care of the rest while you await.
Biometric Greek Passport Photo
At Reload internet we always ensure that our Printed and Digital Passport photos for Greece will meet the strict criteria set forth by the Greek Authorities and Greece is one of the countries whose passports are now fully Biometric.
OPTION 1 – Visit us in Paddington
Just walk into our store and let our experienced staff take your photo. It will not take more than 5 minutes.
We will take your photo with professional lighting.
We will print, prepare & cut your

Greek

passport photo.
No appointment needed.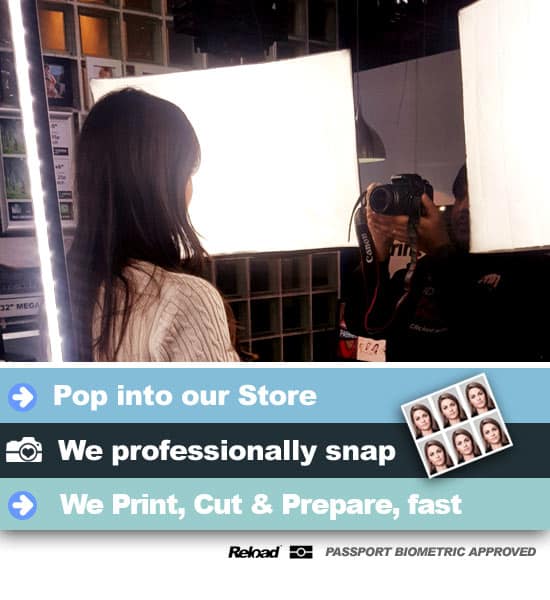 OPTION 2 – Passport photo posted
We can post you a set of 6 Greek Passport photos – next day delivery. How it works:
Email us a photo of yourself from your phone or camera.
We will look at your photo, free of charge
We will reply to confirm.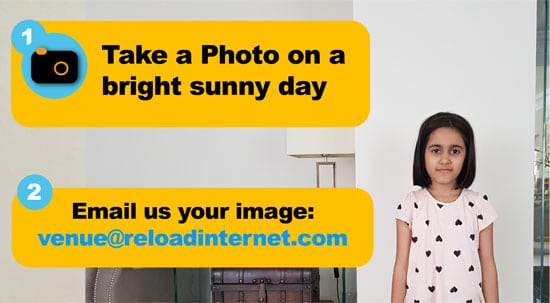 We will print, cut and post your your

Greek

passport photos
Next day delivery
We post your photos anywhere in the UK or worldwide.
OPTION 3 – Digital Photo resize
Send us your photo from your phone or camera whilst you are standing against a wall in your home
We will look at it free of charge.
3. We will email your resized images back to you same day.
4. Your digital Greek passport photo will be ready to upload to the online Greek passport service.
You do not need to worry about the regulations, we have dealt with thousands of satisfied customers and are very experienced.
So why wait? Email us your photo today and we will resize it digitally for you