Reload Internet is located in the heart of London, we can take, print and prepare your Chad passport photo or visa photo instantly while you wait in our store. We are only a 30 second walk from Paddington train and tube stations. Our trained staff will ensure that your Chad passport photo or visa photo meets the correct specifications requested by the Embassy of Chad. They will provide you with photographs meeting the correct requirements for background and lighting as stated by the Embassy of Chad.
Get your Chad Passport Photo in 2 ways
Option 1: Visit us at our store in Paddington
When you pop into our store in Paddington, we will take a photo of you while you wait.
Option 2: Chad Passport photo by Post
Take a photo of yourself against a white wall at home like the image below & upload it to us, and we will post it to you with next day delivery.
Upload your photo to us here
Alternative Upload link if you have problems above
ALTERNATIVE, UPLOAD YOUR PHOTO
We can take your Chad Passport Photo in-store OR we can post it to you with fast delivery. Just upload a photo of yourself and let us do the rest!
Photos can be printed instantly after they have been taken, we always try to have your pictures ready for you within 5 minutes of your arrival.We know filling out Chad passport and visa applications is a lengthy process, so we try to help you as much as we can.
Our studio is open from Monday all through Sunday, making us the most convenient and reliable passport photo studio in London. Our prices are affordable, and we will provide you with a set of 4 Chad passport photo or visa photo, which we guarantee will pass at the Embassy of Chad.
Watch our video below to see how quickly we can produce your Chad passport and visa photos, and to learn more information regarding the requirements:
To increase the chances of your Chas passport or visa application being approved, it is important you submit photos of good quality. Pictures taken at photo-kiosk booths more times than none are rejected because they don't meet the requirements of the Embassy of Chad. Many applicants have seen their application rejected because they submitted photographs of insufficient quality, and hence came to us for help with their application photographs.
We want to help you avoid unnecessary delays which often accompany Chad passport and visa applications. Your Chad passport photo or visa photo must easily identify you as the passport or visa holder.
Your photos must have been taken within the last six months. The photo must be free of reflections, red eyes and other imperdections. Your eyes should be focused at the camera lens. Your complexion must be natural, with very little make up so as to not alter your appearance drastically.
Chad Passport Photo and Visa Photo specifications:
Applicants are to submit photos measuring 50mm by 50mm.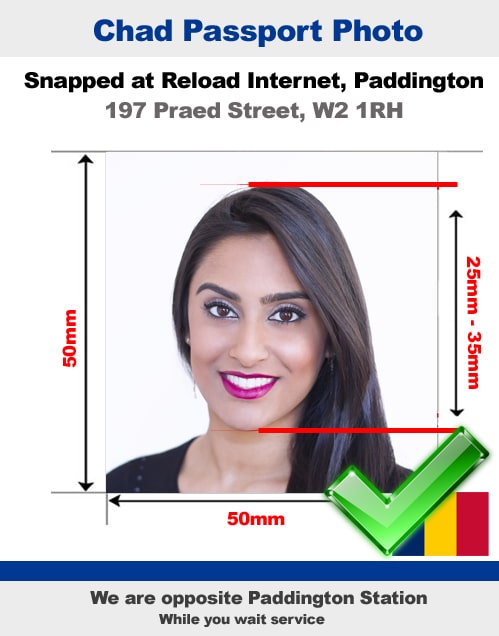 Only passport photos taken within the last 6 months or less are acceptable.
Applicants are not to use photos taken at photo kiosks, or photos that have been digitally altered
Only light colored background, preferably white, is accepted. The photo must be free from shadows. For best effect, only wear dark colored clothing.
50 to 70% of the photo area must contain the face of the applicant. What this means is that the distance between chin and crown must measure between 25mm and 35mm.
Applicants are mandated to wear a neutral expression when taking photographs. Mouth must be closed; eyes opened and face squarely facing the camera.
Ordinarily, headgears aren't allowed on passport photos, except for under medical or religious circumstances. When wearing a headgear, ensure your hairline is clearly shown, and the sides of your face are clearly shown. The applicants full facial features must be shown
If you wear glasses we recommend that you remove them to ensure that your photograph passes with your application
Contrast and brightness must be right. Only prints of good quality must be submitted. Retouched photos aren't accepted.
Failure to meet these specifications can cause your Chad passport or visa application to be rejected by Chad Embassy. So, it is important you get your photo right before applying for a passport or visa. This is exactly what we do for you in our studio, where we can guarantee that your photographs will pass the first time.
We receive our specifications from the Embassy of Chad, which can be found here.
Chad Passport Photo
At Reload internet we always ensure that our Printed and Digital Passport photos for Chad will meet the strict criteria set forth by the Chad Authorities and Chad is one of the countries whose passports are now fully Biometric.
OPTION 1 – Visit us in Paddington
Just walk into our store and let our experienced staff take your photo. It will not take more than 5 minutes.
We will take your photo with professional lighting.
We will print, prepare & cut your Chad passport photo.
No appointment needed.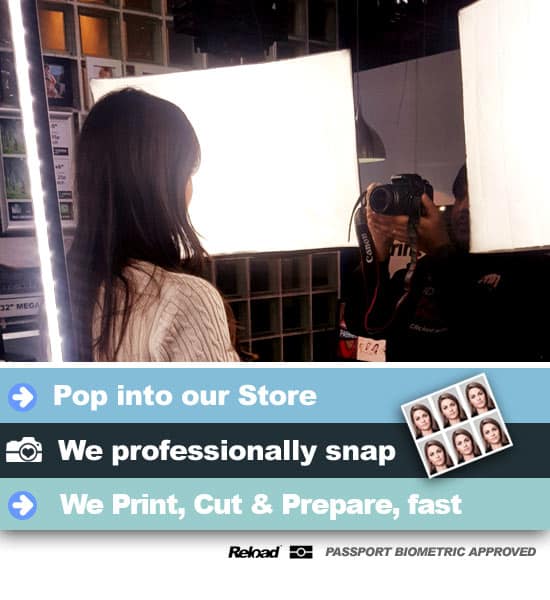 OPTION 2 – Passport photo posted
We can post you a set of 4 Chad Passport photos – next day delivery. How it works:
Email us a photo of yourself from your phone or camera.
We will look at your photo, free of charge
We will reply to confirm.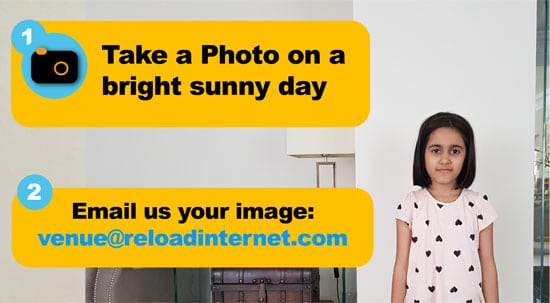 We will print, cut and post your your Chad passport photos
Next day delivery
We post your photos anywhere in the UK or worldwide.
OPTION 3 – Digital Photo resize
Send us your photo from your phone or camera whilst you are standing against a wall in your home
We will look at it free of charge.
3. We will email your resized images back to you same day.
4. Your digital Chad passport photo will be ready to upload to the online Chad passport service.
You do not need to worry about the regulations, we have dealt with thousands of satisfied customers and are very experienced.
So why wait? Email us your photo today and we will resize it digitally for you
Chad Passport Photo printed in London