At Reload Internet, located in Paddington, we will capture your baby passport photo (infant or toddler) in a safe environment, and will then print and cut your set of photos to size instantly, so there is no need to come back.
We have a team of professional photographers that have been trained extensively in regards to producing infant passport photos for babies and toddlers with the correct lighting instore.
We have launched a new Online Baby Passport Photo by Post service with FAST next day delivery available.

Click here

to order your passport photos from home – STAY SAFE NO VISIT REQUIRED
The rules of a baby passport picture are fairly relaxed in most countries because it is almost impossible to get a baby under the age of one year to look at a camera, sit still long enough for a photo to be taken and have a neutral expression.
Depending on the country passport photo you require, Reload will always provide you with a set of 4 or 6 baby passport photographs at an affordable price, and of course they come with a guarantee to be accepted.
Passport size photo baby / newborn / toddler / infant
For children under the age of 6 in the UK, the guideline for baby passport pictures are more relaxed due to the difficulties in taking photos of such children. The passport size photo must be 35mm x 45mm.
Reload (with the help of the Parent)will lay your baby carefully in store, with an appropriate cover sheet that is the colour of the required background for UK baby passport photos, so you can rest assured we will take care of this.
The guidelines for a newborn baby / toddler / infant passport photos are as follows:
The baby passport pic should be a good resemblance of the baby;
There is no requirement for an impartial expression in the passport photo.
Your babies head does not need to be straight and the baby doesn't have to look straight into the camera.
Babies heads may be supported but your hand must not be visible in the photo.
The color of the baby's eyes should be visibly clear in the infant passport picture.
Sample of accepted baby passport photos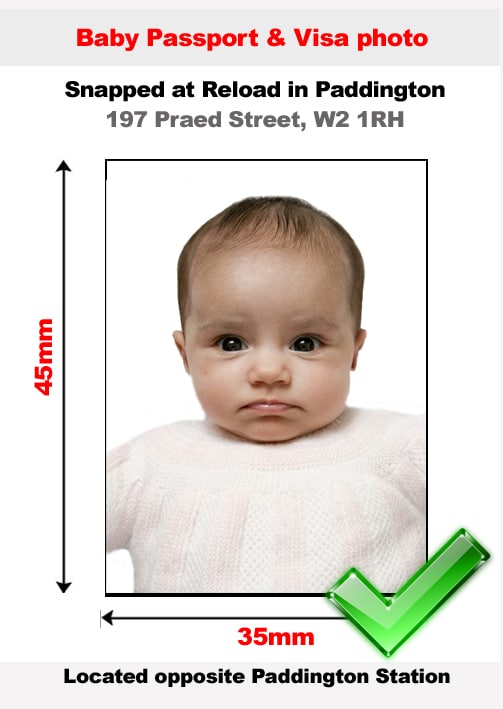 The UK guidelines for newborn baby passport photo in regards to infants are fairly relaxed, other than the requirements of both eyes and their colour being clearly visible. Some countries are stricter, so it is best to follow our requirements listed below.
Below is a list of specifications, which if followed, will be acceptable for every country in the world in regards to infants and children.
Acceptable baby passport photo UK:
There should no visibility of supportive hands in the toddlers passport photos, if there is a need for the parents to hold the child; their hands are usually placed beneath the baby's clothing.
In newborn photo passport pictures for babies and children, they should be on their own and without any objects or toys, dummies etc. Both of the baby's eyes must be clearly visible as well as the colour
The baby must be facing the camera, however they will not need to look directly into the lens if under the age of 1 year
There must be a clear contrast to the background
The baby's head and top of shoulders must be visible in the photograph
The photographs cannot be digitally altered in any way
The photographs cannot be taken in an instant-photo booth or on a home computer
There are many regulations and guidelines to passport photos, with these guidelines you will get through the whole tedious passport or visa process quickly and efficiently for you and your whole family. We guarantee that if you have your baby passport picture taken by us here at Reload Internet, it will pass first time with your application no issues.
Can babies eyes be closed or open in a Passport Photo?
This is such an important question and we get asked this a lot in our store. So here are the exact specifications.
The exact rules for babies are that if your baby is less than 1 year old (12 months old) a UK passport photo does not require a a baby's eyes to be open.
Children aged above 1 year old do need their eyes to be open in their passport photo. As a responsible parent,  you can support their head with your hand, but your hand must not be visible in the passport photo.
Children under the age of six, do not have to be looking directly at the camera or have a plain expression – this is a rule that cause so much confusion as well.
Best place for baby passport photo
OPTION 1 – Visit us in Paddington
Reload remains the best place for baby passport photo near me.
Just walk into our store in Paddington, London and let our experienced staff take your photo. It will not take more than 5 minutes. We have been told that we are th ebest place for baby passport photos as our staff really do care about the well bing of the infant.
We will take your photo with professional lighting.
We will print, prepare & cut your babies & infants passport photo.
No appointment needed.
OPTION 2 – Online Baby Passport Photo by post service
We can post you a set of 6 babies & infants Passport photos – next day delivery. How it works:
Lay your baby ona white sheet and take a photo of your baby like this:
We will look at your photo, free of charge and reply to confirm that we can create your printed passport photo
We will print, cut and post your your babies & infants passport photos
Next day delivery
We post your photos anywhere in the UK or worldwide.
OPTION 3 – Baby Digital ID Code / Infant / Toddle Digital passport photo
Upload your photo of your baby from your mobile phone
We will look at it free of charge.
We will email your resized images back to you same day.
Your baby digital passport photo / infant passport picture will be ready to upload the UK Government babies & infants passport service.
You do not need to worry about the regulations, we have dealt with thousands of satisfied customers and are very experienced.
So why wait? Upload your photo today and we will resize it digitally for you