At Reload based in Paddington, London we can snap and print your Australian Passport photo or Visa photo while you wait. Getting your Passport Photo for Australia takes just a few minutes as Reload Internet uses the latest in Canon and Mitsubishi technology that meets all the Biometric Australian Passport Photo needs and more.
Get your Australian Passport Photo in 2 ways
Option 1: Visit us at our store in Paddington
When you pop into our store in Paddington, we will take a photo of you while you wait.
Option 2: Australian Passport photo by Post
Take a photo of yourself against a white wall at home like the image below & upload it to us, and we will post it to you with next day delivery.
Upload your photo to us here
Alternative Upload link if you have problems above
ALTERNATIVE, UPLOAD YOUR PHOTO
We will print, cut & post your Australian passport photo to you with fast delivery & to the specifications listed below
Reload Internet uses a digital process that not only provides an image instantly, but also reduces the "red-eye" effect to ensure that the results are top quality and well suited for the Australian Passport Service (Australian Government).
The Australian Government has strict standards for your Australian Passport Photo and Reload Internet ensures that they are met thanks to the document photography system we have instore.
Our biometric enabled Australian Passport Photo meets the exacting standards that includes the size of your head in the photo measuring 29mm to 34mm from head to chin.
In addition to Australian Passport Photos, the services of Reload Internet are recommended by the local VFS office for their 50mm by 50mm photos required for their Passports.
The photos are guaranteed which means that they will be taken again for free if they are not right the first time. In addition to Australian Passport Photo and IDs, the photos created by Reload Internet are perfect for following uses;
Baby Passports
Bus Passes
Driver's Licences
Hospital & Health Care
Rail Cards
School & University Cards
Student Cards
US Visa & More
Be sure to drop by Reload Internet to find out more information about how you can purchase the right Australian Passport Photo and ID photos for your needs.
Australian Passport Photo specifications:
The specifications for Australian Passport Photos are not as straightforward as you may believe and some photo kiosks will not be equipped to print the correct specifications required. However all Reload Internet Australian passport photos will comply with the following standards set out by the Australian Government .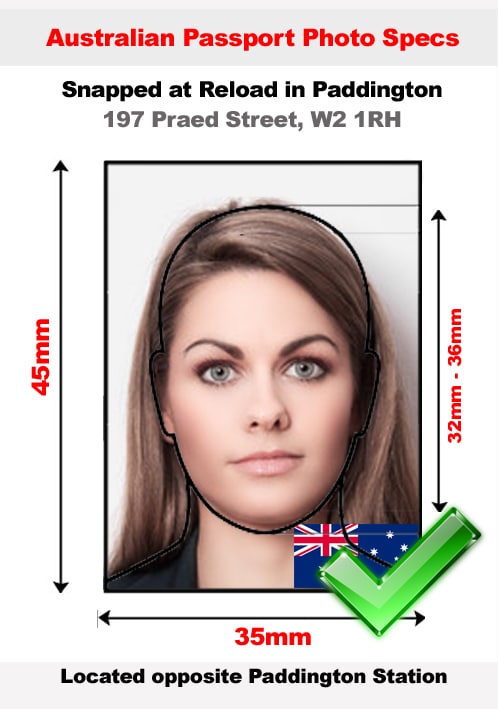 Width: 35mm to 40mm
Height: 45mm to 50mm
Full Front View of Head, Face in Centre of Photo, Includes Top of Shoulders
Neutral Expression: No Laughing or Frowning
Show Edges of Face: Including All Facial Hair
Size of Head from Chin to Crown: 32mm to 36mm
Head Covering for Religious Reasons Must Not Cover Any Part of the Face
All Photos Identical
All Photos Taken within Previous Six Months
Clear, Sharp, Well Defined Photos
While or Light Coloured Background
All Australian Passport Photos will be printed on High Quality Photographic Paper as required by the Australian Government
Child's Passport Photo Specification for Australia Passport
Child's passport (under 3) photo have specific and strict criteria when applying for Australian passport, that is 35mmx45mm. It is very important to meet these criteria successfully to avoid any kind of further trouble.
We at Reload Paddington ensure to provide you with the best and perfect passport photo for your child. Just pop in to our store at Paddington, London.
ASIC – Australian Securities and Investments Commission Passport Photo Specification
Reload Internet is renowned passport photo studio and successful in providing customised passport photo for all countries. The ASIC have specific and clear guidelines when submitting passport photo in their application, that is 20x20mm.
Our fast and efficient team will ensure to provide you with both perfect quality and minimum waiting time.
Bus & Taxi License Passport Photo Specification for Australia
At Reload Internet Paddington our team of experts will ensure your passport photo specifications for Australian bus and taxi license is meet precisely and successfully.
The size 65mmx6mm is clearly clicked, edited, cut and prepared at our studio. All you have to do is pop in to our store and all of this will be done in a jiffy.
Does Australia require a Biometric Passport Photo?
Australia is one of the countries whose passports are now fully Biometric, therefore the passport photo you produce must meet biometric Standards. At Reload internet we always ensure that our Printed and Digital Passport photos for Australia will meet the strict criteria set forth by the Australian Authorities. So visit us today – pop in to our store in Paddington, London, or send us your digital photo for us to send to you.
OPTION 1 – Visit us in Paddington
Just walk into our store and let our experienced staff take your photo. It will not take more than 5 minutes.
We will take your photo with professional lighting.
We will print, prepare & cut your Australian passport photo.
No appointment needed.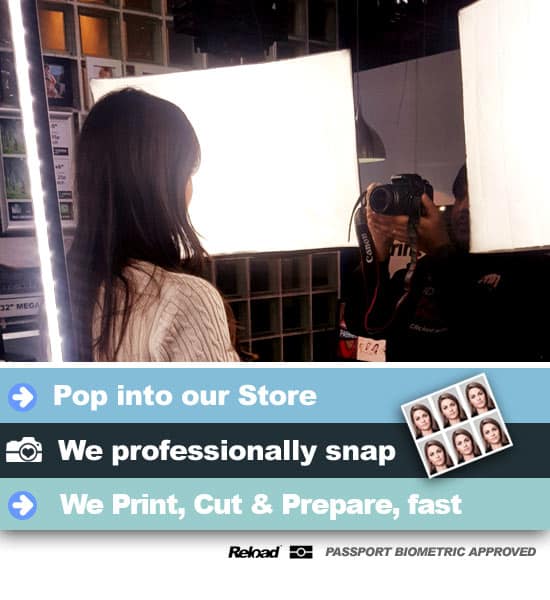 OPTION 2 – Passport photo posted
We can post you a set of 6 Australian Passport photos – next day delivery. How it works:
Email us a photo of yourself from your phone or camera.
We will look at your photo, free of charge
We will reply to confirm.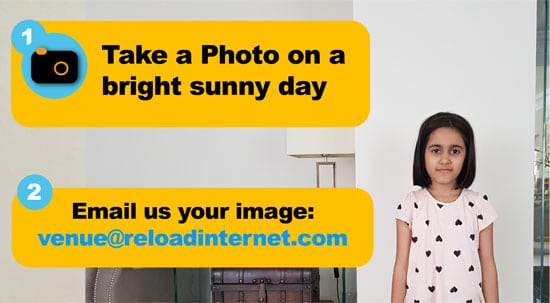 We will print, cut and post your your Australian passport photos
Next day delivery
We post your photos anywhere in the UK or worldwide.
OPTION 3 – Digital Photo resize
Send us your photo from your phone or camera whilst you are standing against a wall in your home
We will look at it free of charge.
3. We will email your resized images back to you same day.
4. Your digital Australian passport photo will be ready to upload to the online Australian passport service.
You do not need to worry about the regulations, we have dealt with thousands of satisfied customers and are very experienced.
So why wait? Email us your photo today and we will resize it digitally for you
We look forward to welcoming you at Reload Internet, in Paddington, London.