Getting your Aruba passport photo or visa photo taken is not a difficult process when you come to Reload Internet in Paddington, London. You can stop by our store to have your Aruba passport photo or visa photo taken and printed instantly, you don't even need an appointment just visit our store and a member of staff will be glad to assist you. The process will just take around 10 minutes to complete, and once finished our Aruba passport and visa photographs come with a guarantee to pass with your application when you submit it to the Embassy of Aruba.
Get your Aruba Passport Photo in 2 ways
Option 1: Visit us at our store in Paddington
When you pop into our store in Paddington, we will take a photo of you while you wait.
Option 2: Aruba Passport photo by Post
Take a photo of yourself against a white wall at home like the image below & upload it to us, and we will post it to you with next day delivery.
Upload your photo to us here
Alternative Upload link if you have problems above
ALTERNATIVE, UPLOAD YOUR PHOTO
We will print, cut & post your Aruba passport photo to you with fast delivery & to the specifications listed below
At Reload Internet, a professionally trained staff member will capture, print and prepare your Aruba passport photo or visa photo straight away. All our staff have been trained to provide you with a set of high quality photographs that meet all of the specifications requested by the Embassy of Aruba. Our staff use the most recent camera and printing tech to ensure that your photographs will pass at the Embassy before we even print them! And that is why we can guarantee that your Aruba passport photo and visa photo will pass first time!
The video below showcases how quickly we can produce your Aruba passport and visa photos, as well as offering more information regarding the specific criteria requested by the Embassy:
We are open throughout the week at Reload Internet, from early morning until late evening – even on a Sunday! – so you can come and visit us at a time that suits you to have your Aruba passport photo or visa photo taken and printed.
It is important that you meet all of the necessary specifications stated by the Embassy of Aruba; otherwise your Aruba passport or visa application may be rejected when you submit it. If your application is declined, it will cost you money, time, and may even affect your travel plans. If you come to Reload Internet, we will eliminate any possibility of this happening, as we will ensure that your photo will pass before even printing it!
Aruba Passport Photo and Visa Photo specifications:
The photos that you need to submit with your application must be recent and in color while also measuring 2 x 2 inches.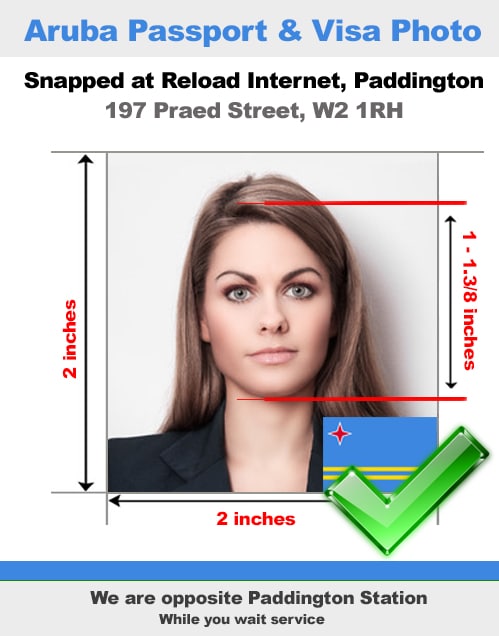 The background must be light colored and it must be plain without any patterns.
It is extremely important that the image is taken while you are directly facing the camera, with the camera at your eye level to ensure an even picture.
You cannot have your face rotated or tilted, as you would if you were getting a portrait taken.
These photos need to display your face where they can see an equal amount of your cheeks and ears.
It is also important that you have a neutral expression on your face with your eyes open.
Images with a smile, frown, raised eyebrows, or squinting eyes will not be accepted.
Things like reflections or red eye will result in your image also getting rejected by officials.
Glasses may be worn for your picture if you absolutely need them but they will not be allowed if they are sunglasses, tinted, the frames cover any part of your eyes, or they cause a reflection when the flash goes off.
Your eyes must be clearly visible in the photo for recognition purposes.
Headwear is also not typically allowed for these images, but if you have a religious, medical or cultural requirement to wear them there are exceptions to this rule.
However, no part of the headwear can block any of your facial features
When the images are printed out, they must have a print resolution that is at least 600 dpi.
It must also be printed out on high-quality photo paper.
These images cannot be digitally altered in any way, nor can there be any creases in the images when they are submitted.
There must be even lighting in the space for optimal photos.
This will prevent shadows from distorting part of the face in the images.
There should be adequate enough lighting where you can get an image that displays your natural skin tones.
Lastly, it is very important that the image has a lot of contrast and is in focused to create a sharper image.
If an infant is getting their image taken, this photo should capture the baby while it is lying down from above.
This is because there cannot be any sign of anything supporting the baby upwards for their image.
If your Aruba passport photo or visa photo fails to meet one of these specifications, then your application will likely be rejected by the Embassy of Aruba. Coming to Reload Internet will eliminate any possibility of this happening, as we will provide you with high quality photographs that meet all of the Aruba passport photo and visa photo requirements.
We follow the specifications from the Embassy of Aruba's guidelines on passport and visa photographs.
Aruba Passport Photo
At Reload internet we always ensure that our Printed and Digital Passport photos for Aruba will meet the strict criteria set forth by the Aruba Authorities and Aruba is one of the countries whose passports are now fully Biometric.
OPTION 1 – Visit us in Paddington
Just walk into our store and let our experienced staff take your photo. It will not take more than 5 minutes.
We will take your photo with professional lighting.
We will print, prepare & cut your Aruba passport photo.
No appointment needed.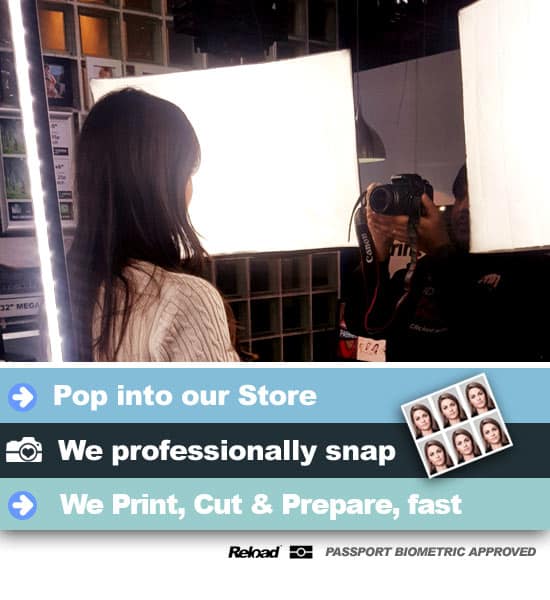 OPTION 2 – Passport photo posted
We can post you a set of 6 Aruba Passport photos – next day delivery. How it works:
Email us a photo of yourself from your phone or camera.
We will look at your photo, free of charge
We will reply to confirm.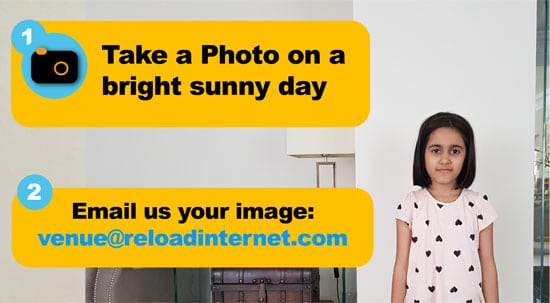 We will print, cut and post your your Aruba passport photos
Next day delivery
We post your photos anywhere in the UK or worldwide.
OPTION 3 – Digital Photo resize
Send us your photo from your phone or camera whilst you are standing against a wall in your home
We will look at it free of charge.
3. We will email your resized images back to you same day.
4. Your digital Aruba passport photo will be ready to upload to the online Aruba passport service.
You do not need to worry about the regulations, we have dealt with thousands of satisfied customers and are very experienced.
So why wait? Email us your photo today and we will resize it digitally for you
Aruba Passport Photo printed here