Reload Internet is the best passport photo studio in London for you to have your Argentina passport photo or visa photo captured, printed and prepared. We are located in Paddington, less than a 30 second walk from both Paddington tube and train stations, making us accessible for people from every area of London. We stay open throughout the week, from early morning until late evening, so you can come and have your Argentina passport photo or visa photo taken at a time that suits you! We take hundreds of passport and visa photographs every week, so you can be certain that the Argentinian Passport Photo we provide you with will pass first time with your application at the Embassy!
Our staff have been fully trained to provide you with a set of photographs that meet the necessary criteria and are of high-quality. We will capture your Argentina passport photo or visa photo with the correct lighting, background & angle. Afterwards we will cross-check the photo with the official passport and visa photograph guidelines to ensure it meets all of the specifications, and after doing this we will print your photograph and cut it to size. That is why we can guarantee that the photographs we provide you with will pass with your application, no issue!
Get your Argentina Passport Photo in 2 ways
Option 1: Visit us at our store in Paddington
When you pop into our store in Paddington, we will take a photo of you while you wait.
Option 2: Argentina Passport photo by Post
Take a photo of yourself against a white wall at home like the image below & upload it to us, and we will post it to you with next day delivery.
Upload your photo to us here
Alternative Upload link if you have problems above
ALTERNATIVE, UPLOAD YOUR PHOTO
We will print, cut & post your Argentina passport photo to you with fast delivery & to the specifications listed below
Watch our video to learn more information about the requirements in regards to Argentina passport and visa photos, or to see how quickly we can produce yours:
You must make sure that your Argentina passport photo or visa photo meets the necessary specifications listed below, as it will likely be rejected by the Embassy if it fails to do so. If you come to Reload Internet you can eliminate any possibility of your Argentina passport photo or visa photo being rejected!
Argentina Passport Photo specifications:
1.5 x 1.5 inch is the standard measurement for Argentine passport photos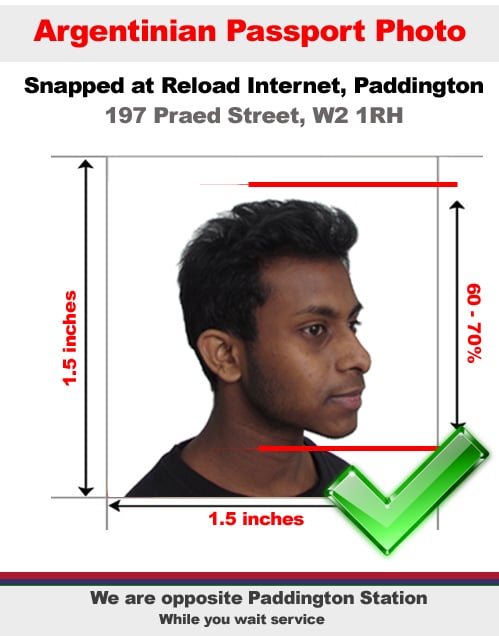 Backgrounds with any form of patterns are prohibited. Only white back grounds can be used. Also, only the person being photographed is permitted to appear in the photo. No other object is permitted to appear. The presence of shadows are also not permitted.
No less than 6 identical photos are needed for submission.
Argentine authorities require three-quarter profile photos. Also, the three-quarter profile should be from the right.
When taking a photo for babies, the baby's eyes should be clearly open and visible.
The baby's photo should be taken in their car sit if the baby is too young to sit alone.
A series of photos should be taken to give enough room for choices to be made.
Glasses are not allowed when taking Argentine passport and visa photos
Argentina Passport Photo specifications for infants:
If the Passport is for a baby, it is expedient to ensure that the baby's eyes are very visible to the camera.
Also, the baby should be well rested
Glasses should not be worn
Profile photos must be taken from left to right and also should portray three quarter of the face
40 mm X 40 mm is the standard measurements for passport photos
A white background is required
Five copies of photos are required.
Argentina visa requirements are dependent on the type of visa that is needed. Types of visa s that might be required include medical visas, work visas, student visas, tourist visas and temporary visas.
There are different regulations for each type of visa. It is important to note that the requirements are not permanent but are subject to constant change.
Argentina Visa Photo Specifications:
Argentina visa photos are generally the same as passport, i.e 40mm X 40mm other than a couple of minor details listed below
A light blue back ground
Four passport photos
If your Argentina passport photo or visa photo fails to meet all of the requirements listed above, then it is extremely likely that your application will be rejected due to a photograph error. This could cost you time, money, stress and may even affect your travel plans. Visit Reload Internet to ensure that your Argentina passport photo or visa photo passes first time when you submit it to the Embassy along with your application.
Our specifications are taken from the Embassy of Argentina's guidelines on passport and visa photographs which you can see here.
Biometric Argentina Passport Photo
At Reload internet we always ensure that our Printed and Digital Passport photos for Argentina will meet the strict criteria set forth by the Argentina Authorities and Argentina is one of the countries whose passports are now fully Biometric.
OPTION 1 – Visit us in Paddington
Just walk into our store and let our experienced staff take your photo. It will not take more than 5 minutes.
We will take your photo with professional lighting.
We will print, prepare & cut your Argentina passport photo.
No appointment needed.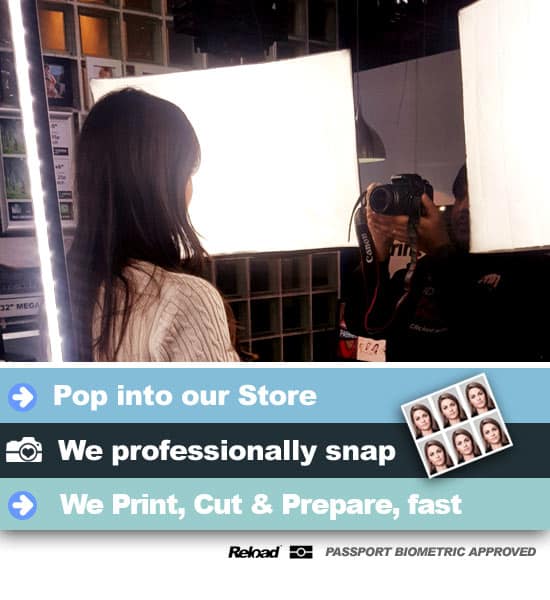 OPTION 2 – Passport photo posted
We can post you a set of 6 Argentina Passport photos – next day delivery. How it works:
Email us a photo of yourself from your phone or camera.
We will look at your photo, free of charge
We will reply to confirm.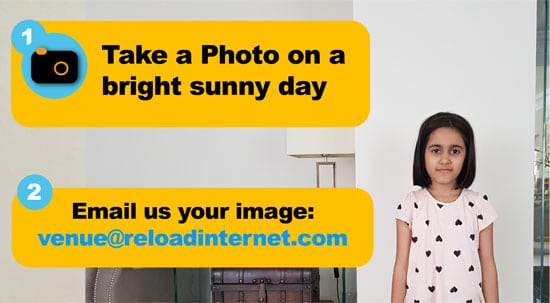 We will print, cut and post your your Argentina passport photos
Next day delivery
We post your photos anywhere in the UK or worldwide.
OPTION 3 – Digital Photo resize
Send us your photo from your phone or camera whilst you are standing against a wall in your home
We will look at it free of charge.
3. We will email your resized images back to you same day.
4. Your digital Argentina passport photo will be ready to upload to the online Argentina passport service.
You do not need to worry about the regulations, we have dealt with thousands of satisfied customers and are very experienced.
So why wait? Email us your photo today and we will resize it digitally for you
Argentina Passport Photo printed in London