Reload Internet passport photos studio based in Paddington, London can photograph and print your European Union EU Passport Photos instore while you wait, with no appointment needed. Our fantastic staff will produce a passport photo which meets all necessary EU guidelines.
Get your EU Passport Photo in 2 ways
Option 1: Visit us at our store in Paddington
When you pop into our store in Paddington, we will take a photo of you while you wait.
Option 2: EU Passport photo by Post
Take a photo of yourself against a white wall at home like the image below & upload it to us, and we will post it to you with next day delivery.
Upload your photo to us here
Alternative Upload link if you have problems above
ALTERNATIVE, UPLOAD YOUR PHOTO
We can take your EU Passport Photo in-store OR we can post it to you with fast delivery. Just upload a photo of yourself and let us do the rest!
Watch our video below to learn more information about EU Passport photos or to see how quickly we can produce them: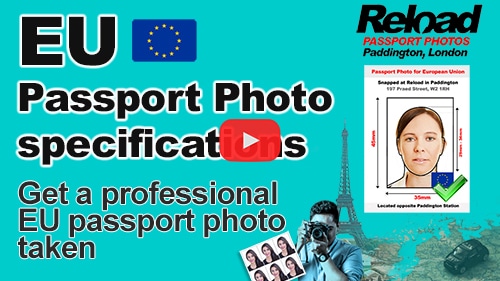 The Staff will take your EU passport photo using a Canon digital camera using the correct coloured background and your passport photo will meet all of the following requirements as per European Union Guidelines for EU Passport Photos.
The required size of an EU passport photo is 3.5 cm x 4.5 cm
Your face must take up around 70-80% of the total photo.
EU Passport photo specifications
Your passport photo must be in color.
Your photo needs to be against a white or off-white background.
Face the camera directly- both your ears should be visible in your photo.
You must have a neutral expression in your photo- don't smile, and keep your mouth closed.
Keep both your eyes open.
Your whole face needs to be visible. Your hair should not be obscuring your face, and you shouldn't be wearing a hat.
If you're able to, remove your glasses when taking the photo. If you need to wear them, make sure that they are not obscuring your eyes, and that there isn't a reflection on the glass.
Your forehead and eyebrows must be clearly visible, and not obscured by your hair.
Your face and the area behind your head should be free from shadow, and your face must be evenly lit.
Reload Internet Passport studio will ensure that your EU Passport Photo:
Is taken with adequate lighting providing a crisp, clear EU photo print against a white background wherever possible.
No shadows will be visible.
The picture taken by our staff will be raised to eye level.
Reload Internet will always ensure that there is a gap between the top of your head and the edge of the picture
Once your EU Passport photo has been taken, we will then easily convert it into an acceptable EU passport photo.
Directions to get your EU Passport Photos snapped and printed in London
CLICK HERE TO NAVIGATE TO US ON GOOGLE MAPS
We look forward to welcoming you at Reload Internet, in Paddington, London.