Get your Canada Passport Photo and your Canadian Visa photos snapped, processed and printed in our in our professional passport photos studio in Paddington, London – while you wait with no appointment necessary. Our Store is called "Reload Internet" and we are based opposite Paddington Station and the London Hilton Paddington.
Get your Canadian Passport Photo in 2 ways
Option 1: Visit us at our store in Paddington
When you pop into our store in Paddington, we will take a photo of you while you wait.
Option 2: Canadian Passport photo by Post
Take a photo of yourself against a white wall at home like the image below & upload it to us, and we will post it to you with next day delivery.
Upload your photo to us here
Alternative Upload link if you have problems above
ALTERNATIVE, UPLOAD YOUR PHOTO
We can take your Canadian Passport Photo in-store OR we can post it to you with fast delivery. Just upload a photo of yourself and let us do the rest!
Online Canada passport photo
Reload offers an online Canada passport photo service by post.
Simply email us your photo and we will get your Passport Photo mailed and delivered to your home and we even have next day delivery options available.
All you need to do is take a suitable picture, email it to us, and we'll handle the rest! Please visit this page to find out more
Canada Passport Photo London
Getting your Canada Passport Photo (or Canadian Visa Photo) snapped and printed in London can be a daunting experience. However, if you choose to visit Reload Internet, a professional Canadian Photo Studio, you can rest assured that we are one of only handful of passport photo studios in London that are able to create Embassy Approved Passport photos for Canada.
You may already be aware of this, but a Canadian Passport photo can NOT be printed from a Photo booth or Photo Kiosk in Paddington or in London. You need a specialist like Reload Passport Photos or you will be declined.
Canada passport photo specification
The requirements for Canadian passport photos are mentioned in the official rules and regulations that govern how many, the type, and clarity they must present of the subject. There are also strict guidelines for the procedure used to reproduce the photos as well. We have received our specifications directly from the Canadian government which you can read about here.
Two Identical Color or Black and White Photographs
Photo size should be 50mm x 70mm
The size of the head from chin to crown must be between 31mm and 36mm.
The photo must be taken in person by a commercial photographer or studio.
It must be printed on High Quality Photographic Paper
Photos that are produced on heavy weight paper will be unacceptable.
There are no stick-on labels allowed and there must be enough space for the applicant's name, the signature of the guarantor, and the declaration below the address of the photographer – which is why Reload has all the stamps in store.
The subject in the photo must be clearly presented in a mug or face-only representation so that a clear identification can be made. This means that if the person is wearing glasses, it cannot obscure the eyes or face of the subject.
In addition, the person should present a neutral expression with no teeth showing and no shadow that appears on the face or the background as it will cause the subject not to be clearly presented in the photo.
Additionally, the measurement from the chin to the crown of the head in the photo must be from 31mm to 36mm.
Plus, there are to be no head coverings unless there is a religious reason and even then the face must be clearly presented.
The subject will need to stand in front of a white or light colored background as per the rules for Canadian passport photo.
The stamp on the back of your Canada passport photo
At Reload in Paddington, we always ensure that your Canada Passport photos will be be stamped on the back according to canada.ca embassy requirements – and you do not need to ask us!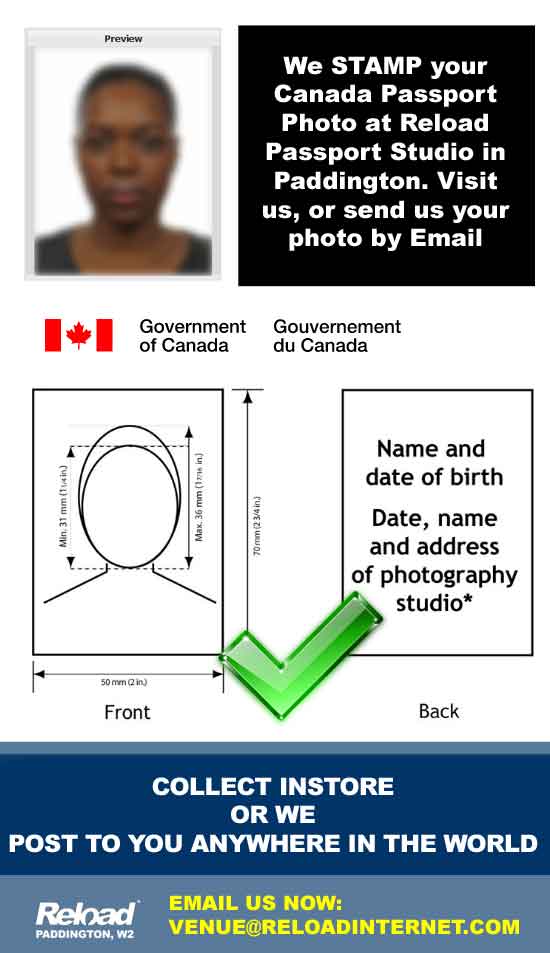 Even if you can not visit us, email us your photo from your phone and let us post it to you anywhere in the world – FAST
Video Canada Passport Photo Bio metric Specifications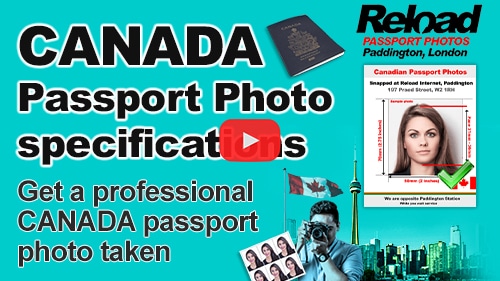 We understand the requirements and unique sizes required for Canadian Passport photos and we custom print these photos regularly instore. Please remember, Photo Booths and Kiosks can not print Canadian Passport Photos – you need a specialist and at Reload Internet, our Staff are trained to handle the unique size requirements for Canadian Passport Photo.
Canadian Visa Photo
The Canadian passport photo frame should be 35mm x 45mm showing the full frontal view of the head and face placed in the middle of the photograph itself. The overall size of the head chin to crown or top of the head must be from 31mm to 36mm. It is required that two identical color or black and white photographs taken within the past six months are to be provided to the Canadian authorities that oversee passports along with the application.
The photographs of the subject need to be taken with a white or light colored background to ensure clarity. Plus, they need to be printed on high quality photographic paper. A neutral face expression is required which mean no smiling, frowning, or the showing of teeth. Glasses are permissible as long as the lenses and frame do not obscure the face in any meaningful way. This means that sunglasses are not allowed for Visa or passport photographs. A head covering is only permissible if it does not cover or obscure the face in any way and that it is for religious reasons.
Canadian Citizenship Passport Photos.
The requirements for this type of photo are similar to the Visa and standard Canadian passport photo with just a few differences. The requirement is for two identical photos to be presented that have a matt finish when applying for citizenship to Canada.
– Frame Size: 35mm x 53mm
– Image Size: 35mm x 43mm
The 10mm blank space below the image is for the signature to authenticate the photo being used. In addition to the matt finish, the photo will need a stamp or the written information of the photographer's name, date of photo, and their address for verification purposes.
Canada Digital Visa Photo
At Reload Internet we specialise in taking digital photo for Canada Visa and the Canadian digital visa photo specs are 420×540 pixels.
Reload have a team of very efficient staff members that will make sure that these specifications are meet to the T. All you have to do is visit our store  in Paddington. We can meet any digital specification for any country.
Canadian Immigration Photo Requirements
The requirements for immigration photographs are substantially different when compared to standard Canadian passport photo. First and foremost the photographs must be taken on negative film which is unlike the digital or electronic versions that have become quite popular today. In addition, there are several other rules and regulations that govern immigration photos.
– Photo must show full view of subject's head and top of the shoulders
– The head and shoulders must be centrally aligned
– Photo background must be plain white only, no light colors allowed
– Photo must include date which it was taken and date of birth of the subject
– Frame Size: 35mm x 45mm
– Distance from Chin to Crown of Head: 25mm to 35mm
In addition, each set of the photographs must be enclosed in separate envelopes that include the name of the family members involved, date of birth, and their specific relationship to the subject written on the appropriate envelope. For example, a person immigrating to Canada with their mother and father must have a separate set of photographs for each along with the required information. Plus, each family member's photos and information must be in separate envelopes that include the relationship they have to the main person (i.e. Father or Mother). Also, the envelope which has the information must be closed by a paper clip and the photo itself must not be scratched, bent, stapled, or have any mark or stain of any type.
When it comes to the rules and regulations that govern Canadian passport photos as well as photos for Visa, citizenship, and immigration purposes, it is very important that the photos themselves fit the requirements. Failure to produce photos that fit the actual requirements may subject the person to a delay in entering the country until such requirements are met.
Be sure to contact the appropriate authorities before attempting to enter the country. The Government of Canada have very strict standards on Canadian Passport photo specifications, and Reload Internet passport photo policy is in line with these exacting standards.
Canada Digital Passport Photo
We at Reload Internet can take your digital Canada passport photo and the Canadian digital passport photo specs are 1200×1600 pixels.
Our team will ensure the specifications are met as per the Canadian Authority. Just pop to our store in Paddington and with minimum waiting time your digital version with the precise pixels will be ready.
We can meet any digital specification for any country.
Passport photo specifications for International Experience Canada (Work Permit)
Reload internet is a renowned and successful photo studio in Paddington, London. Not only do we do passport photo and visa photos but our services also include customising photos based on Canadian authorities for work permit.
The Canadian digital specs for work permit card is 827×1063 pixels.
All you have to do is visit our store in Paddington and we'll take care of the rest.
Canadian Citizenship Application Photo
We specialise in taking digital photos for your Canadian Citizenship Application.
The specifications for these photographs are the same as the Canadian Passport Photo. They are 50mm x 70mm with 50-70% head coverage.
The official photograph specifications have been taken from the Canadian Government Website.
Does Canada require a Biometric Passport Photo?
Over the years, Canada has proven to be one of the most popular places in the world to visit and work. This is particularly true for those from the US, Mexico, Central and South America, and Europe who have sent millions of people into Canada for tourism, immigration, and work-related projects. It's little wonder that Canada has one of the strictest passport requirements in the world. This extends to Canadian passport photos which must meet high standards in order to be approved by the Canadian government.
Canada is one of the countries whose passports are now fully Biometric, therefore the passport photo you produce must meet biometric Standards. At Reload internet we always ensure that our Printed and Digital Passport photos for Canada will meet the strict criteria set forth by the Canadian Authorities. So visit us today – pop in to our store in Paddington, London, or send us your digital photo for us to send to you.
OPTION 1 – Visit us in Paddington
Just walk into our store and let our experienced staff take your photo. It will not take more than 5 minutes.
We will take your photo with professional lighting.
We will print, prepare & cut your Canada passport photo.
No appointment needed.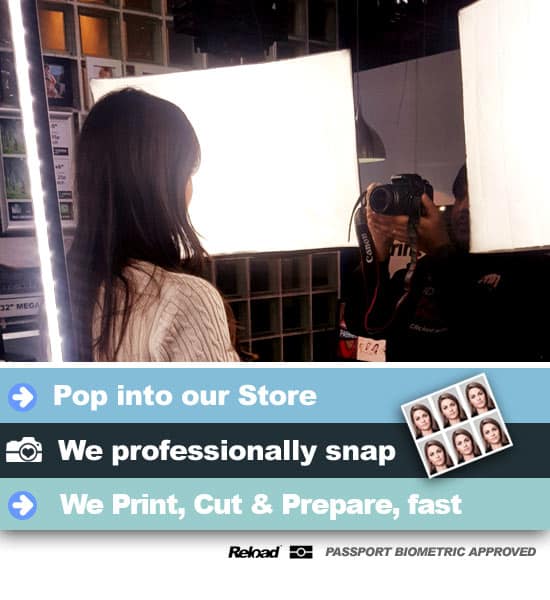 OPTION 2 – Passport photo posted
We can post you a set of 4 Canadian Passport photos – next day delivery. How it works:
Email us a photo of yourself from your phone or camera.
We will look at your photo, free of charge
We will reply to confirm.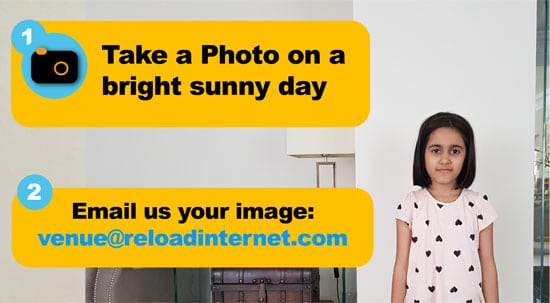 We will print, cut and post your your Canadian passport photos
Next day delivery
We post your photos anywhere in the UK or worldwide.
OPTION 3 – Digital Photo resize
Send us your photo from your phone or camera whilst you are standing against a wall in your home
We will look at it free of charge.
3. We will email your resized images back to you same day.
4. Your digital Canadian passport photo will be ready to upload to the online Canadian passport service.
You do not need to worry about the regulations, we have dealt with thousands of satisfied customers and are very experienced.
So why wait? Email us your photo today and we will resize it digitally for you