Reload Internet based in Paddington can snap and print your Driving Licence Photo or Provisional driving licence in our photo studio in London in a hard copy format or the required digital format while you wait with no waiting required.
For those who are interested in applying for a driver's licence that require a photo card, you will need to provide an ID photo that meets the pre-set standards. Interestingly the Driving licence photo requirement is the same specification as the UK passport photo and we meet this requirement.
Reload Internet is open seven days a week and we have later opening times which open much later than the Post Office and we are open till late on weekends.
2 simple ways to get your Driving Licence photo with Reload Internet. Visit our store in Paddington or use our new online driving & provisional licence photo by post service with next day delivery available
Online Driving Licence Photo by Post
We have launched a new online driving licence photo by post service – simply take a photo against any wall at home and upload the photo to us. We will post you your driving or provisional licence ID photos fast.
Learn more by watching the video below on how the service works
click here to upload your mobile phone photo to review.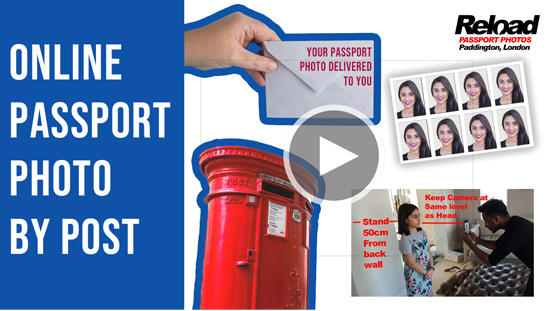 Or visit us in store in Paddington:
Provisional and Driving Licence Photos in the UK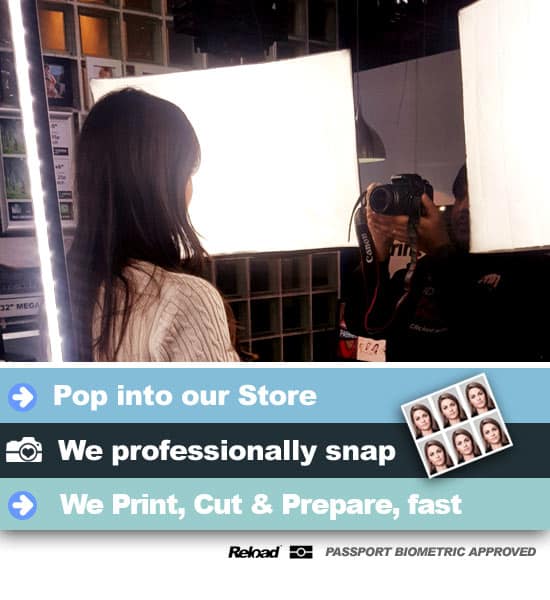 Driving Licence Photo Rules UK and Provisional Driving licence photo specifications
The ID photo you choose to send with your driving licence application must follow the proper guidelines. Reload Internet specialist staff and printing equipment will always ensure that your photo meets the exacting standards required, and these include, Driving licence photos:
Printed on High Quality Paper: The type of paper used by specialist studios like Reload Internet
Driving licence Photo taken within the Last 30 Days
Colour of background being Light Grey or Cream Background
45mm x 35mm: Do not trim photo to specs
Clear, Sharp Photo
No "Red Eye"
Always remove Your Glasses and this prevents unwanted reflections
No Creases, Tears, or Stains on the Driving licence Photo
Reload Internet always follows the standards set forth by GOV.UK on the specifications required for a Driving Licence Photo
In addition to the condition of the Driving licence Photo, your expression and position will have to fit certain guidelines as well.
Look Straight Ahead
Eyes Open
No Covering of Your Face
Natural Look: No smile, grin, or frown
Only Clear Glasses Can Cover Your Eyes
No Sunglasses or Tinted Glasses
No Hat or Head Covering: Except for religious reasons
What Type of Photo is Required for a UK Driving Licence?
The photo you provide must have been taken in the past few months, be in colour, and the proper, passport-size for the ID that is being applied which includes the following;
Provisional Driver's Licence
Renewing Your Driver's Licence
Optional Renewal of Driver's Licence
Exchanging Your Driver's Licence from a Different Country
In addition, you will need to provide proof of your residency which is a requirement to get your new driving licence. However, it should be noted that an ID Photo is not required for certain types of changes to your driver's licence.
When Photos Are Not Required for your UK Driving Licence Application
There are a couple of exceptions that do not require a new photo for your licence.
Changing Your Name and/or Address
Replacing Your Existing Licence
In either case, no new photo is needed because you are not making changes that require a new photo to be used. However, a more significant change may require you to provide a new ID photograph depending on the particular circumstances. You may need to call ahead to see if a new photo is required for the changes that you are going to make.
Digital tachograph driver smart card
We can cater for the strict requirements of a digital tachograph driver smart card as is stated here.
Certification of your Driving Licence Photo
You will need to provide up-to-date UK or EEA passport identity documents. If you do not have such documents, then a valid Biometric Residence permit or travel document that is UK in origin will be required. This means that you must get a person who is properly authorised to sign the back of the photograph before it can be used.
Be sure that you have everything in order before proceeding to getting your new driver's licence. You may want to call ahead so to confirm that you have everything in order first before getting the licence. To have a proper photograph at the ready will help speed up the process.
If you are looking to get your Passport Photos taken by Reload Internet and are looking for more information, please take a look at the link.
UK Driving Licence Passport Photo
OPTION 1 – Visit us in Paddington, London


Just walk into our store and let our experienced staff take your photo. It will not take more than 5 minutes.
We will take your photo with professional lighting.
We will print, prepare & cut your Driving Licence ID photo.
No appointment needed.
OPTION 2 – Order an online Driving Licence and Provisional Photo by post
We can post you a set of 6 UK Driving Licence photos from £9.99 – next day delivery. Order your driving licence pictures below.
How it works:
Take a photo of yourself at home like this:
Upload your photo here
UPLOAD YOUR PHOTO FROM YOUR MOBILE PHONE NOW
Try this link, if you have issues above
We will look over your photo, without charge
We will reply to confirm it is ok & we can guarantee them
We will print, cut and post your your ID photos
Next day delivery
We post your photos anywhere in the UK
Email us

[email protected]

nullreloadinternet.com if you have problems above for fast support or call us on 02072624111
You do not need to worry about the regulations, we have dealt with thousands of satisfied customers and are very experienced.
Get your Passport Photo and Driving Licence ID photo in London