Get your Metropolitan Police Registration Photo or UK Police registration photo in London for Overseas Visitors. The Overseas Visitors' Records Office (OVRO) requires certain foreign nationals to register with the police shortly after they arrive in the UK. Our Police ID photos will always meet the rules for the OVRO Registration Proforma application form.
Get your OVRO Photo in 2 ways
Option 1: Visit us at our store in Paddington
When you pop into our store in Paddington, we will take a photo of you while you wait.
Option 2: OVRO photo by Post
Take a photo of yourself against a white wall at home like the image below & upload it to us, and we will post it to you with next day delivery.
Upload your photo to us here
Alternative Upload link if you have problems above
ALTERNATIVE, UPLOAD YOUR PHOTO
We can take your OVRO Photo in-store OR we can post it to you with fast delivery. Just upload a photo of yourself and let us do the rest!
We guarantee that your Police Registration Photo for the UK will be approved by the OVRO or we will retake your ID photos free of charge and our early and late opening times really make getting your passport photos taken convenient.
Reload Internet can also print passport photos for any Country in the World including the UK, US, India, Australia and the rest of Europe (EU Passport photos) while you wait and with no appointment needed.
UK Police registration photo requirements
Police Registration Photograph size has to be 45mm height x 35mm width.

Head size should be between 32mm and 36mm.

It has to be against a

light grey

background, not white.

Photo should be in colour.

Photo must be less than 6 months old.
Image sample below. We will ensure that your police photo meets these specifications.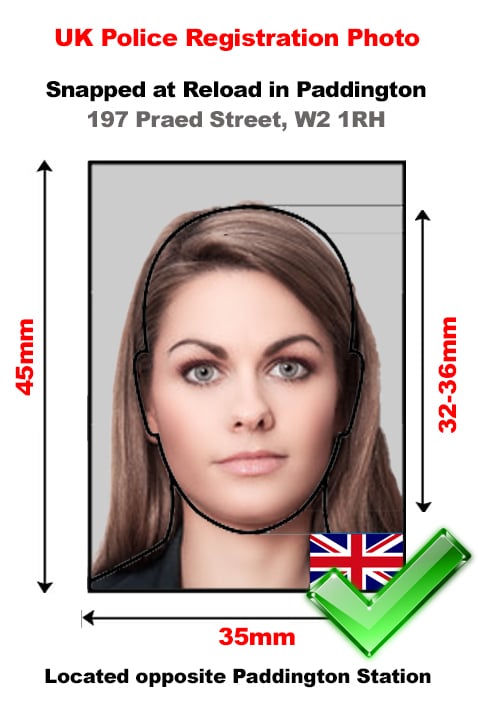 The subject should be forward & straight with eyes open, with no tinted glasses, sunglasses or anything which causes reflections.

To avoid the risk of rejection, we recommend taking your photograph without glasses.

Photos should be taken without anything covering the face.

Photos should be with a neutral expression, mouth closed and no smile.

Only one person is allowed in a photo (no objects like toys, hands or any other person visible).
The main point is that the Police Registration Photo should be taken to the standard that the OVRO requires, and we will ensure that your photos meet these criteria. Incorrectly taken photos will cause a reason for failure of your application.

Do I need to register with the UK police (OVRO)
The following passport holders are required to register with the police after they collect their BRP in the UK and also update their details as required:
Afghanistan
Algeria
Argentina
Armenia
Azerbaijan
Bahrain
Belarus
Bolivia
Brazil
China
Colombia
Cuba
Egypt
Georgia
Hong Kong
Iran
Iraq
Israel
Jordan
Kazakhstan
Kuwait
Kyrgyzstan
Lebanon
Libya
Moldova
Morocco
North Korea
Oman
Palestine
Peru
Qatar
Russia
Saudi Arabia
Sudan
Syria
Tajikistan
Tunisia
Turkey
Turkmenistan
United Arab Emirates
Ukraine
Uzbekistan
Yemen
Upon registering with the police you will receive a police registration certificate. Please keep this document in a safe place.
UK Police Registration Photo Background colour
We consistently have customers always insisting that the background colour be white.
According to the OVRO, the police registration photo background colour should be in Cream (off-white) or Light Grey. There is logic behind this, as White will reflect light back to the camera, and also create shadows. Off white creates less shadows.
Our customers often tend to smile while taking a photo with us – BUT do NOT smile otherwise this will be a reason for rejection. Why? Because teeth can reflect the flash back! – Grimaces will be accepted, but maybe not socially.
Are you allowed to wear your glasses in a UK Police Registration photo?
You can have your glasses on if you wear them daily – HOWEVER, no reflections are allowed – so bear this in mind. Our staff can assess whether the photo we take will pass.
Our team will ensure the photograph meets the specifications of the OVRO. Just pop to our store in Paddington and with minimum waiting time your digital version with the precise pixels will be ready. 
We can meet any digital specification for any country.
Reload Internet has received the specifications direct from the Metropolitan Police Website
UK Police Registration Photo guidelines Video
Watch our video below to see how quickly we can produce your UK Police Registration Photos (which are the same as a UK Passport Photo). Learn more information regarding the requirements by watching the video below.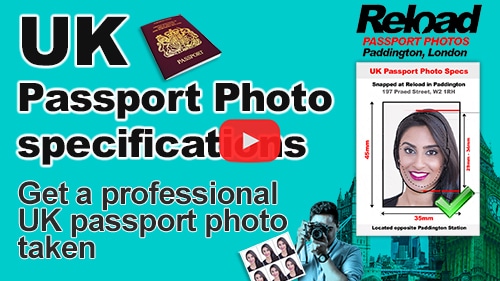 We can take any Passport photo, for any country in the world. Please follow this link if you are looking to access another passport photo from anywhere in the World from the Passport Photo Global Directory.
Why do clients visit us? Because our UK Passport photo and Visa photos will always pass rigid VISA and Passport requirements. Furthermore, we are dealing with more clients that require Indian Passport pictures and we are proud to announce that we now have a section dealing and specialising with Indian Passport Photos. We also have a customer handbook available instore to answer any questions you may have on every embassy in the World.
Our store understand the smaller details required to run a service like the way we do – from always offering you a mirror before we take your passport photo, to ensuring that the background is off-white, light grey, or white (depending on the Embassy you are applying to) we really know our stuff when it comes to taking your Passport Photos – which is why we can offer a guarantee that all of our passport photos we produce in store will always meet the Embassy requirements or we will retake them free of charge.
UK Police Registration Photo
At Reload internet we always ensure that our Printed and Digital Passport photos for the UK will meet the strict criteria set forth by the UK Government.
OPTION 1 – Visit us in Paddington
Just walk into our store and let our experienced staff take your photo. It will not take more than 5 minutes.
We will take your photo with professional lighting.
We will print, prepare & cut your Indian passport photo.
No appointment needed.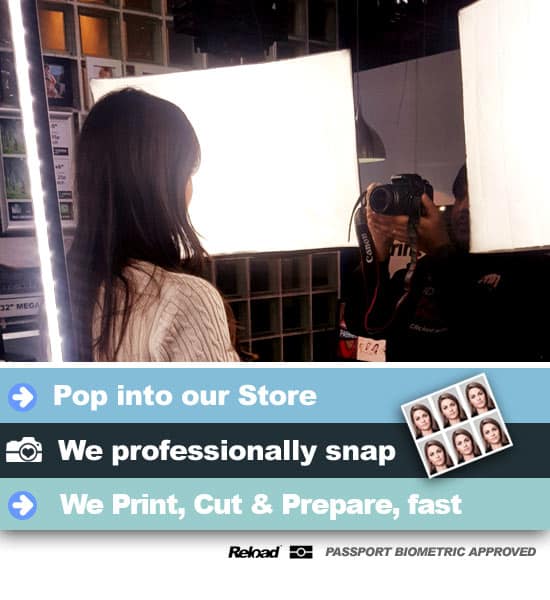 OPTION 2 – Passport photo posted
We can post you a set of 6 police registration photographs – next day delivery. How it works:
Email us a photo of yourself from your phone or camera.
We will look at your photo, free of charge
We will reply to confirm.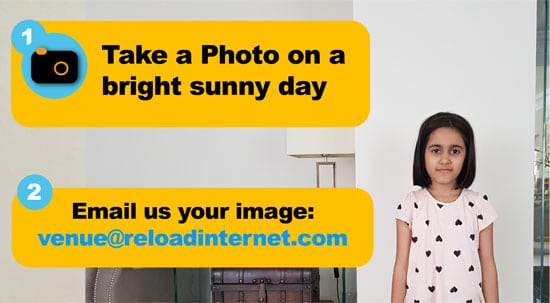 We will print, cut and post you police registration photographs
Next day delivery
We post your photos anywhere in the UK or worldwide.
So why wait? Pop in to our store or email us your digital photo today and we will handle every requirement of your police photo for you