Photographic Poster Printing is an excellent way to turn your favourite photographs into stunning wall art. A high-quality photographic poster from Reload can enhance any space and add a personal touch to your home decor, whether it's a family portrait, a landscape shot, an image you bought from Etsy, or a candid snapshot of a special moment,
Reload Internet offers onsite, same-day photographic poster printing with quick turnarounds for collection or delivery. Our Photographic posters provide long-lasting, vivid colours ideal for colour presentation graphics, indoor displays, exhibitions, home artwork displays, window displays, or to showcase your art at home in a picture frame.
If you want to make your photographic art stand out – look no further than our high-quality poster printing service. We print photographic posters in all custom sizes and are not limited to our in-store A0, A1, A2, and A3 poster printing service.
With advancements in digital printing technology, with Reload, it's now easier than ever to produce sharp, vivid, and long-lasting photographic prints in large sizes that can be framed or mounted to create a stunning display. Our Photographic Poster Printing service offers a range of custom printing options to help you create the perfect poster that meets your specific needs and preferences. You can go ahead and place your order for your poster below.
Our Pricing and Turnaround
When you place your order with us, we will price your photo poster according to the closest price to A0, A1, A2, and A3. Photographic Poster printing paper thickness is available in two thicknesses. Standard 180gsm and Luxury 270gsm. Just let us know what you need when you order.
Our Poster Printing Prices
VIEW OUR POSTER PRINTING PRICE LIST
Upload your Poster Files to us now
Place your Order Here
CONTACT US

Ready to order but have a question? Call us on 02072624111 or email us at

[email protected]

nullreloadinternet.com
Same Day Photographic Poster Printing in London & Delivery Nationwide
We understand the struggle of last-minute preparation for your exhibitions and presentations; that's why, unlike our competitors, we offer same-day collection on all our poster printing orders, or we can even deliver your Photographic Poster Nationwide.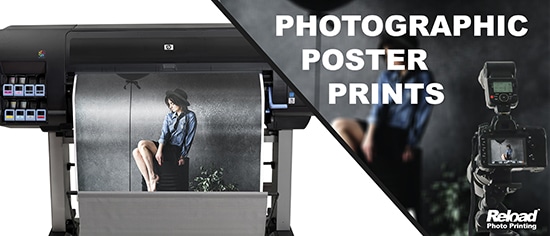 All of Reload's Poster printers are commercial grade HP Z Model inkjet printers – an HP standard signifying that they are the highest grade commercial poster printers available on the market today
Photographic Poster Printing Satin vs Matt – which is better?

At Reload, we can provide you with a photographic poster in either a Matt or Satin finish. There are advantages and disadvantages to each poster.
Matt Photographic Poster benefits
Reduced glare: A matte finish has a non-reflective surface, reducing glare and making viewing the image from different angles easier.
Subtle, understated look: Matte finishes have a more subdued and subtle appearance, which can be perfect for certain types of images, such as black and white photography or fine art prints.
Fingerprints and smudges are less visible: Since a matte finish is not as reflective as other finishes, fingerprints, and smudges are less noticeable, making it a good choice for prints that will be frequently handled or displayed in high-traffic areas.
Satin Finish:
Satin Photographic Poster benefits
Increased vibrancy: A satin finish has a slight sheen that can enhance the colours and vibrancy of the image, making it appear more lively and vivid.
Provides protection: Satin finishes have a protective coating that helps prevent the print from getting scratched or damaged, making it more durable and long-lasting.
Versatility: Satin finishes can work well for various photographic styles, including portraits, landscapes, and commercial photography.
Whichever your personal choice between Matt or Satin Photographic Poster, rest assured that our professional-grade poster printers combine eight high-quality inks and are capable of printing in resolutions up to 2400DPI (dots per inch), ensuring that every minute detail of your artwork or photograph will be reproduced with the highest degree of accuracy.
What photographic poster sizes are available?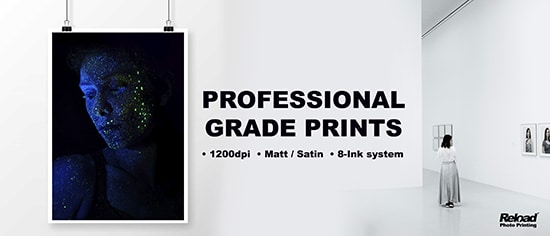 We can print your photographic posters in any custom size with a maximum width of 42 inches (106.7 cm). Our professional-grade large format printer can produce high-quality prints with resolutions up to 2400 dpi.
Our posters are widely used in commercial printing applications such as posters, banners, and other large-format displays. Reload can produce large prints suitable for various indoor and outdoor advertising and marketing applications.
Watch the video on Reload Poster Printing services: