At Reload Internet we offer onsite, same-day architectural plan printing with options to suit every purpose, from presentation drawings to survey drawings. If you want to print your plans to the highest degree of accuracy – look no further than our high quality poster printing service. We can print your A0, A1, A2 and A3 plans in store with quick turnarounds for collection or delivery.
London Architectural Plan Printing
We understand the struggle of achieving perfect scaling on your painstakingly drawn plans and the time it takes to achieve that, that's why unlike our competitors, we offer same day collection on all our poster and plan printing orders. You can send us your file via email or on a memory stick and our specially trained staff will get to work on printing your order.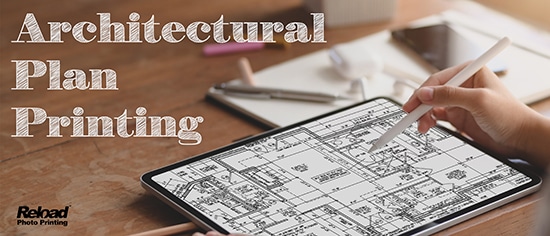 All of Reload's large format printers are commercial HP Z Model inkjet printers – a HP standard signifying that they are the highest grade commercial poster printers available on the market today.
Architectural Plan Printing sizes available
Architectural plans can come in a variety of sizes depending on the scope and scale of the project, as well as the regional conventions and regulations.
Reload is able to print for you the most common sizes used in the industry, which include:

ANSI A (8.5 x 11 inches) – Typically used for small-scale projects or for printing out portions of larger plans for reference.
ANSI B (11 x 17 inches) – Used for small to medium-sized projects or for printing out detailed sections of larger plans.
ANSI C (17 x 22 inches) – Used for medium-sized projects, such as commercial or institutional buildings.
ANSI D (22 x 34 inches) – Used for larger projects, such as multi-story buildings or complexes.
ANSI E (34 x 44 inches) – Used for very large projects, such as industrial complexes or city planning.
Arch D (24 x 36 inches) – A common size used in the United States for architectural plans.
Arch E (36 x 48 inches) – Another common size used in the United States for larger projects.
In addition to these standard sizes, we are able to print custom sizes or scales depending on the requirements of your project. Just call us on 02072624111 and contact our Poster Printing Department, and we would be happy to discuss it further with you
What makes our Architectural Plan Printing service different?
We have the correct finishes for whatever setting you require your plans to be used in. From the presentation phase where our Photographic finishes have high fidelity colour and detail; to Matte finished plans for use out in the field, Reload has you covered.
Our professional grade, large format printers combine eight high quality inks and are capable of printing in resolutions up to 1200DPI (dots per inch). This ensures every minute detail of your schematic is represented with the highest degree of accuracy.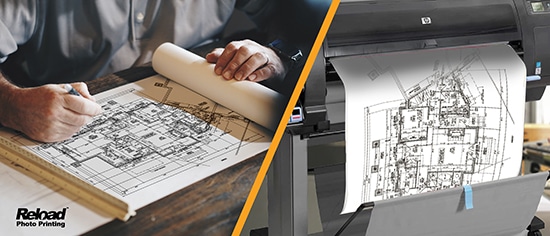 We understand that deadlines can often be very tight and so we are proud to offer quick, same-day plan printing, enabled by our highly trained staff and high tech onsite print facilities.
Order your Architectural Plan poster for Delivery or Click and Collect from Paddington
Simply follow these three easy steps:
Step 1: Check out our comprehensive Poster Printing Price List and upload the files you would like to have printed.
Step 2: Once we have reviewed your files, we'll contact you to confirm the exact time your order will be ready for pickup or delivery.
Step 3: Our expert team will print and cut your posters, ensuring they are a perfect size and ready for pickup or delivery at your convenience – even on weekends and bank holidays! With Reload's same-day printing and fast turnaround times, you'll have your posters in no time.
Click to Order your Architectural Plan Poster NOW

Click and Collect / Delivery
If you require any assistance, please do not hesitate to CALL US at 0207-262-4111 or EMAIL us at

[email protected]

nullreloadinternet.com
Please watch our video on our large format printing services:

Our Architectural Plan prints will be ideal for master schematics of your entire project. Bold, bright, crisp Architectural Plan prints are available at Reload Internet in Paddington.