If you are in need of a Tanzanian passport photo or visa photo and live in London, Reload Internet is the best place to visit. We are a professional passport photo studio, operating in Paddington for over a decade and can capture, print and cut your Tanzanian passport photo or visa photo in less than 10 minutes. We have a team of trained staff that will ensure the photographs we provide you with will pass with your application when you submit it to the Embassy first time, guaranteed!
We will provide you with a set of 6 Tanzanian passport or visa photos, which will be of high-quality and meet all of the requirements listed below. If your Tanzanian passport photo or visa photo doesn't meet the criteria, your application will probably be rejected costing you time and money. That is why you should come to Reload Internet in Paddington, London, for your Tanzanian passport photo or visa photo.
Get your Tanzania Passport Photo in 2 ways
Option 1: Visit us at our store in Paddington
When you pop into our store in Paddington, we will take a photo of you while you wait.
Option 2: Tanzania Passport photo by Post
Take a photo of yourself against a white wall at home like the image below & upload it to us, and we will post it to you with next day delivery.
Upload your photo to us here
Alternative Upload link if you have problems above
ALTERNATIVE, UPLOAD YOUR PHOTO
We can take your Tanzania Passport Photo in-store OR we can post it to you with fast delivery. Just upload a photo of yourself and let us do the rest!
Watch the video below to learn more about the requirements for Tanzanian passport and visa photographs, or to see how quickly we can produce yours:
We have the Tanzanian High Commission's official guidelines readily available in-store, so you can be secure in the knowledge that your photo will meet the most recent specifications.
Tanzanian Passport Photo specifications:
The Tanzanian passport photo should be taken with a blue background
The photo size should adhere to 45mm x 35mm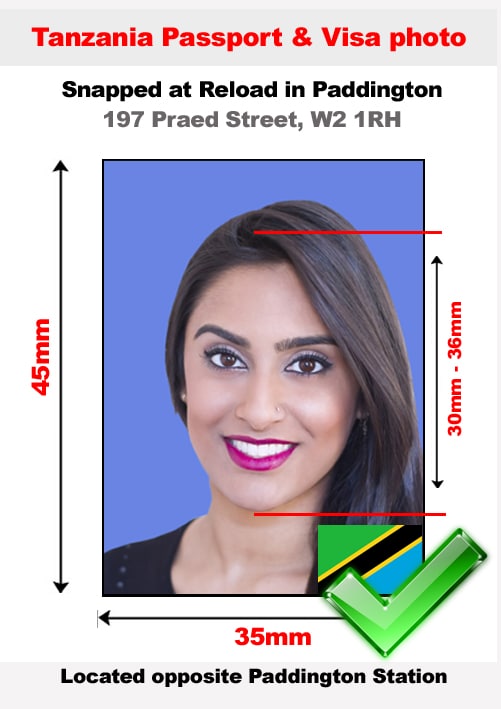 5 copies of the photos are needed
The photos should be of full face and front view ones
The photos should be identical
The photos should not have been taken later than six months (within 6 months)
Any kind of changes, touch ups done on the photos to change the image is not acceptable
The photos should be taken without hats unless there is any medical or religious reason justifying the same
Eyeglasses are not allowed in the photos
If babies are being photographed, then care should be taken to ensure that their eyes are open
The photos should be taken with your mouth closed, with a neutral expression on your face. No smiles, frowns, grins or showing of teeth is allowed. Both the eyes should be open normally and no squinting or raised eyebrows or any other such contrived expression is acceptable.
Care should be taken to ensure that the person's head should be photographed at neither an angle or turned and should be square facing the camera. Even a slight tilt, turn or rotation of the face will not be acceptable. An equal amount of your ears and cheeks on either side should be seen. Your eyes as well as the face should be facing the camera straight.
The person being photographed should directly look at the camera and eyes should be open and visible clearly. It is not allowed for any hair to cover the eyes or the frame of the spectacles. The photograph must be taken with the camera lens at the eye-level of the individual whose photograph is being taken and cannot be below or above that level.
The photographs should be printed with a resolution of minimum 600 dpi on high quality paper, especially if they are taken with digital cameras. The photograph should be of neutral color and the person's skin tones must look natural in the photo. There should not be any kind of impurities or creases in the photo. Nor is any kind of manipulation of the photos allowed for removal of spots or lines etc. Only color photos are allowed.
If you wear glasses, it is better to take them off and get yourself photographed to be on the safe side. If you decide to take the photo with your glasses on, then it must be ensured that no part of the spectacles frame covers the eyes and that there is no glare on the glasses whatsoever. Sunglasses or tinted glasses are not allowed to adhere to the guidelines of the eyes being visible and recognizable very clear.
Head wear of any kind is not allowed. The only exceptions done are for religious reasons. Care should be taken to ensure that the face is visible from the forehead to the lower tip of the chin, even in such cases. Any kind of shadows should not be present on the face. There should be a sharp focus on all parts of the face, with clear contrast.
Tanzanian Visa Photo specifications:
The Tanzanian Visa photo requirements are more or less the same as that of the Passport photo mentioned above. The only changes are in that the background should be of white color, and only two copies are required instead of the 5 for the Passport.
We receive our specifications from the High Commission of Tanzania's guidelines on passport and visa photos, which you can find here.
Tanzania Passport Photo
OPTION 1 – Visit us in Paddington
Just walk into our store and let our experienced staff take your photo. It will not take more than 5 minutes.
We will take your photo with professional lighting.
We will print, prepare & cut your Tanzania passport photo.
No appointment needed.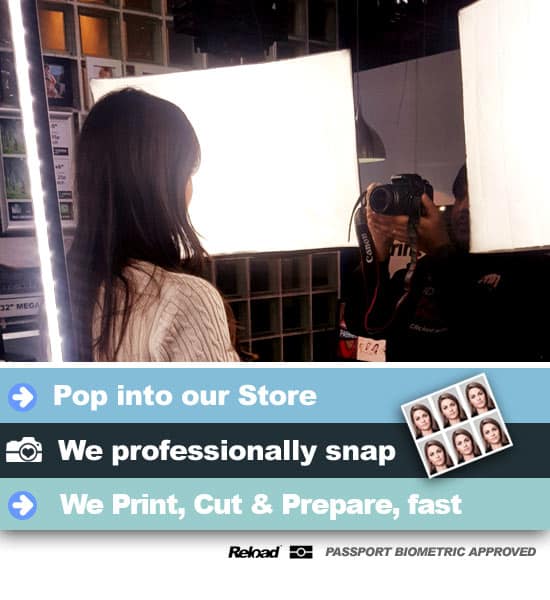 OPTION 2 – Passport photo posted
We can post you a set of 6 Tanzania Passport photos – next day delivery. How it works:
Email us a photo of yourself from your phone or camera.
We will look at your photo, free of charge
We will reply to confirm.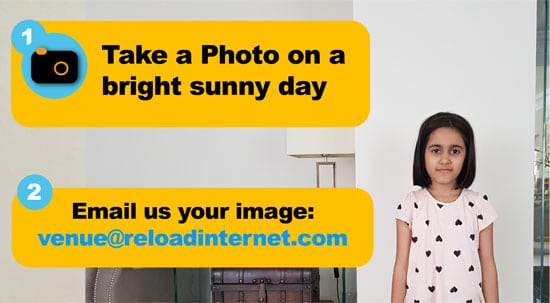 We will print, cut and post your your Tanzania passport photos
Next day delivery
We post your photos anywhere in the UK or worldwide.
OPTION 3 – Digital Photo resize
Send us your photo from your phone or camera whilst you are standing against a wall in your home
We will look at it free of charge.
3. We will email your resized images back to you same day.
4. Your digital Tanzania passport photo will be ready to upload to the online Tanzania passport service.
You do not need to worry about the regulations, we have dealt with thousands of satisfied customers and are very experienced.
So why wait? Email us your photo today and we will resize it digitally for you