Reload Internet is a passport photo studio in London that can take and print your Suriname passport photo or visa photo instantly in-store. We are located in Paddington, and take hundreds of passport and visa photographs every week, including Suriname passport and visa photos. We stay open throughout the week, and you don't need an appointment to have your photographs produced by us, just stop by our store and a member of our trained team of staff will be ready to assist you.
Get your Suriname Passport Photo in 2 ways
Option 1: Visit us at our store in Paddington
When you pop into our store in Paddington, we will take a photo of you while you wait.
Option 2: Suriname Passport photo by Post
Take a photo of yourself against a white wall at home like the image below & upload it to us, and we will post it to you with next day delivery.
Upload your photo to us here
Alternative Upload link if you have problems above
ALTERNATIVE, UPLOAD YOUR PHOTO
We can take your Suriname Passport Photo in-store OR we can post it to you with fast delivery. Just upload a photo of yourself and let us do the rest!
We will capture your Suriname passport photo or visa photo with the correct lighting and background, and will cross-check it with the official guidelines released by the Suriname Embassy, to ensure it will pass with your application first time. After guaranteeing that your photo will be successful, we will print it using the latest passport-photo printers and cut them to the exact sizing required by the Embassy of Suriname.
Watch our video below if you want to see how quickly we can produce your Suriname passport and visa photos, or to learn more about the specifications:
You must ensure that your Suriname passport photo or visa photo meets all of the requirements stated in the official guidelines released by the Embassy of Suriname, as otherwise your application will probably be rejected due to a photograph error. That is why you should come to Reload Internet, where we can guarantee that your Suriname passport photo and visa photo will pass at the Embassy along with your application first time!
Suriname Passport Photo and Visa Photo specifications:
The width and length of the photos submitted should be 2" x 2" and must be identical. The photo shall reflect 60% to 70% of your face showing close up.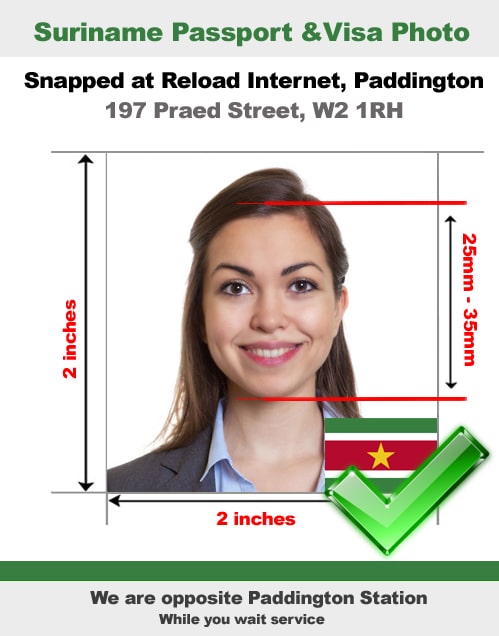 The photo shall have the front view and of the full face
You should not be wearing any uniform, your photo should show you in normal attire
The photo can be a colored one or black and white
The background of the photograph shall be black and white or in plain white color
Chin to the top of the head can vary between 25mm to 35 mm
There should be a neutral expression on the face in the photograph. In the photo, you should not be smiling, showing your teeth, frowning or laughing. Any photograph with an unnatural expression like squinting or raised eyebrows would be rejected. The photo shall be taken with both eyes open.
You should be looking straight at the camera so that your face and eyes are straight and each ear is visible equally. The head while being photographed shall be strictly in portrait style and should not reflect as turned or at an angle. In the photograph, the head shall not be tilted or rotated.
The paper used for the photograph should be of high-quality and of 600 dpi print resolution. These conditions shall be met, especially when the photo is taken by a digital camera. There should not be any impurities or creases in the photo. It is important to ensure that the photo is not manipulated (either by removing softening lines or removing spots). It should be a colored photograph and color shall be neutral. Natural skin tones shall appear in the photograph.
Avoid wearing glasses to ensure that your photograph passes. However, if you wear the glasses while the photo is clicked, you should ensure that no part of the eyes are covered by the frame and the glasses are clear. One must keep in mind that any image with sunglasses, tinted glasses or with reflections on glasses is prohibited. Photo shall ensure that the eyes can be recognized.
It is prohibited to have any head wear, except for religious, medical and cultural reasons. In such cases, there should not be any shadows on the face and your features should be clearly visible from chin to forehead. The photo shall be clear and with balanced contrast.
Small children or infants who cannot support themselves should be photographed while lying. Anything supporting the child cannot be visible like arms or hands of the other person.
Our specifications are taken from the Embassy of Suriname's guidelines on passport and visa photographs which you can see here.
Suriname Passport Photo
OPTION 1 – Visit us in Paddington
Just walk into our store and let our experienced staff take your photo. It will not take more than 5 minutes.
We will take your photo with professional lighting.
We will print, prepare & cut your Suriname passport photo.
No appointment needed.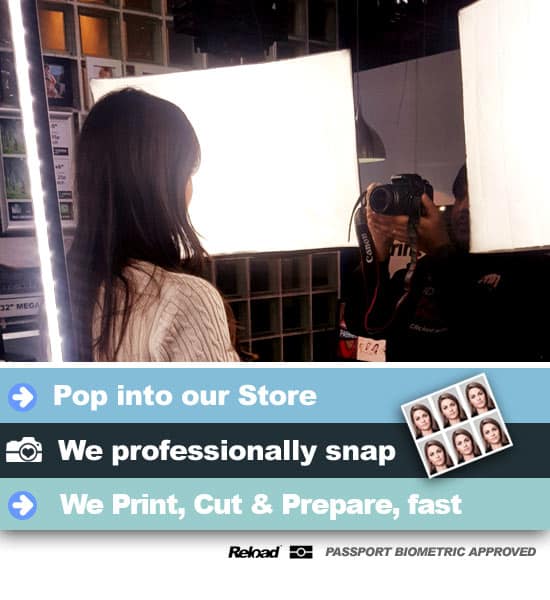 OPTION 2 – Passport photo posted
We can post you a set of 4 Suriname Passport photos – next day delivery. How it works:
Email us a photo of yourself from your phone or camera.
We will look at your photo, free of charge
We will reply to confirm.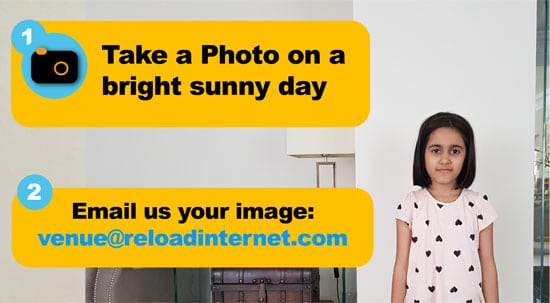 We will print, cut and post your your Suriname passport photos
Next day delivery
We post your photos anywhere in the UK or worldwide.
OPTION 3 – Digital Photo resize
Send us your photo from your phone or camera whilst you are standing against a wall in your home
We will look at it free of charge.
3. We will email your resized images back to you same day.
4. Your digital Suriname passport photo will be ready to upload to the online Suriname passport service.
You do not need to worry about the regulations, we have dealt with thousands of satisfied customers and are very experienced.
So why wait? Email us your photo today and we will resize it digitally for you