Welcome to Reload Internet, the best place to have your St Kitts and Nevis passport photo or visa photo produced. We are a professional passport photo studio that has been operating in Paddington for well over a decade, taking hundreds of passport and visa photographs every week, including St Kitts and Nevis passport and visa photographs. We are located on the same street as Paddington tube and train stations, and stay open throughout the week, making us the most accessible, convenient and reliable passport photo studio in London. You don't need an appointment, just stop by our store and a member of our staff will happily assist you!
Get your St Kitts Passport Photo in 2 ways
Option 1: Visit us at our store in Paddington
When you pop into our store in Paddington, we will take a photo of you while you wait.
Option 2: St Kitts Passport photo by Post
Take a photo of yourself against a white wall at home like the image below & upload it to us, and we will post it to you with next day delivery.
Upload your photo to us here
Alternative Upload link if you have problems above
ALTERNATIVE, UPLOAD YOUR PHOTO
We can take your St Kitts Passport Photo in-store OR we can post it to you with fast delivery. Just upload a photo of yourself and let us do the rest!
We will provide you with a set of 6 photographs that are guaranteed to pass with your application when you submit it to the embassy of the first time. We will capture your photo with the correct background and lighting using the latest Embassy approved digital cameras, and will then cross-check your photograph with the official guidelines so we can ensure it will be successful. After we have checked the photograph, we will print it using high-end photo printing machines, and cut them to the exact sizing required for your application.
Watch the video below to learn more about the requirements in regards to passport and visa photos for St Kitts and Nevis, and to see how quickly we produce them:
You must make sure that your St Kitts and Nevis passport photo and visa photo meets the exact specifications listed below, as otherwise your application will probably be denied because of a photo error. Kindly remember, in case the request for the visa is not accepted or withdrawn or unsuccessful, the fees will not be refunded. This is why you should visit Reload Internet for your St Kitts and Nevis passport photo and visa photo, so you can avoid any unnecessary delays and costs that may occur due your photograph failing.
St Kitts and Nevis Passport Photo and Visa Photo specifications:
The applicant needs to submit the application along with 2 copies of his/her photograph. The photograph should be of the full face without any type of hat/cap on the head.
The background of the photograph should be neutral, we recommend white. Only colored photographs are acceptable. The recommended size of the photograph is 45mm x 35mm (1.77" x 1.38")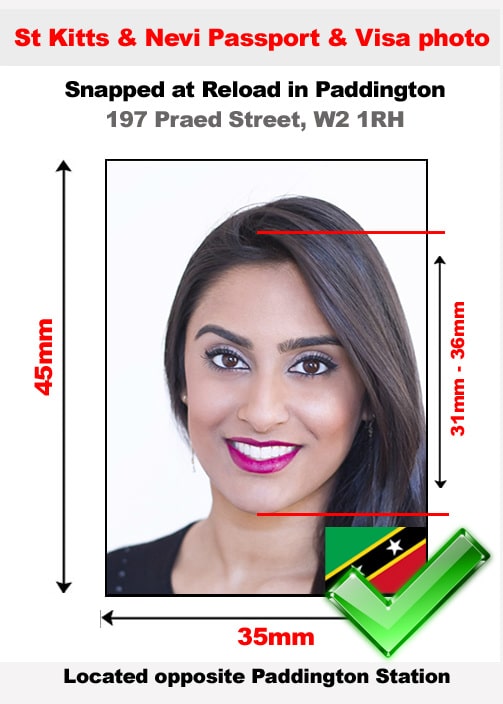 "I certify that this is a true likeness of the applicant" should be written on the back and signed by another individual
Your full face should be clearly visible in the photograph
Only colored photographs will accepted, black and white pictures are not allowed
While having their photograph taken, the applicant should have a neutral expression on his/her face with a closed mouth. The applicant should not be frowning, smiling, laughing or showing his/her teeth. The eyes should be kept wide open. There should not be any contrived expression like squinting or raised eyebrows since these are not allowed.
One should always look straight towards the camera. As stated earlier, the eyes should be clearly visible; they should not get covered by the spectacle frames or hair. The camera lens should be at the same level as the eyes of the applicant; not below or above the eye level.
The paper on which the photograph will be printed should be of high quality. It should have a minimum print resolution of 600 dpi. The skin tone and photo color should be neutral. The photograph should not have impurities, creases and should not be manipulated.
The applicant should not be wearing glasses while getting clicked. In case it is of utmost importance for the applicant, then the spectacle should be such that the eyes are clearly visible. Sunglasses are not accepted.
Headwear is allowed on special grounds like religion. However, in that case, also, the face should be fully visible – from chin to forehead.
These specifications are based on the official guidelines on St Kitts and Nevis passport and visa photos released by the Embassy, which you can see in full here.
St Kitts and Nevis Passport Photo
OPTION 1 – Visit us in Paddington
Just walk into our store and let our experienced staff take your photo. It will not take more than 5 minutes.
We will take your photo with professional lighting.
We will print, prepare & cut your St Kitts and Nevis passport photo.
No appointment needed.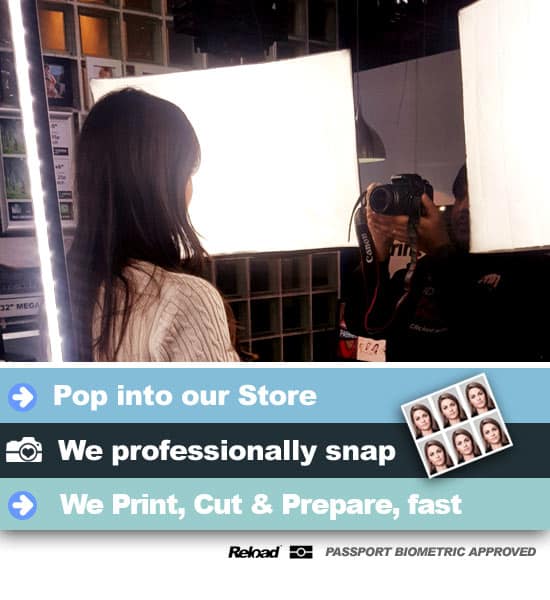 OPTION 2 – Passport photo posted
We can post you a set of 6 St Kitts and Nevis Passport photos – next day delivery. How it works:
Email us a photo of yourself from your phone or camera.
We will look at your photo, free of charge
We will reply to confirm.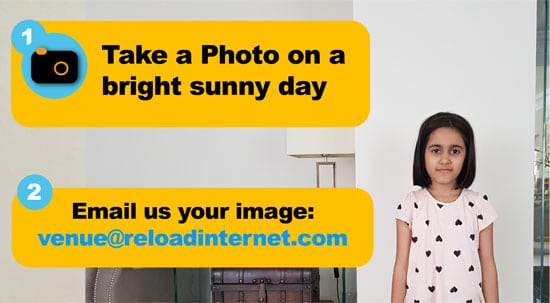 We will print, cut and post your your St Kitts and Nevis passport photos
Next day delivery
We post your photos anywhere in the UK or worldwide.
OPTION 3 – Digital Photo resize
Send us your photo from your phone or camera whilst you are standing against a wall in your home
We will look at it free of charge.
3. We will email your resized images back to you same day.
4. Your digital St Kitts and Nevis passport photo will be ready to upload to the online St Kitts and Nevis passport service.
You do not need to worry about the regulations, we have dealt with thousands of satisfied customers and are very experienced.
So why wait? Email us your photo today and we will resize it digitally for you