At Reload Internet, our Passport photo studio in Paddington, London, we can take your:
Singapore Passport photo
Singapore Visa Photo
Singapore Digital Images for APPLES
Get your Singapore Passport Photo in 2 ways
Option 1: Visit us at our store in Paddington
When you pop into our store in Paddington, we will take a photo of you while you wait.
Option 2: Singapore Passport photo by Post
Take a photo of yourself against a white wall at home like the image below & upload it to us, and we will post it to you with next day delivery.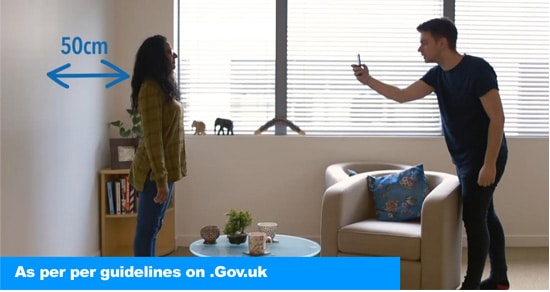 Upload your photo to us here
Alternative Upload link if you have problems above
ALTERNATIVE, UPLOAD YOUR PHOTO
We can take your Singapore Passport Photo in-store OR we can post it to you with fast delivery. Just upload a photo of yourself and let us do the rest!
that are fully compliant with the High Commission of the Republic of Singapore in London. We can take, print and cut your passport photo while you wait with no appointment needed. We are located directly opposite Paddington Station and the Hilton Paddington Hotel.
We supply six Singapore passport photos or a single Singapore Apple digital passport photo that can be used on your Application for Passport On-line Electronic System (APPLES).
Why sit at home on a white background trying to meet the guidelines, when you can visit our conveniently located store, and we can take your Singapore Passport photo for you or even create a digital copy of it and upload the image for you.
Singapore Passport Photo Specifications / Requirements
In order to obtain a Singapore passport or visa, the Singapore Passport photo requirements are very strict and if you do not follow the prescribed guidelines, your application will certainly be rejected. Many passport photo studios simply can not follow so many guidelines as every Country and Embassy is different – and certainly, one passport photo template does not fit all. With Reload Internet however we will always ensure that we follow all of the protocols to ensure that your Singapore visa or Singapore passport photo will be accepted by Singapore:
We will ensure that the photo we produce is sharp and clear. If the photos are not clear, the authorities will certainly reject your application.
The size of the photo will be 3.5 cm X 4.5 cm, without which it will certainly be rejected.
In the photo, your face will range between 2.5cm to 3.5cm, taken from your head to your chin and your face must be exactly in the center of the photo.
Your shoulders will be visible clearly in the photo.
We will always inform you that you can not wear a hat or sunglasses whilst we click your Singapore Passport photo. Even if your religion requires you to wear something, please take it off while you are clicking the photo, as your face must be seen clearly in the Singapore Passport photo.
For people who wear glasses, we will make sure that there is no reflection in your glasses you wear and the frame of the glass will not cover your eyes in any manner. If the glasses are tinted or obstruct your eyes from being seen, it is best recommended that you not wear it to stay on the safer side.
The background we will use will be white and if your hair color matches the background, We will use a background that is light grey, so that your head can be differentiated from the background with ease.
The Singapore passport photo we provide to you will be be a clear matt finish photo without any scratches or dots on it.
We will ensure that your eyes are pointed towards the camera and are wide open when the photo is clicked and that your teeth are not showing whilst you smile.
If you decide to take your own Singapore passport photo at your own home for your application for Passport On-line Electronic System (APPLES) please ensure that no objects such as chairs or other decorative items appear in the passport photograph.
For your information, all Singapore Visa and Passport applications should be sent across with two copies of your Singapore passport photos.There are several other supporting documents that need to be furnished along with the visa or passport application. Please get in touch with your nearest embassy if you need any further info.
Singapore Digital Passport Photo specifications (Apples)
The digital Singapore passport photo requirements for your Application for Passport On-line Electronic System (APPLES) is:
400 x 514 pixels
We can do this instore while you wait
Or you can email us your digital image and we will resize it for your Application for Passport On-line Electronic System (APPLES) and email it back it to you.
Our team will ensure the specifications are met as per the Singapore Authority. Just pop to our store in Paddington and with minimum waiting time your digital version with the precise pixels will be ready. We can also meet any digital specification for any country.
Singapore Passport Photo are now Biometric
At Reload internet we always ensure that our Printed and Digital Passport photos for Singapore will meet the strict criteria set forth by the Singapore Authorities and Singapore is one of the countries whose passports are now fully Biometric.
Singapore Visitor Information
Singapore has emerged as one of the fastest developing countries in Asia ever since it started as an outpost of the British back in the 18th century. It is a preferred travel destination of people from all over the world and is also known as a confluence of cultures and traditions from China, Malaysia and India. Business links to Singapore are certain for any business operating in Asia, due to its fast growing economy. A favorite among tourists and shoppers, Singapore has been a major destination in Asia and attracts thousands of tourists.
Visitors need to understand that although Singapore is free and democratic, the rules related to drug abuse and certain other offences are harsh. But if you are visiting Singapore and do not indulge in anything illegal, is bound to be one of your best and memorable trips.
OPTION 1 – Visit us in Paddington
Just walk into our store and let our experienced staff take your photo. It will not take more than 5 minutes.
We will take your photo with professional lighting.
We will print, prepare & cut your Singapore passport photo.
No appointment needed.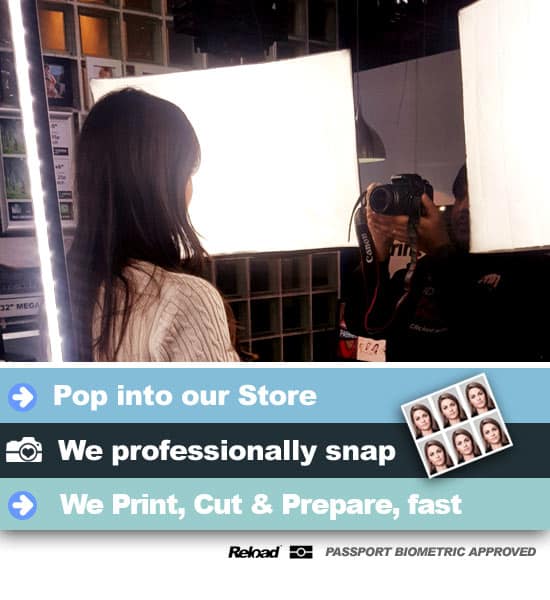 OPTION 2 – Passport photo posted
We can post you a set of 6 Singapore Passport photos – next day delivery. How it works:
Email us a photo of yourself from your phone or camera.
We will look at your photo, free of charge
We will reply to confirm.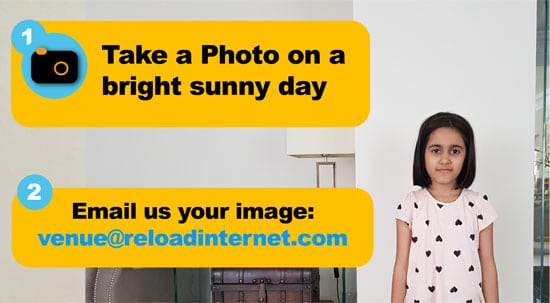 We will print, cut and post your your Singapore passport photos
Next day delivery
We post your photos anywhere in the UK or worldwide.
OPTION 3 – Digital Photo resize
Send us your photo from your phone or camera whilst you are standing against a wall in your home
We will look at it free of charge.
3. We will email your resized images back to you same day.
4. Your digital Singapore passport photo will be ready to upload to the online Singapore passport service.
You do not need to worry about the regulations, we have dealt with thousands of satisfied customers and are very experienced.
So why wait? Email us your photo today and we will resize it digitally for you
We look forward to welcoming you at Reload Internet, in Paddington, London.