Reload Internet in is the best passport photo studio for you to get your Romania passport photo or Romanian visa photo taken and printed. We located in Paddington, London. Getting your Passport Photo for Romania takes just a few minutes as Reload Internet uses the latest in Canon and Mitsubishi technology to meet all the Biometric Romania Passport Photo requirements and more
We are the most convenient studio in London due to our location in Paddington, and our friendly, experienced staff will ensure your photo meets all the necessary regulations set by the Romanian Embassy in regards to passport and visa photographs.
Get your Romanian Passport Photo in 2 ways
Option 1: Visit us at our store in Paddington
When you pop into our store in Paddington, we will take a photo of you while you wait.
Option 2: Romanian Passport photo by Post
Take a photo of yourself against a white wall at home like the image below & upload it to us, and we will post it to you with next day delivery.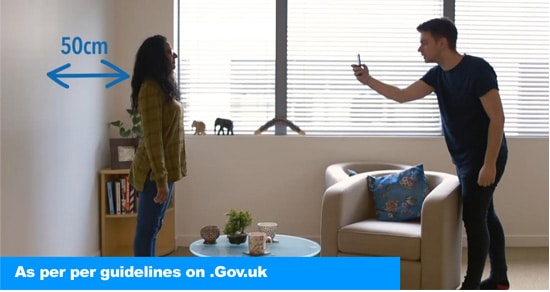 Upload your photo to us here
Alternative Upload link if you have problems above
ALTERNATIVE, UPLOAD YOUR PHOTO
We can take your Romanian Passport Photo in-store OR we can post it to you with fast delivery. Just upload a photo of yourself and let us do the rest!
Our store is open 7 days a week in Paddington, from early in the morning until late in the evening, so you can come and visit us at a time that suits you. The whole process takes just 10 minutes, and you don't need an appointment, so you can pop in whenever you're free to have your Romanian passport photo or visa photo taken. We'll even print your photos out for you right there and then! Our quick service that comes with a guarantee to pass at the Embassy cannot be beaten.
Watch our video below to learn more information regarding the requirements of a Romanian passport photo and visa photo, or to see how quickly we can produce yours:
Our staff will use the latest in printing and camera technology to provide you with a set of 6 photographs for just £9.99. And of course your Romanian passport photo or visa photo will meet all of the necessary requirements stated by the Embassy of Romania. Our professional photographer will ensure your photos are up to standard and then will print them off for you right there and then. All you have to do is write your name on the back of each one, and then include the necessary amount with your application.
Romania Passport Photo specifications
You will need to provide three identical photos in your application, each measuring 45mm x 35mm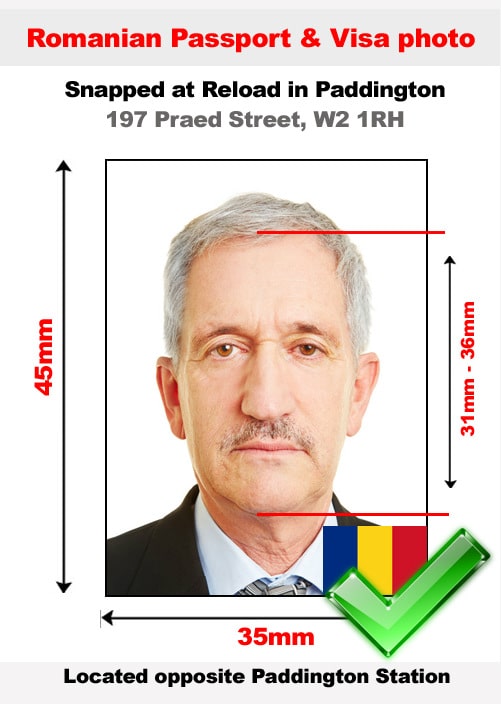 Your face should cover 70 – 80% of the photograph, this means that when the photo is printed, your face should measure between 31mm and 36mm
Photos must be taken against a white or off-white background. Please wear dark clothing when you come to have your photo taken, so that you are clearly visible against the background.
We suggest that you remove your glasses, so that there is no glare or reflection on the lenses. If you do choose to keep them on, then no part of the frame can cover your eyes, and the lenses must be clear and non-tinted.
You must maintain a neutral expression in the photo, with your mouth fully closed.
All the photos need to be identical, and as recent as possible- no older than six months. They can be in black and white, but we recommend submitting them in colour.
Photos cannot be digitally altered in any way – if they are found to be altered, then they will be rejected.
Your head must remain level while the photo is being taken, and you must look directly into the camera. Your face must also be straight towards the camera.
You may wear headwear for religious and medical reasons, but it must not cover any part of your face from top to bottom or ear to ear. Your facial features must be clearly visible.
You must not wear excessive make up, or any jewelry that obscures your appearance
Romania Citizenship Photo specifications:
You will need to include five identical photos in your application
Each photo must measure 30mm x 40mm, with your face measuring 18-25mm from top to bottom
There must be a 7mm white border on the bottom side of the photo
Photo must be taken against a plain white background
Romania citizenship ID photo – Please see full details here.
We can post these photos to you – FAST – just email us a photo of yourself against a white wall and our prices are only £14.99 for this high specific size.
Whether you come to our store Reload Internet in Paddington, or order by post your Romanian passport photo or visa photo or Romanian Citizenship ID National, we guarantee that it will pass with your application first time round, which means that you can cut out any possibility of your application being rejected due to a photograph error.
We receive all of our specifications directly from the Embassy of Romania's guidelines on passport and visa photographs, which can be found here.
Biometric Romania Passport Photo
At Reload internet we always ensure that our Printed and Digital Passport photos for Romania will meet the strict criteria set forth by the Romanian Authorities and Romania is one of the countries whose passports are now fully Biometric.
OPTION 1 – Visit us in Paddington
Just walk into our store and let our experienced staff take your photo. It will not take more than 5 minutes.
We will take your photo with professional lighting.
We will print, prepare & cut your Romanian passport photo.
No appointment needed.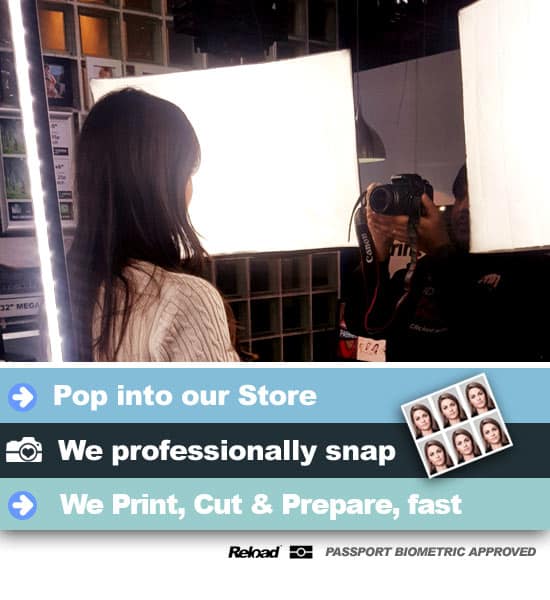 OPTION 2 – Passport photo posted
We can post you a set of 6 Romania Passport photos – next day delivery. How it works:
Email us a photo of yourself from your phone or camera.
We will look at your photo, free of charge
We will reply to confirm.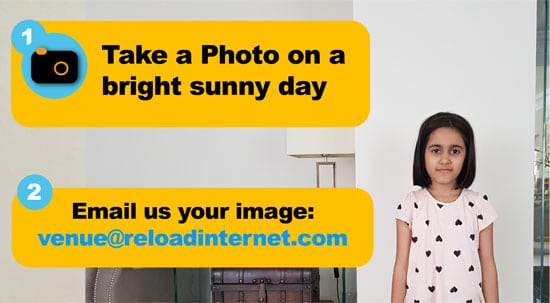 We will print, cut and post your your Romanian passport photos
Next day delivery
We post your photos anywhere in the UK or worldwide.
OPTION 3 – Digital Photo resize
Send us your photo from your phone or camera whilst you are standing against a wall in your home
We will look at it free of charge.
3. We will email your resized images back to you same day.
4. Your digital Romania passport photo will be ready to upload to the online Romania passport service.
You do not need to worry about the regulations, we have dealt with thousands of satisfied customers and are very experienced.
So why wait? Email us your photo today and we will resize it digitally for you