If you need to get a Moldovan passport photo or visa photo taken in London, Reload Internet in Paddington is the best studio to visit. We are a professional passport photo studio based in Paddington on Praed Street – the same street as Paddington train and tube stations – that takes hundreds of passport and visa photographs every week. One of our experienced and professional staff members will take your photograph and print it out instantly according to the requirements stated by the Embassy of Moldova. You do not need an appointment to have your Moldovan passport photo or visa photo taken by us, just visit our store and a member of staff will be happy to help you. The process will only take around 10 minutes, so you can carry on with your Moldovan passport or visa application straight away.
Get your Moldovan Passport Photo in 2 ways
Option 1: Visit us at our store in Paddington
When you pop into our store in Paddington, we will take a photo of you while you wait.
Option 2: Moldova Passport photo by Post
Take a photo of yourself against a white wall at home like the image below & upload it to us, and we will post it to you with next day delivery.
Upload your photo to us here
Alternative Upload link if you have problems above
ALTERNATIVE, UPLOAD YOUR PHOTO
We can take your Moldova Passport Photo in-store OR we can post it to you with fast delivery. Just upload a photo of yourself and let us do the rest!
We are open seven days a week at Reload Internet, from early in the morning until late into the evening, so you can come and have your Moldovan passport photo or visa photo captured and printed at a time that suits you. We are extremely accessible, due to our location being so close to Paddington Tube station and train station, and offer affordable prices. For a set of 6 Moldovan passport or visa photographs, we charge just £9.99, and these photos come with a guarantee to pass first time with your Moldovan passport/visa application.
Our staff have been trained to use the latest camera and printing tech in order to provide you with a set of high quality photographs that meet all of the requirements set by the Embassy of Moldova. We will ensure that your photographs will pass at the Embassy before printing them, so you can be safe in knowing that the photos you submit with your application will pass first time.
If you want to learn more about the requirements for Moldovan passport and visa photos, or want to see how efficient we are at producing them, watch our video below:
Your Moldovan passport photo or visa photo must meet all of the specifications stated below, if it does not then there is a high chance that it will be declined when you submit your application. This will cost you time, money, and could affect your travel plans. At Reload Internet we guarantee that this will not happen to your application, as we will get your Moldovan passport photo or visa photo correct the first time!
Moldova Passport Photo specifications:
The photographs must be sized at 35mm x 45mm and printed out on photo paper that is high-quality with a resolution of 600 dpi.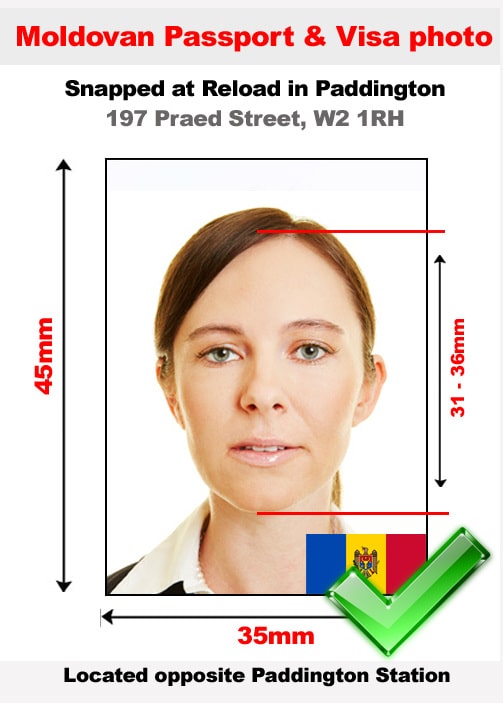 Your chin to the crown of your head needs to measure between 31mm and 36mm.
When you get this photo taken, you will need to look directly at the camera while keeping a neutral expression without showing your teeth.
The image must show the features of your face clearly and have a sharp image with the right level of contrast.
You cannot use any images that have shadows, red eyes, or reflections.
Glasses frames cannot obscure your eyes, or the photo will also be rejected.
You need to have a neutral background and one without any clutter.
Your skin tone must appear natural and the photo cannot be damaged in any way.
The camera must be at eye level when the picture is taken.
Your head must be straight and looking directly at the camera so that it can capture your entire face.
This image cannot be portrait-style, where your head is tilted or the photo is taken at an angle.
The camera needs to be able to capture your entire face evenly to help with recognition, so a straight-on camera shot will ensure that you get both sides of your face.
In normal circumstances, images with headwear will not be accepted. There are exceptions to this if the headwear is necessary for religious, culture, or medical reasons. If this is the case for you, you will need to provide certified documentation along with your application to prove that you need to wear the headwear.
The headwear must not cover your face or cast a shadow that obscures your face.
Glasses are also typically not accepted, though they can be allowed if the frames do not cover your eyes and they do not create a reflection when the photo is taken.
The photographs must be an original photo.
These cannot be altered or manipulated in any way.
It can be tempting to remove any fine lines or imperfections in your face, but these are features that are necessary for these official photos.
If there is an infant or another minor, there cannot be any sign of any supports holding the child in the image so those supports must be out of frame.
Should you Moldovan passport photo or visa photo fail to meet any of these requirements, then it is likely that your application will be rejected when you submit it to the Embassy. At Reload Internet we guarantee that the photographs you receive from us will pass first time along with your application.
We receive our specifications from the Embassy of Moldova's guidelines on passport and visa photographs and there Wikipedia page can be seen here.
Biometric Moldova Passport Photo
At Reload internet we always ensure that our Printed and Digital Passport photos for Moldova will meet the strict criteria set forth by the Moldova Authorities and Moldova is one of the countries whose passports are now fully Biometric.
OPTION 1 – Visit us in Paddington
Just walk into our store and let our experienced staff take your photo. It will not take more than 5 minutes.
We will take your photo with professional lighting.
We will print, prepare & cut your Moldova passport photo.
No appointment needed.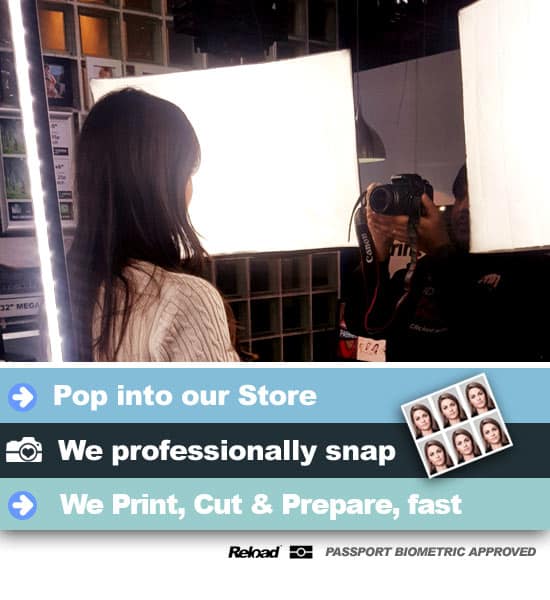 OPTION 2 – Passport photo posted
We can post you a set of 6 Moldova Passport photos – next day delivery. How it works:
Email us a photo of yourself from your phone or camera.
We will look at your photo, free of charge
We will reply to confirm.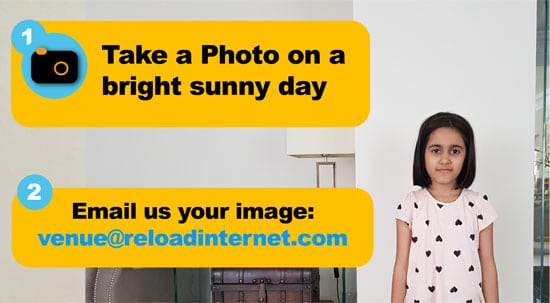 We will print, cut and post your your Moldova passport photos
Next day delivery
We post your photos anywhere in the UK or worldwide.
OPTION 3 – Digital Photo resize
Send us your photo from your phone or camera whilst you are standing against a wall in your home
We will look at it free of charge.
3. We will email your resized images back to you same day.
4. Your digital Moldova passport photo will be ready to upload to the online Moldova passport service.
You do not need to worry about the regulations, we have dealt with thousands of satisfied customers and are very experienced.
So why wait? Email us your photo today and we will resize it digitally for you