Get your Indian Passport using our Indian Passport Renewal Application help service. We take care of every aspect of obtaining your new passport with a guaranteed pass service.
It can be difficult to understand the Indian government's confusing and frustrating online Indian Passport Renewal Application SEVA forms.
This is where Reload is able to help. We are highly experienced, having completed thousands of successful applications with the Indian government.
You can be assured that
Reload Indian Passport Help Service is
up to date with all of the rules and regulations with VFS and the Indian High Commission. Reload will get you through all the regulatory hurdles.
Book an appointment to visit us today
Our experienced staff will take care of all the worry and frustration by dealing with your entire Indian Passport application from start to finish, including advising which documents are required, scanning, resizing and taking care of all document uploads for your Indian Passport Renewal Application – and we will even handle your booking appointment with VFS at any center in the UK. Our fee also includes your Indian Passport Photo that will be taken in our studio.

We Specialise in every type of Indian Passport Renewal Application:
Adult renewing Indian Passport that has expired within 1 or 3 or more years ago
Minor (under 18) renewing Indian Passport
Tatkal express service
First time Indian passport for new born baby (NO Tatkal service available for this)
First Indian Passport Application (For newborns)
Birth Registration Certificate For New Born / First Indian Passport
Change in Address, or Change of name, or change name of spouse on Indian Passport
Deletion of Spouse name from Indian Passport (example divorce)
Indian Passport due to expire or has expired in the past 12 months
Old Indian Passport expired more than 3 years ago
Exhaustion of pages – if you have travelled the world and used up your pages, we can help you get a new Indian Pasport
Damaged Indian Passport
Lost Indian Passport
Renewal of Indian Passport where you do not have a valid UK visa
Our Indian Passport Renewal Service includes everything* you will need:

Detailed Indian passport document requirement list based on your requirements will be provided after you make an appointment with us
Passport photos included worth £14.99
All indian passport forms completed on your behalf including Police Clearance Certificate / Police verification forms
Full advice using our many years of experience on exact documents even in most difficult cases
All Printouts and photocopies included
Booking to any VFS center included
Guaranteed success service or redoing it for free*
Book an appointment & visit us in Paddington.
You are 4 simple steps away from getting your Indian Passport Renewed with Reload OCI.
Step 1: Click on the Button below to make a booking to visit us in Paddington at a time that suits you.
Step 2: We will then send you an exact Indian Passport Document List based on your requirements to bring with you to your appointment
Step 3: When you visit us, we will complete everything for you including taking photos in our photo studio. If you are attending on behalf of a senior or elder, you can bring their documents with you and take a photo of them against a wall at home and bring that with you. We will do the rest!
Step 4: Once we have completed everything we will give you all of the paperwork and book an OCI appointment for you at VFS. If you face any issues at VFS, we will be at hand to assist you and our guarantee will ensure that you do not have to pay anything extra to us no matter what. We will be with you all the way till you get your Indian Passport in your hand.
Indian Passport Renewal service price
Our Indian Passport Renewal Service is £99.99 per applicant
CAN NOT COME TO PADDINGTON?
USE OUR REMOTE INDIAN PASSPORT HELP SERVICE – NO Visit Required
Our Remote Indian Passport Service is great if you are located outside of London and can not visit us.
We will complete eveything you for you via email and will post you your entire application without you needing to leave your home
We will handle & book a VFS booking for your OCI and explain everything to you simply
We cover the whole of the UK.
Click here to find out more on our Remote OCI Service – NO VISIT REQUIRED

FAQ related to Indian Passport
Indian Passport Services
Reload offers the following Indian passport services which are fully compliant for HCI London and Indian Visa & Consular Application Centre in the UK:
We offer the following services:
Re-issue of Indian passport
Renewal of Indian passport on expiry of full validity passport
Renewal / Re-issue of Indian passport on exhaustion of pages
Re-issue of Indian passport on change of name / surname / signature
Re-issue of Indian passport for change/addition/deletion of name of spouse or change of address.
Re-issue of short validity passport on emergency/not having valid visa.
Issue of fresh passport in lieu of lost/stolen/damaged passport.
Issue of first-time passport to a new born child.
What documents do I need for my Indian Passport Renewal Application?
After you have booked an appointment with us we will email you the exact documents list that you will require for your Indian Passport application. The document requirement list varies according to the type of passport application you require.
What is a Police Clearance Certificate / PPF – Police verification Form for Indian Passport Renewal?
You will require a police verification form for Indian Passport renewals. This form contains your personal details and a photograph and will need to be submitted along with your Passport Application.
It is mandatory to have Police Verification in all the cases of reissue or renewal of Passports. The police may visit the address you provide, so it is important to provide the full Indian address where the Police authorities can go for verification. Providing an incorrect address will cause a delay in the issuance of your Indian Passport.
We include police verification in our Indian  Passport Renewal service.
Do I need a Birth Registration Certificate For New Born before I can obtain a New Born Indian Passport?
In short you need a Birth Registration Certificate and an Indian Passport Application for a new born baby. You can now submit both applications to VFS at the same time and in the same booking. Please make a booking above to visit us. If you do not have a Birth Registration certificate, we will take care of this for you. Do not worry we can do it all when you visit us, and the photos are included in any package you choose.
What is the photo size for Birth Registration Certificate vs Indian Passport size?
The Photo we will provide for this will be 35mm x 35mm with a grey background. This size is a requirement for Birth Registration Certificate For New Born / First Indian Passport and we include this photo with our service.
We are Indian parents and need to issue a first-time indian passport for a new born child born in the UK. What is the procedure?
Reload can assist you with all of the formalities required for the birth of your child and first Indian Passport. Your new born will be required to be registered with HCI London BEFORE being applying for an Indian Passport. An application for passport will be submitted AFTER obtaining the Birth Registration certificate from HCI London. Reload will take care of the entire process for you, simply make an appointment to visit us in Paddington and let us take care of everything for you.
How do I apply for Indian Passport Renewal or a new Indian passport or replace a lost and damaged Indian passport?
The Indian Passport/Indian Passport Surrender service has been outsourced to VFS (UK) however an application has to be filled online, printed with special Indian passport photos and submitted to a VFS centre along with relevant copies and signed letters. Source
Reload is an Indian Passport help service based in Paddington and we will take care of every form and all the formalities that relate to your Indian Passport Renewal. We have served thousands of customers and we are here to get you through the whole process and our prices start from £99.99 per applicant, which includes all form filling, all advice, passport photos, printouts and copies and a booking to VFS.
How long before the expiry of my Indian Passport can I apply for a full validity Indian passport?
The expiry date is always mentioned in all passports. You should check when your passport actually expires or has expired.
Indian passport holders can apply for the reissue of an Indian passport 12 months before the expiry of the passport and can even apply for a reissue of an Indian passport if it has expired.
You are always entitled to apply, but do not apply more than 12 months before expiry of your Indian Passport.
Full validity of Indian passports have a life of ten years and five years for minors.
I have a hand written Indian passport or an Indian passport with 20 years validity. Can I apply for a machine readable Indian Passport of normal 10 years validity as a replacement?
The first point to note is that hand written Indian passports or passports with 20 year validity will give you difficulty in obtaining visas for many countries as many Country's authorities will object to a 20-years validity passport or a hand written passport, so they need to be changed as soon as you can.
You must apply to reissue your Indian Passport and it is in your interest to get a new 10 years Passport and you can apply at any time. So book an appointment with Reload Indian passport service if you need us to do this for you.
The Government of India has now stopped issuing 20 year validity passports and hand written passport.
If you book an appointment with Reload we will follow the procedure for re-issue of a passport on expiry of its validity EVEN if you still have a very low validity period on your passport as these need to be changed asap.
What validity should remain on my Indian Passport before the date of my travel?
You will require a minimum of 6 months of validity on your Indian Passport before the date of your travel.
How can I check the status of my Indian passport application?
If you have used Reload to renew your Indian Passport and you have not received your Indian Passport, then we are always here to help. We will email the Public Response Team of the Indian High Commission with the following details for accuracy of communication:
Full name
The VFS centre you have applied through
Your passport number
ARN number or GBRL number,
Date of birth.
Brief description of the problem you are facing
This will help Indian High Commission to identify you quickly.
What are the normal processing times for Indian Passport Renewal?
Processing times vary. But our clients have received their passports in 2 weeks using a Tatkal service, and 3-5 weeks when applying under a normal service.
How much validity can be left on my current Indian passport before I can apply for a new Indian passport?
Your passport application can be submitted to VFS for re-issue up to 12 months before the date of expiry.
My Indian passport has no more pages left, its full. Can I apply for additional Pages in my passport or apply for an additional Indian Booklet?
There is no facility to add extra pages or apply to receive an additional Indian booklet. Instead you should apply for a new passport as you have exhausted your pages and you can apply at any time for this regardless of your validity of your Indian Passport.
Can a child (minor) travel using Parents Indian Passport?
Unlike the London Underground, all minors are required to have a separate passport when travelling. Interestingly, there was an old practice of including a child's name in the Passport of either of the parents but this has been discontinued now.
Should BOTH parents sign the first-time passport to a new born child application form?
Yes, both parents should sign for the new born child in the application. If you book an appointment with Reload for the issue of the first-time passport to your new born child we will ensure you do not face any problems when you visit VFS.
Do I need a thumb impression of a new born child on the new born Indian passport application form?
You have to use a thumb impression for your new born baby, and please use your baby's left thumb impression / thumbprint for a male child and right thumb impression for a female baby in the space highlighted in the application form. Again if you are a client of Reload, we will carefully guide you through this tricky process. Save the hassle and book an appointment with Reload in Paddington.
Can I make an amendment to my personal particulars at the time of re-issue of my Indian passport?
You can make an amendment to your personal particulars at the time of re-issue or renewal of your Indian passport however you must clearly mention where exactly you seeking to make the amendment to your personal particulars. Normally no amendments are allowed unless you substantiate the changes you need to make with documentary evidence. The High Commission in certain cases such as a change in name in your Indian passport will also like to know why you are seeking the change.
Can I use my UK address in my Indian passport?
Normally, you would not use a UK address in your Indian passport. However if you have a circumstance where you have left India and no longer have an address in India and you are in the UK with an ILR (indefinite leave to remain) then you are absolutely permitted to use your UK address in your Indian passport. Book an appointment with Reload, and we will let you know if the High Commission will ask you for an affidavit basically stating the reasons you do not have a permanent address in India.
Can I change my old photo / update my photo in the Indian passport to match my current appearance?
Yes you can! Please bear in mind that this is not re-issuance of an Indian Passport but instead a fresh passport will need to be issued. Book in an appointment to Reload and our team will fill in the correct application form that is needed for this.
I have an Emergency and need to travel immediately. Can I re-issue or renew my Indian passport or any other passport service?
The best advice we give our clients is to submit an application under Tatkal Service. Processing time for a tatkal application is roughly 3-5 working days. However it is important to note that the tatkal application is not guaranteed as all applications still haver to be checked regardless of the situation or emergency you are in.
The Tatkal Service can be used in emergency circumstances like Family bereavement, medical emergency etc, however, if you book us in for an appointment for this service we always recommend that you provide supporting documents as proof of your emergency to get the cooperation of the Indian High Commission. Example of proof can be, confirmed journey ticket's copy and perhaps even a written letter from you explaining the emergency. With the correct supporting documents in your application, processing time is 2-3 working days. If no supporting documents are available, then a Passport Officer will have to be satisfied with the emergency situation during an interview with you.
What is a Tatkal service and what passport services can be used with tatkal?
Re-issue of Passport on expiry or up to one year before expiry (having a valid Visa)
Re-issue of Passport on exhaustion of pages
Lost/stolen/damaged passports in respect of casual visitors to the UK subject to availability of the record of the current Passport in our database.
Tatkal CAN NOT be used for NEW Born baby applications
My Indian Passport has a different name to the name on my visa / residence permit? What shall I do?
The first job is to fix the difference asap. Book an appointment to visit us instore and we will go through everything to be done.
Which documents should I use for Proof of Identity / Nationality for Indian Passport issuance?
The list is not exhaustive, and it is important to make a booking at Reload so we can liase you and provide the exact list.
Do photocopies of original documents need to be attested by the applicant?
When you visit us in Reload, and we photocopy all your original documents we will provide you self-attested photocopies. The original documents should be also taken to VFS at your time of submission of Indian Passport application for VFS to eyeball and return to you.
What is the validity available for an Indian passport for Adults or Minors?
For adults above 15 years old, after your current Indian passport has completed 10 years of validity, you can renew for another 10 year Indian Passport.
For Minors under 15 years old, the validity will only be 5 years from the date of issue and this is because the appearance changes very fast for minors, so the photo does need to be updated regularly. Book an appointment with Reload and let us take care of the formalities.
Can I use my Indian passport for travel after I acquire a foreign nationality?
As soon as you acquire a foreign nationality your Indian passport must be surrendered at your nearest VFS centre.
Please DO NOT use your Indian Passport for travel to India after acquiring any foreign nationality as a lot of our clients have been fined as soon as they surrender their Indian passport.
Please remember that as soon as you acquire a foreign citizenship, you are no longer an Indian citizen and you will need an OCI or Indian visa to travel to India.
Make an appointment with Reload if you need the following services:
Surrender and apply for OCI visa
What are the processing times for a replacement passport of a lost passport?
As soon as you book an appoint with Reload we will advise you on this. If you have a photocopy of the lost passport or relevant details of the lost passport are available and readily traceable in the database of the High Commission the time taken to replace the passports could be 2-3 weeks.
If no details are available to you, and you cannot be authenticated against a check of records in Indian High commission database then more time is required.
Your Indian passport photograph that we snap instore and application will be sent to the original passport issuing authority in India and the bureaucracy will understandably take some time as it requires verification by police, but having a helping hand at Reload may help get the correct application and photographs to the authorities.
What documents are needed for change in name on Indian Passport?
It is best you make an appointment to visit Reload where we can go through the documents requirements, so make a booking to visit us in Reload and we will immediately get you a document requirement list for your Indian Passport.
Indian Passport Renewal Photo Size and Specifications
50mm x 50mm and it is included in our indian passport help service. Reload Internet will ensure that the Indian Passport Photo we provide you will match the Indian Embassy Regulations that include:
The Indian passport photograph which we provide will be in colour, will be of  a size of 2 inches x 2 inches (50 mm x 50 mm) and printed on the highest grade photo paper available.
We use Canon Cameras instore which ensure that your face in the photo will be the most clearest and have continuous-tone quality.
We use an Indian Passport Approved background which is plain white as preferred by the Indian Embassy.
Your Head coverings will be permitted if it is for a religious reason – this means – Turbines are allowed, as well as hijabs – BUT we will ensure that your ears do show.
First Indian Passport passport photo size for Minor, Infants or Children
At Reload Internet, we can take your child's photograph and create a lasting memorable Indian Passport Photo that will also meet all of the Indian Embassies requirement for Infant Indian Passport Photos. These include:
We will try to photograph your baby with her/his eyes open. If it is not possible, the Indian Embassy allows under one year olds to keep their eyes closed in the Indian Passport Photo, so we do not have to unnecessarily disturb your child whilst taking his/her passport photo.
It is important to understand that for babies and infants the rules are somewhat relaxed and the position of the face, the facial expression, the eyes and the line of sight do not have to match the stringent guidelines mentioned above – so you can rest assured, that we have your best interests taken care of.
Children under ten years of age – please take it from us – as we have read the rule book from the Indian Embassy, the requirements are somewhat relaxed in regards to height of the face, position of the eyes in the Indian passport photographs.
A frontal photograph with clarity is required for children.
The Indian Passport photos we take of your child will always be alone and will not have the backs of your hands showing, and our staff have a few tricks to have your infant or child look at the camera with a neutral expression with his/her mouth closed.
Photographs are always taken with a Canon digital camera, with high quality colour.
Why choose Reload for your Indian Passport Renewal Application?
We have been established in 1998, Convenient Central London Location, GDPR Compliant
Strict procedures & highly trained professional staff to protect your data and guarantee a successful application.
HSBC Start up awards London Finalist in 2006

Do not trust imitator websites with your Passport and Personal details.
Is Reload Affiliated with the High Commission of India or VFS Global?
Reload Internet is NOT affiliated with the Indian Embassy, High Commission of India or VFS Global.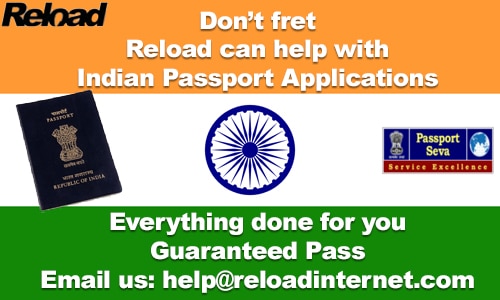 We provide consultancy services and Indian Passport application form filling help for the Indian Passport and OCI form filling process. We can not offer refunds as we are service based. Our guarantee ensures that we will redo the whole application for you without charge should you be declined for any reason and we are always willing to make right anything that needs doing. We can not be held responsible for the distance travelled or travel expenses. By using our service, you agree to indemnify and hold harmless Reload Internet and its staff and no warranties are given.
This service is owned and operated by Atomic Internet Limited
* Should you fail for any reason, or should VFS require more documents from you, we will redo the whole application for you without charge. We will complete everything for you, and everything is included apart from your relevant Government fees which will be paid at VFS by the applicant.