If you are looking for a place to have your Liechtenstein passport photo or visa photo captured, printed and prepared at, then Reload Internet is here for you. We are a passport photo studio based in Paddington, London, and have a team of professionally trained staff that are able to produce your Liechtenstein passport photo or visa photo within minutes of your arrival at our store.
Get your Leichtenstein Passport Photo in 2 ways
Option 1: Visit us at our store in Paddington
When you pop into our store in Paddington, we will take a photo of you while you wait.
Option 2: Leichtenstein Passport photo by Post
Take a photo of yourself against a white wall at home like the image below & upload it to us, and we will post it to you with next day delivery.
Upload your photo to us here
Alternative Upload link if you have problems above
ALTERNATIVE, UPLOAD YOUR PHOTO
We can take your Leichtenstein Passport Photo in-store OR we can post it to you with fast delivery. Just upload a photo of yourself and let us do the rest!
You are able to walk into our shop and have your Liechtenstein passport photo or visa photo prepared without having to call ahead for an appointment. The entire process only takes around 10 minutes, and we are open every day of the week, meaning we are the most reliable and convenient passport photo studio in London. Our store is located less than 30 seconds walk from both Paddington train and tube stations, so we are accessible to people from any area of London.
Our staff will use the latest camera and printing technology to provide you with a set of 6 high quality Liechtenstein passport photo or visa photo. They will of course meet all of the requirements stated by the Embassy of Liechtenstein, and for the low price of just £9.99, our service cannot be beaten. The Liechtenstein passport photo and visa photo sets also come with a guarantee to pass with your application when it is submitted to the Embassy.
Watch our video below to see how quickly we can produce your Liechtenstein passport or visa photo, and to learn more regarding the specifications:
At Reload Internet we ensure that your Liechtenstein passport photo or visa photo will pass with your application before we even print it. If your photograph does not meet all of the requirements, it will be rejected by the Embassy of Liechtenstein, which will cause delays and may even result in affecting your travel plans.
Liechtenstein Passport Photo and Visa Photo specifications:
When getting your Liechtenstein passport, you must submit 2 identical photographs that are 45mm x 35 mm.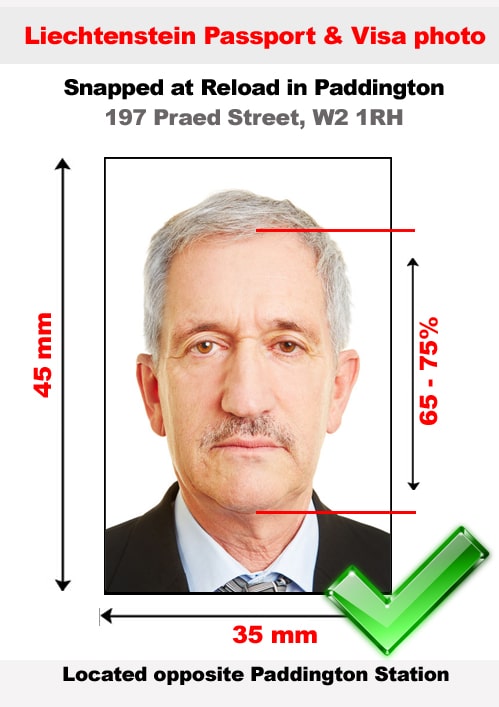 Your face should take up around 65 – 75% of the photo.
It should be a close up of your face and the top of the shoulders.
Your photograph must have a neutral expression in it, one that does not show your teeth.
You should not have any expression like a laugh, frown, or smile and it must have both of your eyes open. Any image with squinted eyes or raised eyebrows will not be accepted.
When the photograph is taken, you should look directly into the camera and nothing should obstruct the view of your eyes.
The photos that are submitted must give a very clear picture of your face and your features so that you are easily recognizable. What this means is that the photos should be taken straight-on, allowing the camera to capture all of your facial features to more easily identify you.
When photos are taken straight forward, the image will capture your entire face from your chin to the crown of your head in addition to both sides of your face.
The images must have been taken recently, within the last 6 months of you submitting your application
You need to have a recent picture to ensure the likeness is an accurate one.
It is also not generally allowed for a person to wear headwear in the photo though there are some exceptions when it comes to people with reasons that are religious or medical in nature. If this is the case for you, you can wear headwear as long as there are no shadows cast on your face that may cause visibility issues.
It must be printed out on a high-quality paper and this must at least be 600 dpi. Any photos that are submitted must be in excellent condition, which means that there cannot be any imperfections in it.
They also will not accept any photos that have been manipulated in any way, even something as minor as removing wrinkles or other facial imperfections.
Reload Internet guarantees that the Liechtenstein passport photo or visa photo we produce will pass with your application at the Embassy. We receive all our specifications from the Embassy of Liechtenstein's guidelines on passport and visa photographs, which can be found here.
Liechtenstein Passport Photo
OPTION 1 – Visit us in Paddington
Just walk into our store and let our experienced staff take your photo. It will not take more than 5 minutes.
We will take your photo with professional lighting.
We will print, prepare & cut your Liechtenstein passport photo.
No appointment needed.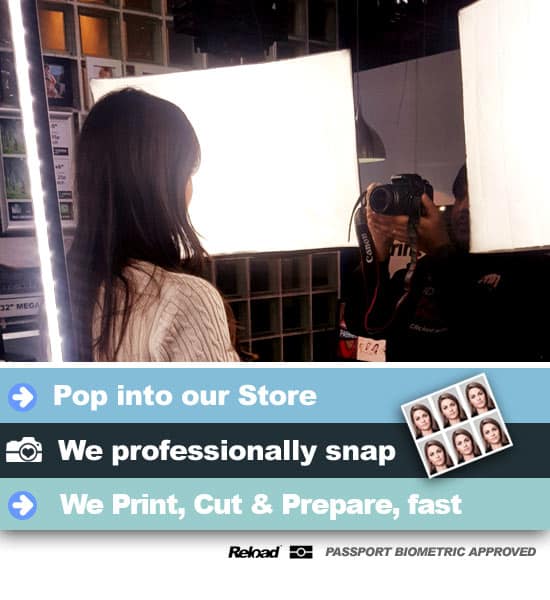 OPTION 2 – Passport photo posted
We can post you a set of 6 Liechtenstein Passport photos – next day delivery. How it works:
Email us a photo of yourself from your phone or camera.
We will look at your photo, free of charge
We will reply to confirm.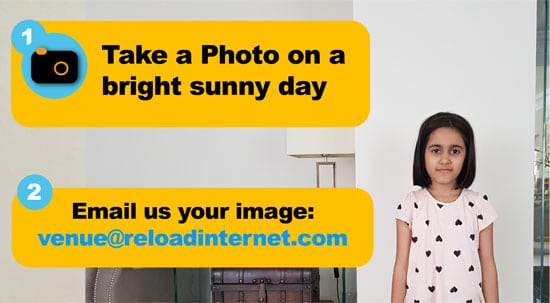 We will print, cut and post your your Liechtenstein passport photos
Next day delivery
We post your photos anywhere in the UK or worldwide.
OPTION 3 – Digital Photo resize
Send us your photo from your phone or camera whilst you are standing against a wall in your home
We will look at it free of charge.
3. We will email your resized images back to you same day.
4. Your digital Liechtenstein passport photo will be ready to upload to the online Liechtenstein passport service.
You do not need to worry about the regulations, we have dealt with thousands of satisfied customers and are very experienced.
So why wait? Email us your photo today and we will resize it digitally for you