At Reload Internet, we specialise in Irish (Eire) Passport and Visa Photos for Ireland. Getting your Passport Photo for Ireland takes just a few minutes as Reload Internet uses the latest in Canon and Mitsubishi technology that meets all the Biometric Ireland Passport Photo needs and more.
Get your Ireland Passport Photo in 2 ways
Option 1: Visit us at our store in Paddington
When you pop into our store in Paddington, we will take a photo of you while you wait.
Option 2: Ireland Passport photo by Post
Take a photo of yourself against a white wall at home like the image below & upload it to us, and we will post it to you with next day delivery.
Upload your photo to us here
Alternative Upload link if you have problems above
ALTERNATIVE, UPLOAD YOUR PHOTO
We can take your Ireland Passport Photo in-store OR we can post it to you with fast delivery. Just upload a photo of yourself and let us do the rest!
Passport applications are usually refused due to quality issues of photographs. The Staff at Reload Internet in Paddington understand the exacting requirements for Ireland and can produce great quality passport photos, with no appointment needed and we can create your photos instantly. 
Watch the Video on how Reload Internet can get your Irish Passport Photos snapped and printed instantly.
Why You Should Chose Reload Internet for your Irish Passport and Visa Photos?
There are a number of reasons why our services are the best. This is why we can provide photos for passports of any country.
While-You-Wait Service
Personalised Services
Full Knowledge of All Applicable Rules and Regulations for Photos
Preview the Image for Approval
Irish Passport Photo Requirements
Dimensions of the Passport Photo: The photo have to show your complete face and your shoulders in a way that your face covers about 70% to 80% of the frame and the size of the photo must be 35mm by 45mm and a maximum of 38mm by 50mm
 
Lighting and Focus
Photos has to be very clear with good focus and broadly exposed
Shadows of the head must not show in the background
It's important you maintain perfect colour balance and neutral skin look
Ensure that there is no red eye in the photograph
There must be a clear difference between the face and the background
High resolution with a good paper quality must be used in printing the image
Photo Quality
There should be no trace of stains or scratches in the photo
There should be no digital editing or modifications
The back side of the photos must be white and not coloured or shiny
Children in Passport Photos
Kids or children who are unable to hold up in the camera should be snapped lying down on a white plain or platform.
Ensure that the arms used to hold the child does not display on the photo because no other person should be seen in the photo
The do's and don'ts behind a good Passport Photo
We will position your head in the middle of the photo
we will ensure that you are looking straight into the camera
We will ensure your hair is not covering your eyes, for your eyes has to be detectable by the camera
We will Snap on a plain background, preferably light colored background.
We will ensure every part of your face is clearly visible
We will ensure that you do not bend or change the straight position of your head
We will ensure there is no obvious make-up on your face, it's better to snap with your natural look
We will ensure that you do not open your mouth or close your eyes while taking a camera shot
We will ensure that you do not laugh or smile
We charge £9.99 for 6 quantities of Ireland Passport photo.
Ireland Digital Passport Photo
We at Reload Internet can take your digital Ireland passport photo and the Ireland digital passport photo specs are 715×951 pixels.
Our team will ensure the specifications are met as per the Ireland Authority. Just pop to our store in Paddington and with minimum waiting time your digital version with the precise pixels will be ready.
We can meet any digital specification for any country.
Biometric Ireland Passport Photo
At Reload internet we always ensure that our Printed and Digital Passport photos for Ireland will meet the strict criteria set forth by the Ireland Authorities and Ireland is one of the countries whose passports are now fully Biometric.
OPTION 1 – Visit us in Paddington
Just walk into our store and let our experienced staff take your photo. It will not take more than 5 minutes.
We will take your photo with professional lighting.
We will print, prepare & cut your

Ireland

passport photo.
No appointment needed.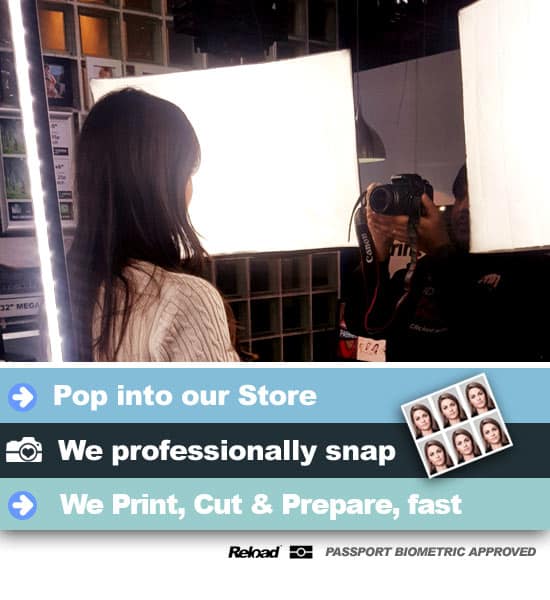 OPTION 2 – Passport photo posted
We can post you a set of 6 Ireland Passport photos – next day delivery. How it works:
Email us a photo of yourself from your phone or camera.
We will look at your photo, free of charge
We will reply to confirm.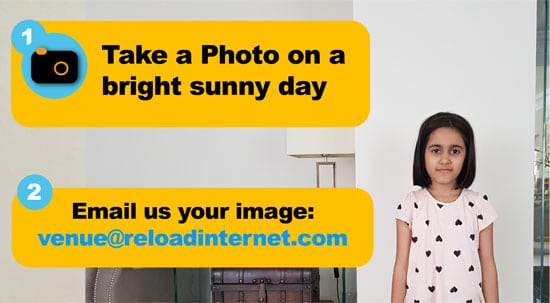 We will print, cut and post your your

Ireland

passport photos
Next day delivery
We post your photos anywhere in the UK or worldwide.
OPTION 3 – Digital Photo resize
Send us your photo from your phone or camera whilst you are standing against a wall in your home
We will look at it free of charge.
3. We will email your resized images back to you same day.
4. Your digital Ireland passport photo will be ready to upload to the online Ireland passport service.
You do not need to worry about the regulations, we have dealt with thousands of satisfied customers and are very experienced.
So why wait? Email us your photo today and we will resize it digitally for you
We look forward to welcoming you at Reload Internet, in Paddington, London.
Please call us on 02072624111 if you have and questions or email us at: