If you are applying for an Iraq passport or visa, and are in need of an Iraq passport photo or visa photo, then Reload Internet is the best studio to visit.
We are based in Paddington, London, and have been in operation for over a decade, producing hundreds of passport and visa photographs every week.
Our staff have been trained to provide you with a set of high-quality Iraq passport and visa photos that meet all of the necessary criteria and come with a guarantee to pass the first time you submit them with your application to the Iraq Embassy.
Get your Iraqi Passport Photo in 2 ways
Option 1: Visit us at our store in Paddington
When you pop into our store in Paddington, we will take a photo of you while you wait.
Option 2: Iraq Passport photo by Post
Take a photo of yourself against a white wall at home like the image below & upload it to us, and we will post it to you with next day delivery.
Upload your photo to us here
Alternative Upload link if you have problems above
ALTERNATIVE, UPLOAD YOUR PHOTO
We can take your Iraq Passport Photo in-store OR we can post it to you with fast delivery. Just upload a photo of yourself and let us do the rest!
No appointment is needed to have your Iraq passport photo or visa photo capture, printed and prepared by us. Just stop by our store, and a member of our experienced team will be happy to help you.
We stay open every day of the week, from early in the morning until late into the evening, so you can come and have your photographs produced at a time that suits you. We even stay open until 8pm on Sundays! We aim to have all of our customers passport and visa photographs ready within 10 minutes of their arrival at our studio.
Iraq Passport Photo specifications:
The photo should be 2" X 2" in dimensions and you should submit three copies of the same photo. In the photo, your face should be seen clearly along with the top of your shoulder. Almost 60% – 70% of the photo should comprise of your face and the size of your face should be 1" X 1 3/8" measuring from the tip of your head to the chin.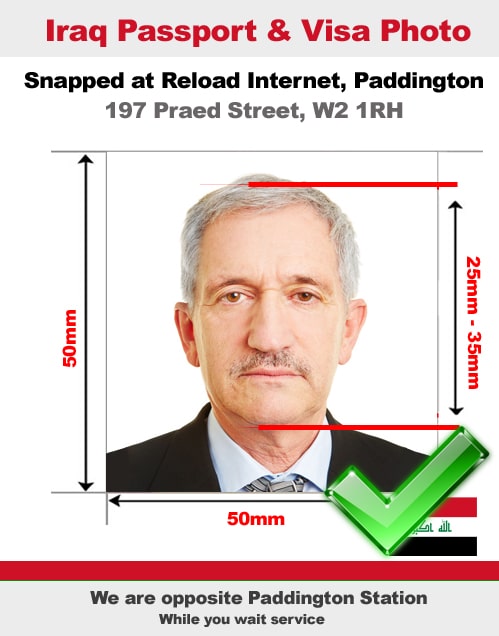 All your facial features must be seen clearly in the photo that is oriented straight and the left and right sides of your face must be seen clearly, with the visibility being same on both the sides. If you have long hair, ensure that it does not cover your head in any manner and the hair should be done neatly so that it does not cover the face.

The photo should not be older than six months and your face should resemble how you are looking presently. Do not pose and give a natural expression. While posing for the photo, do not smile or show your teeth. The eyes should be open and do not raise you eyebrows or frown, as it might not be accepted.

The photo should be printed on high-quality photo paper with a print resolution of over 600 dpi and there should not be any changes in the color or any touch-ups done to the photo to soften lines or highlight features. Print the photos on an as-is basis in color.

Do not wear any glasses while posing for the photo. Even if you necessarily have to wear glasses, you will have to make sure that there is no glare and your eyes are clearly visible. There should not be any shadows or reflections due to the glasses on your eyes.

Wearing head gear is not recommended. However, if you have to wear a head gear owing to religious reasons, you will have to make sure that your face is clearly visible from the chin up to the forehead without any obstructions. You should look into the camera with the eyes in the direction of camera and a straight vision.

The photos must be clicked against a light background and there must not be any pattern. The lighting for your photo should be perfect and it should not result in any shadows at any place in the photo.

If you are planning to get a passport for an infant or child who are not in a position to support themselves, you will have to support the baby in a manner such that your hands or support are not visible. Also, the eyes of the child must be visible clearly in the photo.
Our specification are taken from the Embassy of Iraq. Our video below shows how quickly we can produce your Iraq passport or visa photos, and contains more information about the requirements:
Your Iraq passport photo or visa photo must meet all of the specifications listed below, otherwise it will probably be rejected by the Embassy when you submit it with your application. Reload Internet can guarantee that the Iraq passport photo or visa photo we provide you with will pass first time.
Iraq Passport Photo
At Reload internet we always ensure that our Printed and Digital Passport photos for Iraq will meet the strict criteria set forth by the Iraqi Authorities and Iraq is one of the countries whose passports are now fully Biometric.
OPTION 1 – Visit us in Paddington
Just walk into our store and let our experienced staff take your photo. It will not take more than 5 minutes.
We will take your photo with professional lighting.
We will print, prepare & cut your

Iraqi

passport photo.
No appointment needed.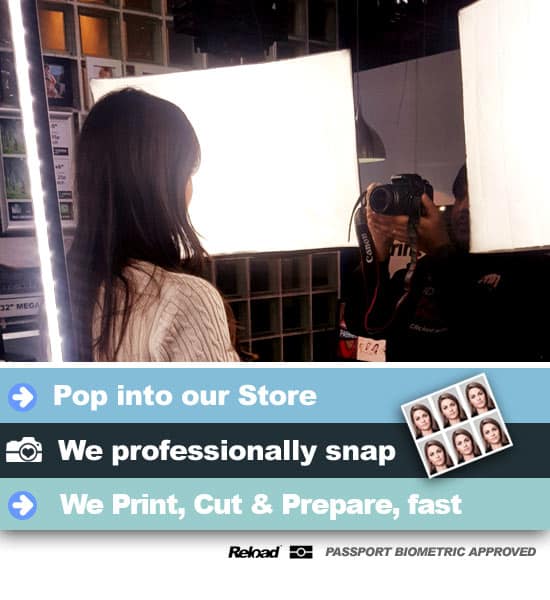 OPTION 2 – Passport photo posted
We can post you a set of 4 Iraqi Passport photos – next day delivery. How it works:
Email us a photo of yourself from your phone or camera.
We will look at your photo, free of charge
We will reply to confirm.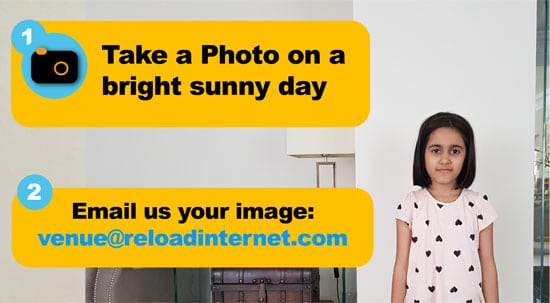 We will print, cut and post your your

Iraqi

passport photos
Next day delivery
We post your photos anywhere in the UK or worldwide.
OPTION 3 – Digital Photo resize
Send us your photo from your phone or camera whilst you are standing against a wall in your home
We will look at it free of charge.
3. We will email your resized images back to you same day.
4. Your digital Iraqi passport photo will be ready to upload to the online Iraqi passport service.
You do not need to worry about the regulations, we have dealt with thousands of satisfied customers and are very experienced.
So why wait? Email us your photo today and we will resize it digitally for you