Reload Internet in Paddington can snap and print your French Passport photo and French Visa Photo for France while you wait instore with no appointment needed – just pop in.
Get your French Passport Photo in 2 ways
Option 1: Visit us at our store in Paddington
When you pop into our store in Paddington, we will take a photo of you while you wait.
Option 2: French Passport photo by Post
Take a photo of yourself against a white wall at home like the image below & upload it to us, and we will post it to you with next day delivery.
Upload your photo to us here
Alternative Upload link if you have problems above
ALTERNATIVE, UPLOAD YOUR PHOTO
We can take your French Passport Photo in-store OR we can post it to you with fast delivery. Just upload a photo of yourself and let us do the rest!
Watch our video below explaining our instore procedure for taking French Passport Photo
We are well equipped to photograph and print passport photos for every Country in the World and we are not limited to Passport photos from France.
French Passport photo requirements
The requirements for your French passport photo are very strict and if the conditions of the French Embassy are not met, you can face being rejected entirely. Your application will require at least 2 copies of your French Passport photos and they must be recent photos (less than 6 months old) and with a specific size of 3.5cm x 4.5cm which is what Reload Internet will exactly print for you.
The following are the exact technical specifications for French Passport Photos as specified by the French Embassy
Two photographs should be submitted of size 35mm x 45mm, the photos must be in colour

The photos should be no more than 6 months old

Photos taken at photo booths and on computers may not be accepted by the French authorities

The background must be grey, with shadows on neither the applicants face nor the backdrop (dark clothing is also recommended)

The face should cover 70-80% of the photograph, therefore the head size should be 29mm-34mm, for children aged 11 and under the minimum head size is 20mm

The applicant should have a neutral expression, mouth closed, eyes open and looking directly at the camera, and head centred and square to the camera, as well as both ears clearly showing

Headwear is allowed under religious circumstances, and full facial features must be visible from bottom of chin to the applicants hairline, as well as both edges of your face being shown

Glasses, hearing devices and similar articles of clothing should be worn in the picture if they are normally worn by the applicant

The photos should have appropriate brightness and contrast, as well as be printed on high quality paper at high resolution, photographs that are digitally altered will not be accepted
The quality of the actual photograph should be good with a high print finish, which can be provided for you in store.
Your French passport photo printed instore from Reload Internet will conform to all embassy requirements and this is achieved through the use of high megapixel Canon cameras, lighting and French Embassy approved photograph printing terminals.
If you are not going to using a Professional passport photo service like Reload Internet, you need to consider all of these specifications before you apply for your passport in France. There are online passport photo companies that can process your photos online for you however, they will not check your photos according to the specifications for the French passport photo – please consider this as rejections by the French Embassy are costly.
We guarantee tha all passport photos taken instore will pass. If your passport photo fails at the embassy we will retake and reprint your photograph for free.
In case you are looking for alternative Passport Photos for another country in the EU or worldwide, please visit this page to find your country. Our information is sourced from the official guidelines set forth by the French Embassy in London.
The same dimension 35×45 mm is also used for the Work Holiday Visa.
France Carte BTP passport photo specification
Carte BTP passport photo have different dimension requirements as compared to that of France passport photo.
At Reload Internet we make all multiple dimensions and specifications are meet precisely. The digital specs dimension for Carte BTP is:
All you have to do is drop in to our store and we'll take care of the rest whilst you await.
France Carte Circulation Militaire & Carte SNCF passport photo specification
Reload Internet is popular for its customisation not only for passport and visa photos but also for passport photos of other official documents across the country. Some of them include the following documents and their measurement.
Carte Circulation Militaire – 24×32 mm
Carte SNCF – 24×32 mm
At Reload we assure you quality and perfection. Just pop in to our stop in Paddington, London.
France ePhoto for Driving License specification
France now requires digital passport photo for driving license. At Reload Internet we specialise in digital passport photo for all official documents. Required dimensions for French ePhoto for driving license is:
Just drop in to our store in Paddington and our expert team will take care of the rest.
France Demande de nationnalité française passport photo specification
As per French Authorities the passport photo specification for Demande de nationnalité française is :
Failing to meet this criteria will lead to rejection and disappointment. But don't worry, We at Reload internet specialise in taking visa photos with perfection.
All you have to do is drop in to our store and your visa photo will be ready in a jiffy.
France Student ID Card passport photo specification
French authorities now require a specific dimensions for student ID card, that is:
Now all students without any worry can either drop in to our store or order your student ID photo online. Rest will be taken care by us.
Biometric France Passport Photo
At Reload internet we always ensure that our Printed and Digital Passport photos for France will meet the strict criteria set forth by the France Authorities and France is one of the countries whose passports are now fully Biometric.
OPTION 1 – Visit us in Paddington
Just walk into our store and let our experienced staff take your photo. It will not take more than 5 minutes.
We will take your photo with professional lighting.
We will print, prepare & cut your France passport photo.
No appointment needed.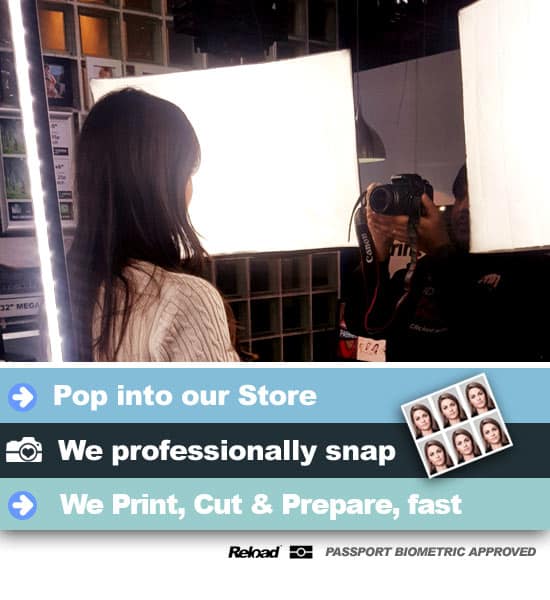 OPTION 2 – French Passport photo posted
We can post you a set of 6 France Passport photos – next day delivery. How it works:
Email us a photo of yourself from your phone or camera.
We will look at your photo, free of charge
We will reply to confirm.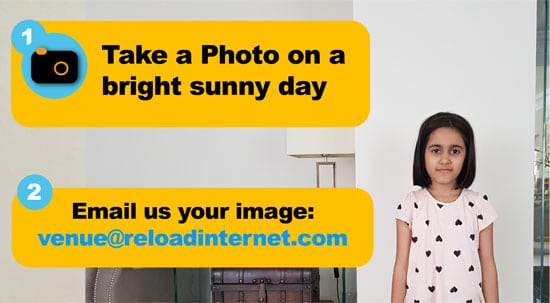 We will print, cut and post your your France passport photos
Next day delivery
We post your photos anywhere in the UK or worldwide.
OPTION 3 – Digital Photo resize
Send us your photo from your phone or camera whilst you are standing against a wall in your home
We will look at it free of charge.
3. We will email your resized images back to you same day.
4. Your digital France passport photo will be ready to upload to the online France passport service.
You do not need to worry about the regulations, we have dealt with thousands of satisfied customers and are very experienced.
So why wait? Email us your photo today and we will resize it digitally for you
Interesting facts about France and Paris Passport Photos
If you want to travel to France as your dream destination so that you can visit the beautiful sites such as the Eiffel Tower, the Arc de Triomphe, then you will need to consider what form of identification you will need to get there – The staff at Reload Internet are able to assist you if you need there help in this area.
Not only have you got the marvels of Paris, but you have places like Lille which is another city in France which is in Northern France near the border of Belgium. It is plentiful with culture, different types of French cuisine and astounding architecture such as the historic centre and the cobbled streets.
France has a large trade with different countries all over the world and there is a large number of tourists that travel to France every year because of its popularity. There are some amazing and beautiful beaches such as St. Tropez in the summer months and skiing and snowboarding to be enjoyed in the winter months in the French Alps.
France Passport Photos snapped and printed in London, Paddington
CLICK HERE TO NAVIGATE TO US ON GOOGLE MAPS
We look forward to welcoming you at Reload Internet, in Paddington, London.