Come to our store in Paddington. We will quickly snap your digital photo for the HM Passport Office and we will create a Digital Passport Photo Code (digital ID photo) for your UK Passport application online.
Using our new online digital passport photo ID code by email service we will be able to send you a Digital Passport Photo ID code within a few hours – just upload or email us your photo, with you standing against a white wall in your home, and we will digitally remove all of the shadows and give you a digital photo that is guaranteed to be approved by Her Majesty's Passport Office.
But please visit us in our store in Paddington, London, where we can snap, and create Digital ID Passport photos for any Country in the World including UK, Australia and Canada.
Your Digital passport photo will be printed in just a few seconds, along with a code that you can enter in your online passport application to attach your digital photo directly to your application or we can email it to you which is still the best and safest option. After emailing it to you, you can simply upload it to your online application and best of all you will always have a copy of it in your inbox.
Reload internet has invested in software that ensures our Digital ID photos will meet over 80 critical criteria that are required by the ICAO (International Civil Aviation Organization) and Bio-metric Passport photo specifications to ensure a viable passport photo.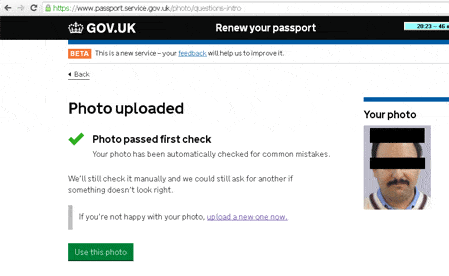 Most Embassies Worldwide now demand a Digital Passport Photo to be uploaded with your application and Reload Internet has the technology and trained staff to create Biometrically approved Digital images in any format for any Country for only £9.99 – whether it it be for ID purposes, UK driving licence purposes, visa purposes (example Indian OCI, New Zealand) or even Passport renewal applications.
Even if you prefer printed, hard copy, Biometric passport photo – Reload Internet owns Embassy approved digital printing equipment that can print your passport photos to meet the requirements for the UK or any Country in the World.
We will always ensure that the photo itself is printed on professional paper and is 45mm high x 35mm wide or 2 inches x 2 inches or any other size that is required.
Watch the Video on how professional and efficient the staff at Reload Internet are: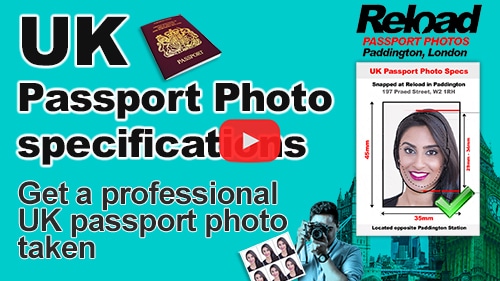 Always remember that it is not possible to cut down larger photos to meet the size requirements and the Staff at Reload will always ensure that you choose the correct size for the embassy you are applying to. In addition, your photo must meet the following requirements in order to be approved.
Digital Passport Photo Specification
The UK Digital Passport Photo Specifications are as follows:
at least 600 pixels wide and 750 pixels tall
at least 50KB and no more than 10MB
We will ensure that your photo meets these specifications.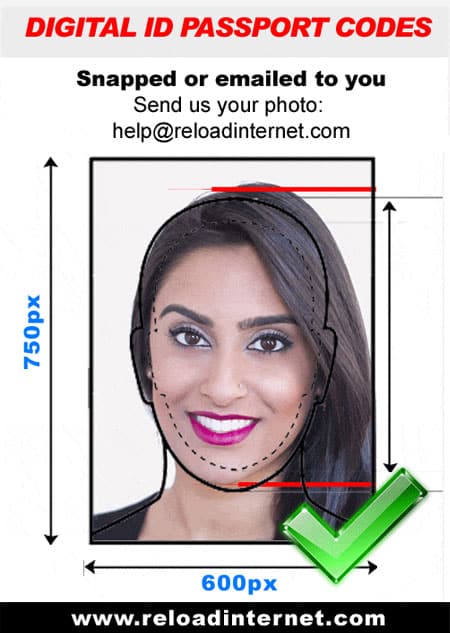 Clear, In-Focus Photograph of You
Head and Shoulders Only
Top of Head to Chin Must Be Between 29mm to 34mm High
No Creases or Tears
Unmarked on Either Side: Exception, if the Photo Needs to be Countersigned
Plain White or Colour Photographic Paper
Light Grey or Plain Cream Background
Photo Taken within Past 30 Days
No Alterations by Computer
No Other Objects in Photo
Codes for Digital Passport Photo
Reload Internet has established a secure process for storing and transferring customers' digital photos that will meet her Majesty's Passport Office rules for UK passports that will meet the rules for Digital Passport Photos.
Her Majesty's Passport Office is introducing a way for customers to retrieve a digital photo when they renew their passport online.
Currently, customers can only upload a digital photo stored on their own device or provided by a photo shop on a memory stick, email or CD. With this new solution, booths and shops in the UK will be able to give customers a photo code with their printed passport photos. When customers apply online, they can use this code to retrieve their digital passport photo taken at a booth or by a photographer. This provides greater choice for our customers.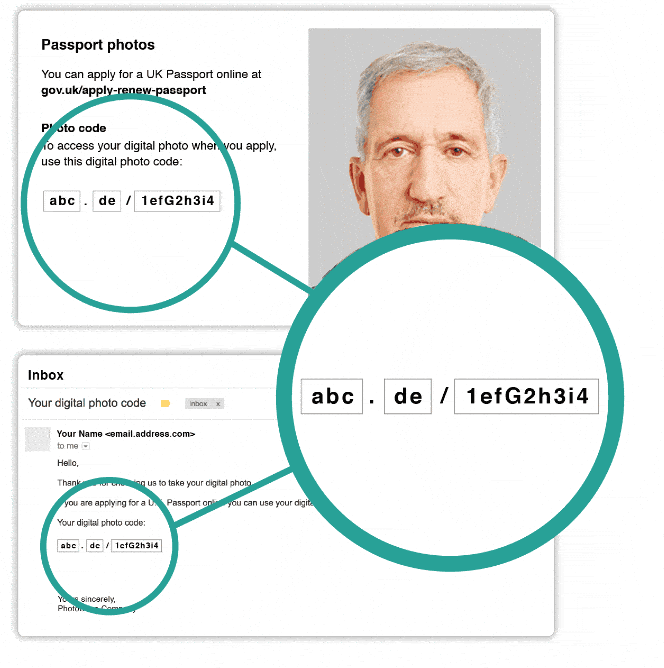 Keep in mind that if your photo may get rejected even if you meet the above requirements. So, to avoid rejection be sure that you do the following;
Neutral Expression w/Mouth Closed
Face Forward, Look into Camera
Clear Contrast Against Background
No Cover Over Face
No Head Cover: Exception, Religious or Medical Reason
Eyes Open
No Reflection from Glasses
No Sunglasses, Tinted Glasses, Glass Frames, or Hair Covering Eyes
No "Red Eye"
Digital Passport Photo Specification
Keep in mind that there are frequent changes in the rules and regulations that govern passport photos. Reload Internet is fast, reliable, and we follow the rules and regulations closely so that we can incorporate any new changes.
Reload Internet is your ID and passport photo specialist that offers to retake your photo for free if they are rejected due to not meeting the stated requirements.  We offer to do all types of passport photos ranging from babies up to toddlers, children, and adults to meet the specifications of any embassy around the world.
The photos our services provide can be used for getting the following;
ID
Green Card: Different backgrounds are offered to meet standards
Driving Licenses
Student Cards
Oyster Cards and More
Why You Should Chose Reload Internet for Passport Photos
We only Charge £9.99 for 6 quantities of UK Passport & Visa photos
There are a number of reasons why our services are the best. This is why we can provide photos for passports of any country.
While-You-Wait Service
Personalised Services
Full Knowledge of All Applicable Rules and Regulations for Photos
Preview the Image for Approval
When you consider the number of places that claim you can "do-it-yourself", it pays to keep in mind that getting the right passport photo services can save you time, effort, and even money because they work to get it right the first time. By unnecessarily risking a rejection by doing it yourself means delays and potentially upsetting your plans. So instead, trust the professionals who have helped many thousands of people get the right passport and ID photos for their needs.
Professional Photographers: Our photographers are well trained and provide excellent service. This works well when you have a baby or small child that needs to sit still for a passport photo. We offer sound advice and a comfortable atmosphere.
Renewals: Another great aspect of our services is when you decide to renew your passport photo. We provide you the chance to review the new one so that you are happy with the results. If you like it, we'll print it for you. If not, we'll take another one.
Peace of Mind: Using the services of our professional company means that you get the photo you need and not have to worry about rejections. Guaranteed service that is promptly delivered is what our company is all about.
Digital ID codes Expiry date – How long do they last for?
The UK Government states that all Digital ID codes should be deleted after 1 month as all Passport Photos have to be a recent photo. You are not allowed to use a Digital ID code after this period. This is because the face changes, and your Passport photo must always be a recent passport photo.
We also delete the images to to ensure GDPR compliance and to protect you, all images are deleted after this period. Most clients will get their passport photos taken again – or you can always request a Digital backup for your archive purposes and we will email this to you if you are an online customer.
Get your UK Digital Passport Photo (Passport photo ID Code)
OPTION 1 – Visit us in Paddington
Just walk into our store and let our experienced staff take your photo. It will not take more than 5 minutes.
We will take your photo with professional lighting.
We will print, prepare & cut your UK digital passport photo.
No appointment needed.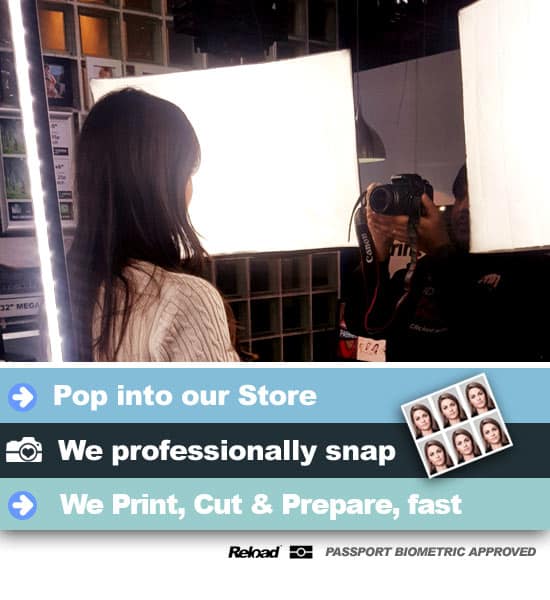 OPTION 2 – UK Digital Passport photo – Instant Digital photo ID code by email, same day
Email us your photo from your phone or camera whilst you are standing against a wall in your home to [email protected]

null

reloadinternet.com
We will look at it free of charge.
3. We will email your resized images back to you same day.
4. Your digital UK digital passport photo will be ready to upload to the online UK digital passport service.
OPTION 3 – UK Passport photo posted anywhere to the UK – including next day delivery
We can post you a set of 6 UK digital Passport photos – next day delivery. How it works:
Email us a photo of yourself from your phone or camera.
We will look at your photo, free of charge
We will reply to confirm.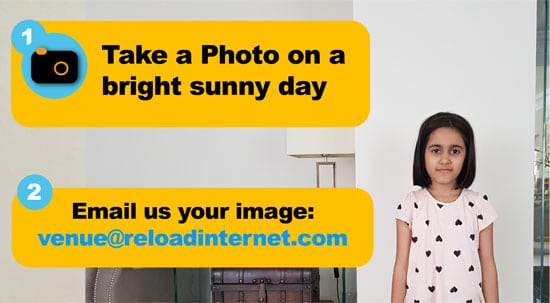 We will print, cut and post your your UK digital passport photos
Next day delivery
We post your photos anywhere in the UK or worldwide.
You do not need to worry about the regulations, we have dealt with thousands of satisfied customers and are very experienced.
So why wait? Email us your photo today to

[email protected]

null

reloadinternet.com and we will resize it digitally for you and send you a Digital ID code