Reload Internet is a passport photo studio can provide your Czech Republic passport photo or visa photo. We ensure that your photos comply with the new biometric standards set by the Embassy of the Czech Republic and this takes only a few minutes in our store.
Get your Czech Republic Passport Photo in 2 ways
Option 1: Visit us at our store in Paddington
When you pop into our store in Paddington, we will take a photo of you while you wait.
Option 2: Czech Passport photo by Post
Fast next Day Delivery service available: Take a photo of yourself against a white wall at home like the image below & upload it to us, and we will post it.
Upload your photo to us here
Alternative Upload link if you have problems above
ALTERNATIVE, UPLOAD YOUR PHOTO
We can take your Czech Republic Passport Photo in-store OR we can post it to you with fast delivery. Just upload a photo of yourself and let us do the rest!
Czech Passport Photo and Visa Photo specifications we produce for you
Two photographs should be submitted by the applicant and must be 50mm x 50mm in dimension, either coloured or black and white according to the Czech Republic Biometrics
All Reload Internet photos we supply clients will comply with the ICAO standards
Photographs not complying with ICAO standards wil not be accepted by consular services of Czech Republic.
The photograph must be no more than 6 months old
Photos taken at photo booths and on computers may not be accepted by the Embassy of the Czech Republic
The applicant should wear a neutral expression with mouth closed, eyes directly focused at the camera and both ears must show clearly
Headgear is not allowed except for religious purposes
We recommend that you remove glasses if you wear them as the frames and lenses can cause issue with the photographs which may cause them to be declined at the Embassy of the Czech Republic.
Applicants are allowed to wear tinted glasses and eye patches for medical reasons only
The photos should be taken in a light neutral background without shadows
No stains, scratches or wrinkles on the photos and it must be printed on high quality paper at high resolution
Retouching of photos is not allowed and may result in rejection
The original photograph must be good quality with a high print finish, and this will only take a few minutes to produce at Reload Internet in Paddington.
If your photo fails to meet the above specifications, it's most likely going to be rejected by the Embassy of the Czech Republic.  At Reload Internet it's our job to make sure this is not the case with your application.
We open early in the morning and close late at night every day of the week here at Reload Internet
The video below shows our efficiency with Czech Republic passport photo and visa photos.
Our advice to you is that you don't take chances with your passport or visa application, as small details such as the background of your photograph can cause your passport or visa application to be declined and you will have to restart the process. Make sure you have high quality photos so as to increase your chances of being accepted at the embassy, and only professional passport photo studios such as Reload Internet can ensure this will happen. You are most likely going to encounter delays, stress and unplanned expenses if you submit non-compliant photos.
Choose Reload Internet today to obtain the correct Czech Republic passport photo and visa photos so you can eliminate the possibility of your application being declined.
Your photo must not be older than 6 months and must clearly identify you, so that when entering the Czech Republic you do not encounter any problems. Using excessive make-up or anything that could alter the features of your face should be avoided.
Czech Republic passport photo for Czech Embassy in London
The Embassy of the Czech Republic in London – MZV have a specific requirement for their Czech passport photos. The dimensions of the passport photo should be 50x50mm.
We at Reload Internet assure to you deliver this specification with perfection. All you have to do is visit our store in Paddington and we'll take care of the rest.
Czech Republic ID Card  passport photo & digital photo Specification
Reload internet not only specialises in passport photos and visa photos but also photos for other official documents. The approved and verified size for Czechian ID card photo is 35x45mm and the digital specs of the same is 614×803 pixels.
Failing to meet these criteria will lead to rejection and disappointment. Therefore, for reliable and perfect passport photo and digital photo for Czech Republic with our store in Paddington.
Czech Republic Driving License Passport Photo Specifications
Reload internet is a renowned and successful photo studio in Paddington, London. Not only do we do passport photo and visa photos but our services also include customising photos based on Czechian authorities for driving license. The specific size is 35x45mm for Czech driving license passport photo.
All you have to do is visit our store in Paddington and we'll take care of the rest.
Spojené Království Passport Photo
This means UK Passport Photo in czech. Reload Internet welcomes customers from all over the world, and we specialise in creating passport photos for every country. We offer our service in store and online, you can learn more about our passport photo services in our passport photo directory.
Does Czech require a Biometric Passport Photo?
Czech is one of the countries whose passports are now fully Biometric, therefore the passport photo you produce must meet biometric Standards. At Reload internet we always ensure that our Printed and Digital Passport photos for Czech will meet the strict criteria set forth by the Czechian Authorities. So visit us today – pop in to our store in Paddington, London, or send us your digital photo for us to send to you.
OPTION 1 – Visit us in Paddington
Just walk into our store and let our experienced staff take your photo. It will not take more than 5 minutes.
We will take your photo with professional lighting.
We will print, prepare & cut your Czech Republic passport photo.
No appointment needed.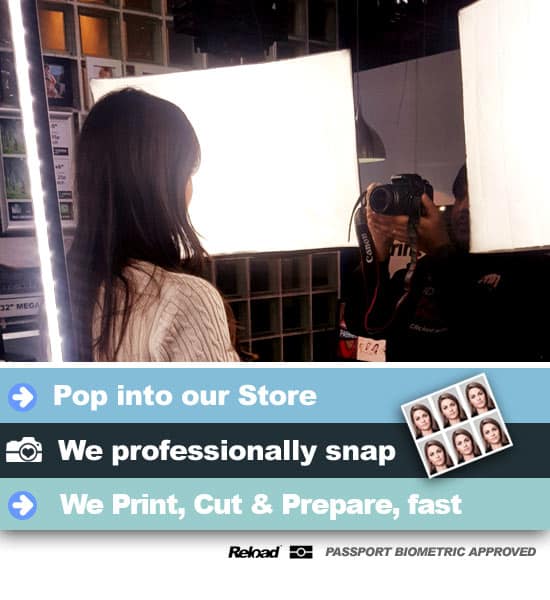 OPTION 2 – Passport photo posted
We can post you a set of 6 Czech Republic Passport photos – next day delivery. How it works:
Email us a photo of yourself from your phone or camera.
We will look at your photo, free of charge
We will reply to confirm.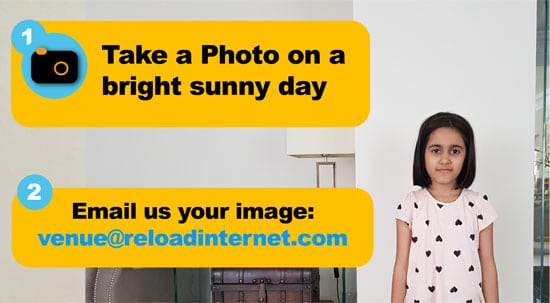 We will print, cut and post your your Czech Republic passport photos
Next day delivery
We post your photos anywhere in the UK or worldwide.
OPTION 3 – Digital Photo resize
Send us your photo from your phone or camera whilst you are standing against a wall in your home
We will look at it free of charge.
3. We will email your resized images back to you same day.
4. Your digital Czech Republic passport photo will be ready to upload to the online Czech Republic passport service.
You do not need to worry about the regulations, we have dealt with thousands of satisfied customers and are very experienced.
So why wait? Email us your photo today and we will resize it digitally for you
Czech Republic Passport Photo printed in London