Our store in Paddington can instantly print your China passport photo for your Chinese Passport application or Chinese Visa application. Our Chinese Passport Photos are guaranteed to meet the guidelines set forth by the Chinese Embassy.
Get your Chinese Passport Photo in 2 ways
Option 1: Visit us at our store in Paddington
When you pop into our store in Paddington, we will take a photo of you while you wait.
Option 2: Chinese Passport photo by Post
Take a photo of yourself against a white wall at home like the image below & upload it to us, and we will post it to you with next day delivery. You can learn more here and upload your photos directly at the links below.
Upload your photo to us here
Alternative Upload link if you have problems above
ALTERNATIVE, UPLOAD YOUR PHOTO
We can take your Chinese Passport Photo in-store OR we can post it to you with fast delivery. Just upload a photo of yourself and let us do the rest!
Watch the video on how Reload Internet can print your Chinese passport photos instantly:
We have over 10 years experience in printing Chinese passport photo and can ensure that your photo will meet the guidelines set forth by the Chinese Embassy.
Passport photo China specifications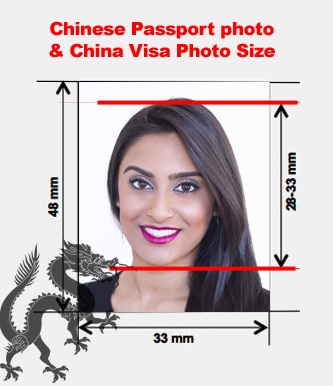 – Overall Size: 48mm x 33mm
– Head Height: 28mm to 33mm
– Head Width: 21mm to 24mm
– While or Light Blue Background Only
The passport will be valid for 10 years when issued to people age 16 and above.
China Visa Photo Specifications
It should be noted that Chinese visa and Chinese passport photo are unique and different compared to many other countries.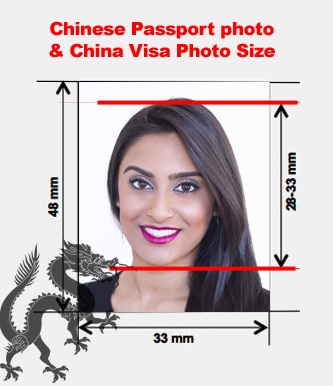 – Chinese passport photo: 48mm x 33mm
– Head Height for Passport Photo: 28mm to 33mm
– Head Width for Passport Photo: 21mm to 24mm
– White or Blue Background is Required
Official Specifications that Reload Internet follows from the Chinese Embassy can be seen official link here and here is the official PDF version issued by the Chinese Embassy for Chinese Passport Photos (official link) and Chinese Visa Photos
You cannot wear a hat or obscure your face in any manner for the visa photo to be accepted. Keep in mind that there is no recognition of dual nationality. This means that if a Chinese national has settled in another country and has acquired the nationality of another nation, they will automatically lose their Chinese nationality. So, a non-Chinese national is not eligible when applying for a Chinese passport or similar travel documents.
China is an ancient country filled with many attractions both historic and natural which manages to draw in millions of tourists and visitors every year. China's passport and visa requirements have changed in recent years due to the growing concern over security. Today, China does comply with new biometric standards, yet they also have strict requirements over the photos used which means that there have been plenty of rejections.
If you are looking for another Country or would like to see the specifications of any passport photo in the World, please follow the link.
Order Online
If you are unable to make it to our photography studio, you can email use a suitable photo so we can format it to the right specifications. We can then email or post your Chinese passport photo back to you. We accept PayPal and you do not need an account with us to make an order.
*Note: Only order a digital copy if your country supports online visa and passport applications.
Embassy Pass Guarantee
We guarantee that your Chinese passport photo will receive the photos correctly sized to the specifications that are required. This means that your Chinese passport photo will not be rejected on the grounds that they do not fit the proper specifications. If they are not accepted because of an error on our part, you will get the full purchase price returned to you, but we will require some evidence from the Embassy that they have declined your application due to our Chinese passport photo. They usually do stamp photos incorrect with their official stamp.
Do not take chances in submitting photos for your passport or visa on your own. If they are not correct, your application will be rejected which will cause additional expenses and delays.
China Digital Passport Photo
We at Reload Internet can take your digital China passport photo and the Chinese digital passport photo specs are 390×567 pixels.
Our team will ensure the specifications are met as per the Chinese Authority. Just pop to our store in Paddington and with minimum waiting time your digital version with the precise pixels will be ready.
We can meet any digital specification for any country.
Does China require a Biometric Passport Photo?
China is one of the countries whose passports are now fully Biometric, therefore the passport photo you produce must meet biometric Standards. At Reload internet we always ensure that our Printed and Digital Passport photos for China will meet the strict criteria set forth by the Chinese Authorities. So visit us today – pop in to our store in Paddington, London, or send us your digital photo for us to send to you.
OPTION 1 – Visit us in Paddington
Just walk into our store and let our experienced staff take your photo. It will not take more than 5 minutes.
We will take your photo with professional lighting.
We will print, prepare & cut your Chinese passport photo.
No appointment needed.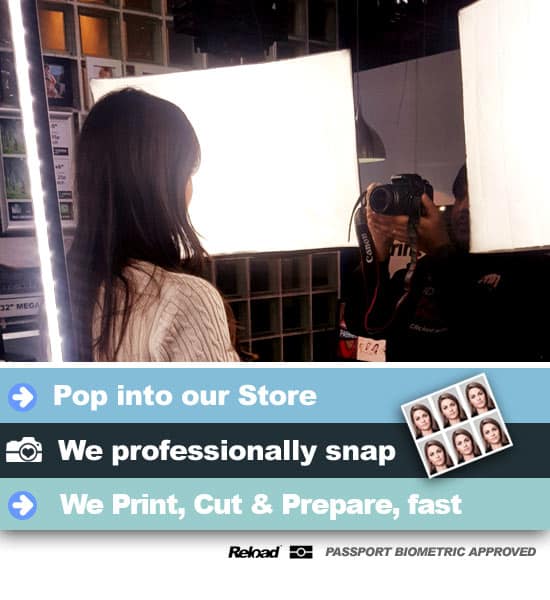 OPTION 2 – Passport photo posted
We can post you a set of 4 Chinese Passport photos – next day delivery. How it works:
Email us a photo of yourself from your phone or camera.
We will look at your photo, free of charge
We will reply to confirm.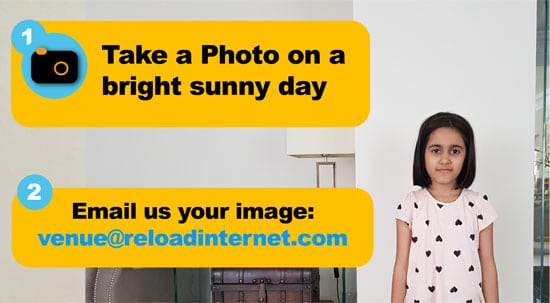 We will print, cut and post your your Chinese passport photos
Next day delivery
We post your photos anywhere in the UK or worldwide.
OPTION 3 – Digital Photo resize
Send us your photo from your phone or camera whilst you are standing against a wall in your home
We will look at it free of charge.
3. We will email your resized images back to you same day.
4. Your digital Chinese passport photo will be ready to upload to the online Chinese passport service.
You do not need to worry about the regulations, we have dealt with thousands of satisfied customers and are very experienced.
So why wait? Email us your photo today and we will resize it digitally for you