Reload offers a Chinese passport photo online service by post with next working day available also so you do not have to visit us instore.
Simply email us your photo and we will get your Passport Photo mailed and delivered to your home.
All you need to do is take a suitable picture, email it to us, and we'll handle the rest!
Get your Chinese Passport Photo in 2 ways
Option 1: Visit us at our store in Paddington
When you pop into our store in Paddington, we will take a photo of you while you wait. Follow the link to learn more about our instore Chinese 48mm x 33mm photos.
Option 2: Chinese Passport photo by Post
Our online passport photo service is extremely straightforward.
Take a photo from your mobile phone against any plain coloured wall in your home
Applicant should stand approximately 50 cm (20 inches) away from the back wall.
The applicant should ideally face a light source with as even lighting on the face as possible.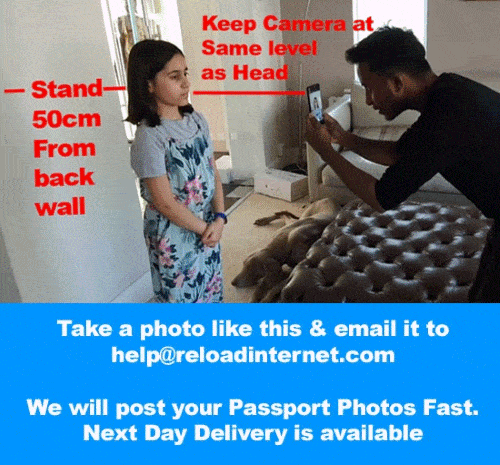 Upload your photo to us here
Alternative Upload link if you have problems above
ALTERNATIVE, UPLOAD YOUR PHOTO
Our friendly team will respond fast and check your photo free of charge.
Receive your Passport photo by Post
We will mail your passport photo to you fast, even next working day if you need it, UK & Worldwide
Digital Passport photos are emailed to you on the same day
Why Choose Reload?
We know our clients live busy lives and may not be able to spare the time to come to our store in Paddington to have their passport photos taken. Our online passport photo by post service solves this problem, while also ensuring that you look your very best in your passport photo.
We have over 15 years of experience creating passport photos for any country in the world and specialise in Chinese Passport and Visa Photos. Please browse our directory and see how we are equipped to deal with any passport photo specification in the world.
Watch the video on how Reload Internet can print your Chinese passport photos instantly:
We have over 10 years experience in printing Chinese passport photo and can ensure that your photo will meet the guidelines set forth by the Chinese Embassy.
China Passport Photo Specifications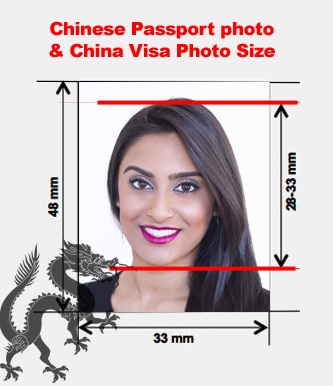 – Overall Size: 48mm x 33mm
– Head Height: 28mm to 33mm
– Head Width: 21mm to 24mm
– While or Light Blue Background Only
The passport will be valid for 10 years when issued to people age 16 and above.
China Visa Photo Specifications
It should be noted that Chinese visa and Chinese passport photo are unique and different compared to many other countries.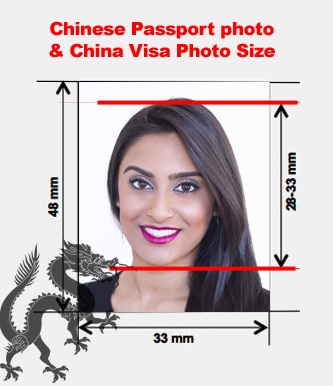 – Chinese passport photo: 48mm x 33mm
– Head Height for Passport Photo: 28mm to 33mm
– Head Width for Passport Photo: 21mm to 24mm
– White or Blue Background is Required
Official Specifications that Reload Internet follows from the Chinese Embassy can be seen official link here and here is the official PDF version issued by the Chinese Embassy for Chinese Passport Photos (official link) and Chinese Visa Photos
You cannot wear a hat or obscure your face in any manner for the visa photo to be accepted.
Today, China enforces new biometric photo standards, and have strict requirements over the photos used. We can ensure your photo is suitable for your Chinese Passport or Visa.
If you are looking for another Country or would like to see the specifications of any passport photo in the World, please follow the link.
China Digital Passport Photo
We at Reload Internet can take your digital China passport photo and the Chinese digital passport photo dimensions are 390×567 pixels.
Our team will ensure the specifications are met as per the Chinese Authority's requirements. We can meet any digital specification for any country and digital photos will be sent back same day over email.
Does China require a Biometric Passport Photo?
China is one of the countries whose passports are now fully Biometric, therefore the passport photo you produce must meet biometric Standards. At Reload internet we always ensure that our Printed and Digital Passport photos for China will meet the strict criteria set forth by the Chinese Authorities. So visit us today – pop in to our store in Paddington, London, or send us your digital photo for us to send to you.
Contact Reload Internet